Polish Haluski Recipe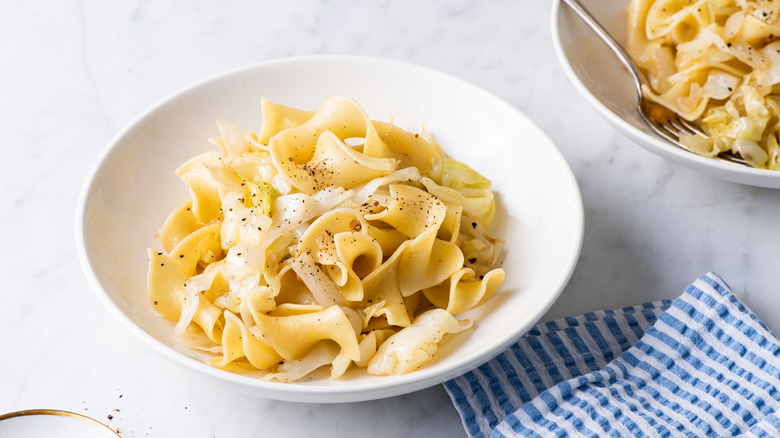 Alexandra Shytsman/Mashed
Haluski is a classic Polish comfort food meal that's incredibly simple to make and consists of just four ingredients. Pronounced ha-LOOSH-key, it refers to cabbage that's fried in a generous amount of butter then tossed with egg noodles and black pepper. All the flavor comes from patiently cooking down the cabbage until it's sweet and silky. Black pepper lends a subtle hint of warming spice.
Recipe developer Alexandra Shytsman notes that the Polish haluski is not to be confused with halušky, a traditional dish in Slovakia and the Czech Republic. This other halušky refers to boiled dumplings made from a potato-cheese dough (sort of like gnocchi).
Polish haluski is a great recipe to have in your backpocket for quick weeknight meals. It's simple and savory, and the cabbage provides freshness to the whole dish. You could enjoy haluski all on its own or pair it with a protein like chicken or steak, as well as any number of side dishes. Read on for all of our haluski tips!
Gather the ingredients for Polish haluski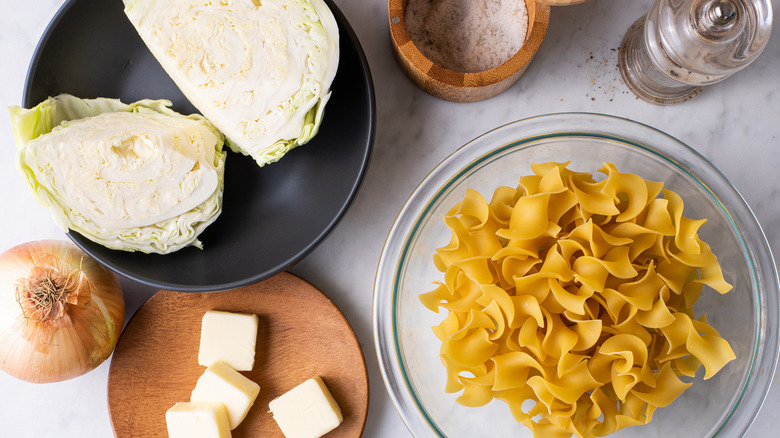 Alexandra Shytsman/Mashed
To make this recipe, all you'll need is some green cabbage, an onion, egg noodles, butter, salt, and pepper.
Prep the vegetables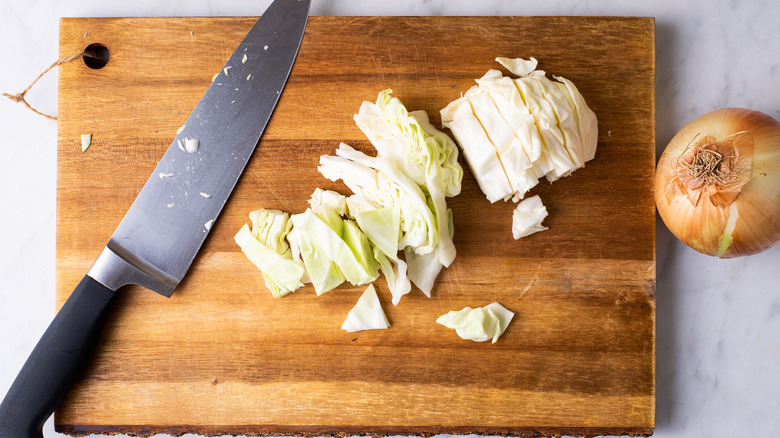 Alexandra Shytsman/Mashed
Chop the cabbage into thick slices and the onion into ½-inch dice. A good rule of thumb is to cut your cabbage into the same width as your noodles.
Cook the vegetables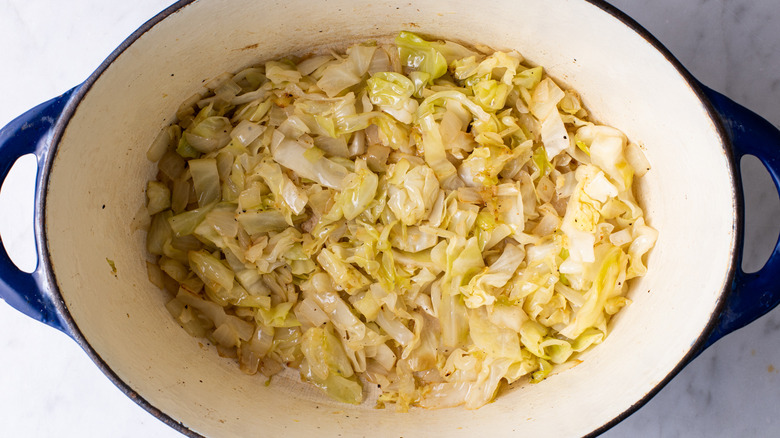 Alexandra Shytsman/Mashed
Melt the butter in a large, heavy-bottomed pan over medium heat. (Be sure to choose a pan that's large enough to accommodate all the vegetables as well as the cooked noodles, like a Dutch oven.)
Add the cabbage and onions, and cook covered for a few minutes until the vegetables soften a bit. Then remove the lid and continue cooking until the vegetables are really soft and start to caramelize. Be sure to stir every now and then to prevent the cabbage from burning.
Boil the noodles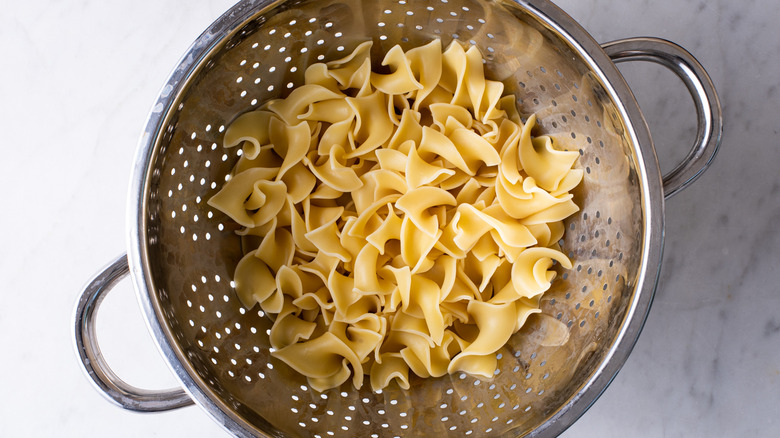 Alexandra Shytsman/Mashed
Meanwhile, cook the noodles in salted water according to package directions, then drain and set aside.
Mix it all together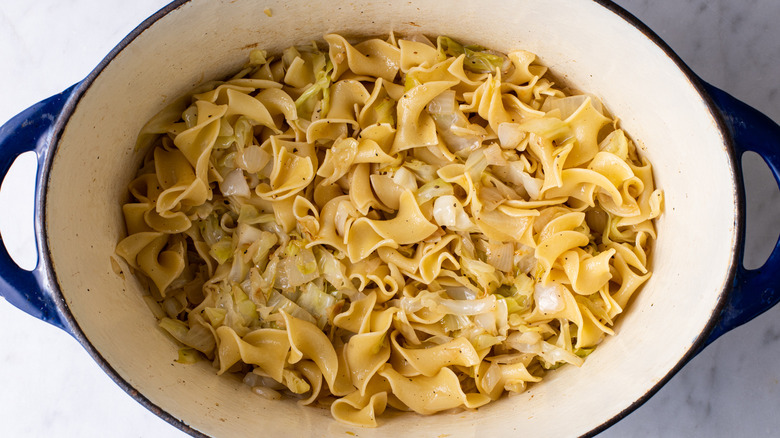 Alexandra Shytsman/Mashed
When the cabbage is ready, stir in the noodles and cook to warm them through. Taste and adjust the seasonings before serving. We recommend being pretty generous with the black pepper, since it adds a nice contrast to the dish.
You could enjoy this haluski on its own, or you could pair it with steak, salmon, tofu, chicken — really anything complements the rich flavors! 
Polish Haluski Recipe
This Polish haluski is warm and comforting, and it comes together with just a handful of ingredients.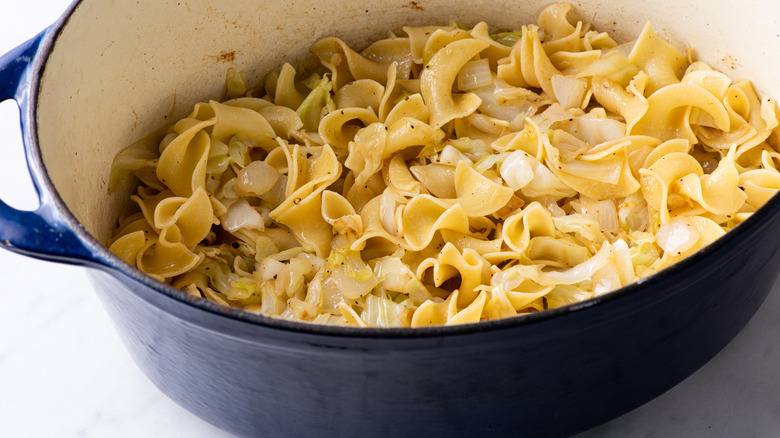 Ingredients
4 tablespoons butter
½ medium head green cabbage, sliced
1 medium yellow onion, diced
fine sea salt, to taste
ground black pepper, to taste
8 ounces egg noodles
Directions
Melt the butter in a large, high-sided saucepan or Dutch oven over medium heat. Add the cabbage and onion with pinches of salt and pepper, and stir to coat. Cover with a lid and cook until the cabbage is just starting to soften and become translucent, 5 to 7 minutes.
Meanwhile, bring a medium pot of water to a boil for the noodles. Season the boiling water generously with salt and cook the noodles according to package directions.
Remove the lid from the saucepan and continue to cook the vegetables uncovered until they're soft and starting to caramelize around the edges, 15 to 20 minutes, stirring occasionally.
Drain the noodles and add to the saucepan with the vegetables. Stir to combine. Taste and adjust the seasonings, if needed.
Serve warm, garnished with extra pepper.
Nutrition
| | |
| --- | --- |
| Calories per Serving | 361 |
| Total Fat | 14.2 g |
| Saturated Fat | 8.0 g |
| Trans Fat | 0.5 g |
| Cholesterol | 78.2 mg |
| | |
| --- | --- |
| Total Carbohydrates | 50.0 g |
| Dietary Fiber | 5.3 g |
| Total Sugars | 5.9 g |
| Sodium | 494.2 mg |
| Protein | 10.0 g |