In Bobby Flay's Career, One Recipe Stands Above The Rest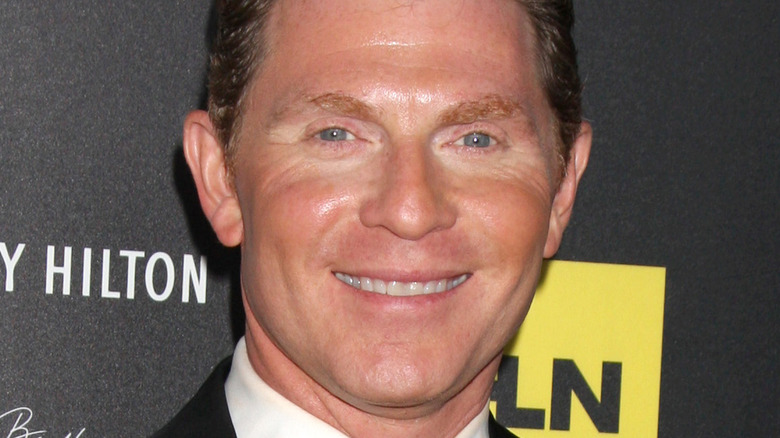 Kathy Hutchins/Shutterstock
Asking Food Network star and world-renowned chef Bobby Flay to pick his favorite recipe might be like asking someone to choose their favorite child. Er, well, Flay only has one child, Sophie, who is his best buddy, cookbook muse, and podcast co-host ... so, maybe picking his favorite child wouldn't be that hard. But picking his favorite recipe is another story altogether.
The list of Flay's favorite foods is long and varied. "I really love Greek yogurt," he told Bon Appétit in 2013. "I love the richness and the thickness of it, and the tanginess, and I still like that when I'm eating it, I feel really healthy." Health is definitely a consideration, and he often waxes poetic about a good vegetable dish. Like when Flay talked to Tasting Table in 2016 and said restaurant the Via Carota took the crown for his best meal in the year prior: "Order every vegetable dish" was his advice then. And his subsequent shoutout to an L.A. eatery for their sea urchin ravioli proved that when it comes to picking food favorites, Flay isn't a picky eater. But what about the stuff he cooks? In a career filled with barbecue battles, trips to Tuscany, and cooking every cuisine under the sun, which of Flay's own dishes would he say takes the cake?
Shrimp is where the heart is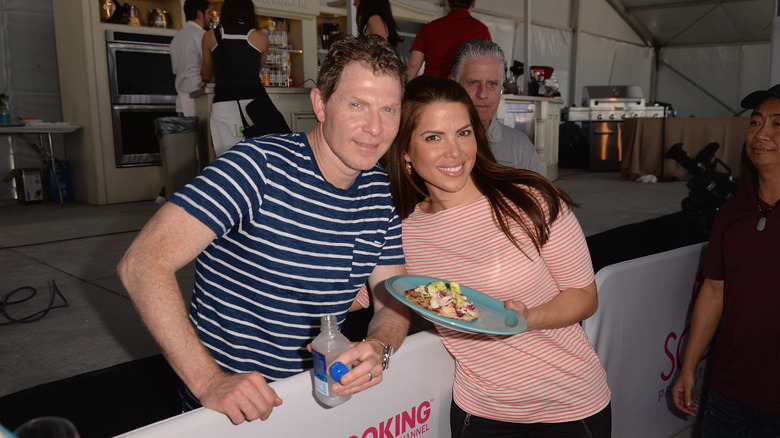 Larry Marano/Getty Images
The answer, according to an interview Bobby Flay gave "Good Morning America," goes back to his first restaurant. "I have a dish at Mesa Grill, my first restaurant that I owned and there's still one in Las Vegas here at Caesars Palace," Flay explained when asked about his favorite dish he has ever cooked. "The shrimp and roasted garlic tamale. It's the most signature dish that I have." And while that particular location has since been replaced by another Flay concept (Amalfi, a restaurant inspired by Flay's time in the Mediterranean), his favorite recipe remains. In fact, when he cooked the shrimp and roasted garlic tamale for the Food & Wine Classic in Aspen in 2009, the excitement of cooking his "signature dish" was obvious as he turned corn husks, masa, and a whole lot of butter into a Southwestern seafood extravaganza. "This is my favorite part," he says gleefully when the time comes to taste the dish.
For someone who got his start in Southwest cuisine, the shrimp and roasted garlic tamale make so much sense for Flay's favorite recipe. It's full of character, flavor, and just a hint of spice like Flay himself. But if you're looking to build on those Flay-vors in a different way, you're more than welcome to try our Bobby Flay's Shrimp And Roasted Garlic Tamale with a Twist recipe.