The Real Reason Joey Chestnut Didn't Beat His Hotdog Eating Record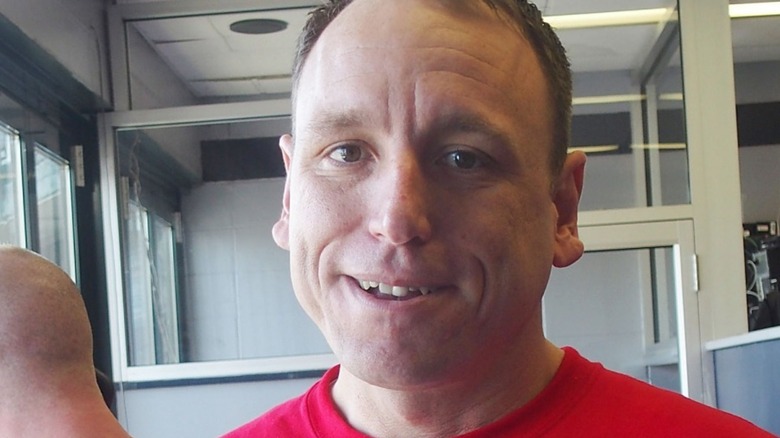 Bobby Bank/Getty
Lean, mean, hotdog hoovering machine Joey Chestnut has a record of wolfing down 76 hotdogs in ten minutes, according to Sports Illustrated. This makes the original champion James Mullen, who won on Independence Day in 1916 per Smithsonian Magazine, look like a delicate flower. July 4, 2021 also marked Chestnut's 14th victory at the Nathan's Hot Dog Eating Contest, which was on par with tennis champion Rafael Nadal's French Open wins for most championship titles in a single event: ESPN even went as far as tweeting a picture of Chestnut with a tray full of hotdogs next to Nadal holding the trophy after his victory. 
It was possible that Chestnut could have broken his previous record of 76 hot dogs during this year's contest, but it turns out he was nursing a hurt leg in a surgical boot due to a ruptured tendon, per Sports Illustrated. Chestnut insisted that though it was painful, he would still be able to partake in the competition – which makes sense since you eat hotdogs with your jaws, not your leg. However, there was also another reason the hot champion did not break his own record this year.
Joey Chestnut fought off a protester onstage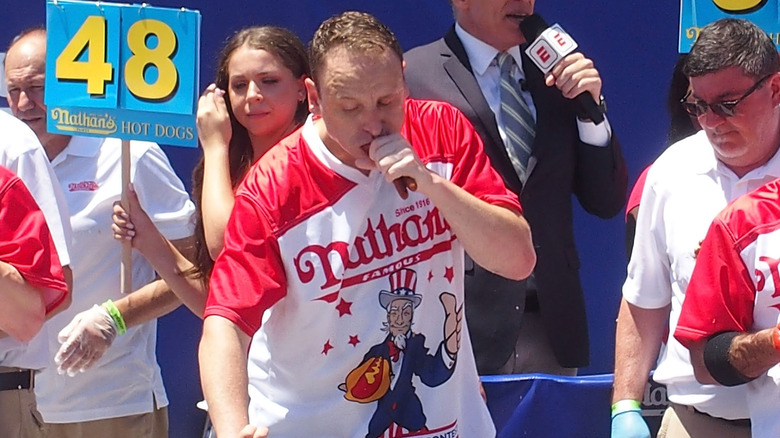 Bobby Bank/Getty Images
While the Nathan's Hot Dog Eating Contest was underway, a black-clad individual with a Darth Vader mask shouldered his way to Joey Chestnut onstage. The competitor, cheeks bulging with weiner and bun, reacted to the trespasser by putting him into a vice and throwing him to the side. The rest of the competitors looked on comically big-eyed and round-cheeked when they swiveled their heads and became engrossed in the scene. Even the scorekeepers were agog when security tussled with the protester, per Daily Mail. 
The protester was part of a group of activists bringing awareness to the treatment of pigs at the Smithfield Foods pig farm factory, per SportsKeeda. After the protester changed hands between Chestnut and security, he landed in police custody. Joey failed to reach or beat his 2021 record but still won his 15th hotdog contest, managing to scarf down 63 hot dogs in ten minutes (via Washington Post).