The 11 Best Bone Broths Of 2022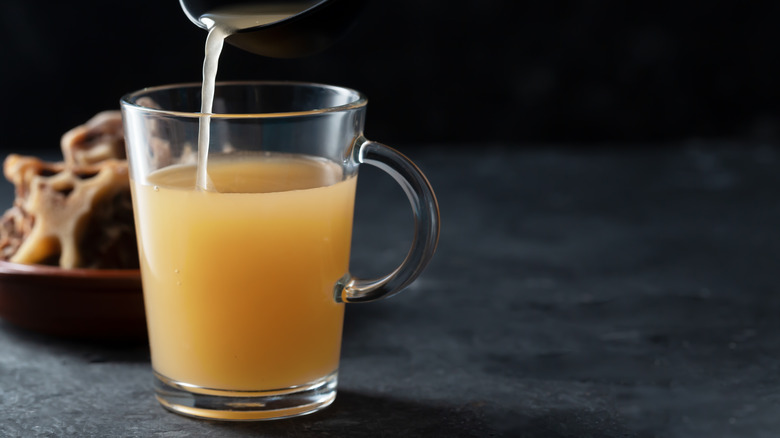 Civil/Shutterstock
We may receive a commission on purchases made from links.
If soup feeds the soul, where does that leave bone broth? This creamy elixir, produced by dissolving animal bones down to its liquified essence, has acted as a nutritional powerhouse for thousands of years, in spite of its recent emergence in wellness circles (via New York Times). It brims with essential vitamins, minerals, and amino acids that serve the body's many functions. Per Healthline, drinking a cup of bone broth can brighten skin, improve hair and nail growth, and curb inflammation in the joints and stomach. It's no wonder then proponents refer to it as "liquid gold" — it's as natural a home remedy as you can get.
Although the jury's still out on its long-term benefits, there's no doubt consuming bone broth is soothing for the body and mind. The selection of bone broths on the market today are ever-growing, with brands of all price points promoting a deliciously-healthy treatment for whatever ails you. However, not all bone broths are the same, and people's nutritional needs are not a one-size-fits-all phenomenon. Whether you're seeking a broth to sip by the mug or to beef up your meals, we've rounded up the best brews to energize you this year. 
1. How we chose bone broths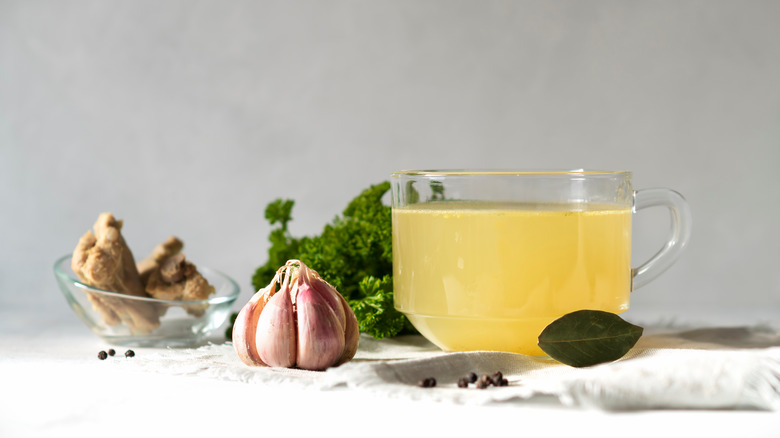 IrinaPhVideo/Shutterstock
To take stock of the best bone broths of 2022 required doing a little digging into current trends. We scoured product descriptions and reviews across a variety of platforms, paying special attention to both positive and negative responses to get an informed sense of what's truly popular. We looked at bone broths in multiple forms (powdered, liquid) and considered factors such as budget, convenience, and dietary needs in selecting the most representative brews consumers would want to buy. 
Additionally, uses for bone broth can differ depending on the person's desires, so exploring the various ways customers implemented it into their lifestyles shaped how we assembled this roundup. Comments on the flavor, ingredients, and overall feeling produced by drinking it gave us the best sense of which brands performed the best. Cost can be an indication of quality, but it wasn't always the deciding factor in how pleasing a product was overall. 
2. Best overall bone broth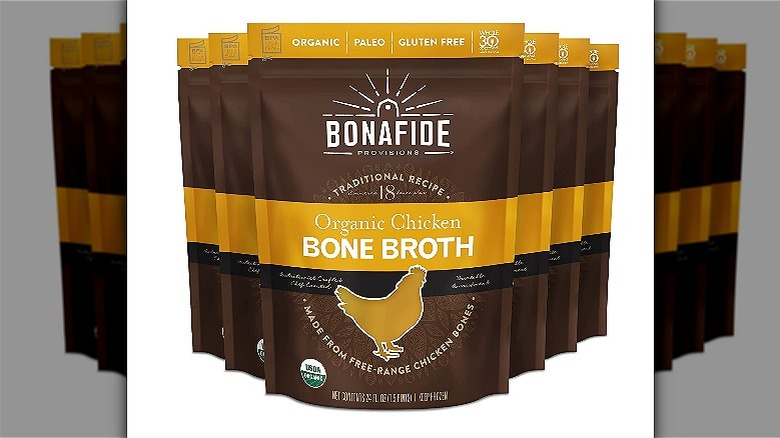 Amazon
With so many options on the market, choosing the best overall bone broth proved to be a difficult task. However, there was one option that ticked all the boxes for nourishment, flavor, and total quality, and that was Bonafide Provisions Organic Chicken Bone Broth. For starters, the founders are professional chefs and nutritionists via Forbes, so they know a thing or two about bone broth that's not only good for you, but good-tasting to boot. It's organic, fresh-frozen, and simmered for 18 hours to extract all those nutrients, without any additives that might concern the health-conscious among us. Not to mention it's available at retailers like Whole Foods, so procuring a bag can always be a quick drive away. 
Easy to use, healthy, and delicious are the three things you want out of bone broth, and Bonafide Provisions nails all of them. Whether you're new to the bone broth community or aim to try all the brands on the market, Bonafide Provisions is the gold standard of liquid gold. We recommend stirring this into a hearty soup or rice dish to pack in the vitamins. 
Purchase Bonafide Provisions Organic Chicken Bone Broth on Amazon starting at $89.99 for a pack of six. 
3. Best shelf-stable bone broth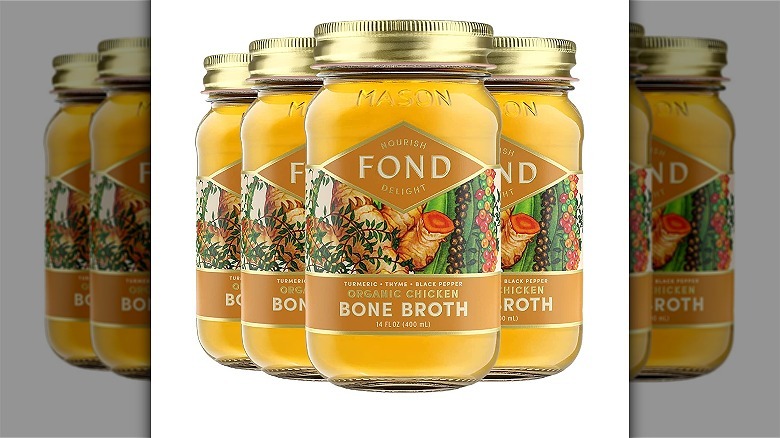 Amazon
When fresh bone broth risks spoiling faster than its preservative-pumped peers, maintaining a regular supply of it gets tricky. So when we saw that FOND's Certified Organic Chicken Bone Broth in Liquid Light is shelf-stable, our interest was piqued immediately. Its Amazon page shows that jars will keep in the cupboard for up to two years, with a window of four to seven days in the fridge once it's opened. In addition to being infused with thyme, turmeric, and black pepper, the brew is made with pasture-raised chickens and vegetables free of GMOs and hormones (per FOND). 
The uses FOND bone broth has are numerous; reviewers on Amazon reportedly heat it up in the microwave for a filling pick-me-up, as a snack with veggies and crackers, and as an enhancer (flavor or protein-wise) to casseroles and stews, so it's incredibly versatile to boot. Additionally, turmeric is effective to combatting inflammation, per WebMD and its protein-heavy at 16 grams a serving will provide over 30% of your total daily intake, which packs a healthy nutritional punch. It's satisfying, it's wholesome, and it'll last as long as you want it to. 
For a bone broth you can savor on your terms, purchase FOND Certified Organic Chicken Bone Broth in Liquid Light on Amazon starting at $38.69 for a pack of four jars. 
4. Best powder bone broth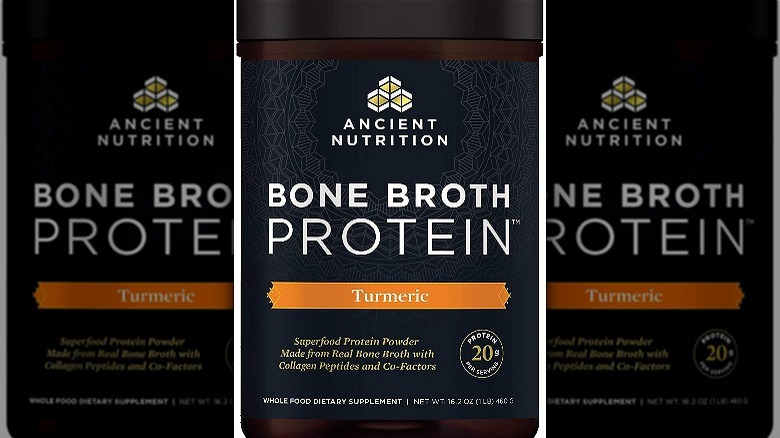 Amazon
Even if liquid bone broth is the type most supermarkets carry, it doesn't fit all lifestyles. Maybe you have limited space in your fridge/freezer, or it has to be tossed out before you can use it up. If any of these apply to you, powdered bone broth is a great alternative. The Bone Broth Protein in Turmeric from Ancient Nutrition contains the same protein-boosting power bone broth provides, but in a finely-ground meal made for mixing into water, stews, and more. Per its website, a single scoop is loaded with optimal nutritional content such as 20 grams of protein, collagen type II, and at least 18 amino acids. 
Although a few individuals weren't pleased with the turmeric flavor, Amazon reviewers for the most part praised this powdered bone broth for its convenience and effective results. Many testified to gaining stronger fingernails, healed joints, and feeling more energized after consuming it as a regular part of their diet, which ranges from blending it into smoothies or sipping from a cup with the customizations of your choice (seasonings, coconut oil, etc). Since it dissolves so effortlessly, it leaves behind none of the icky residue powdered products are associated with. 
If you're seeking a convenient, non-perishable version of this superfood, you can purchase Ancient Nutrition Bone Broth Protein in Turmeric on Amazon starting at $39.96. 
5. Best organic bone broth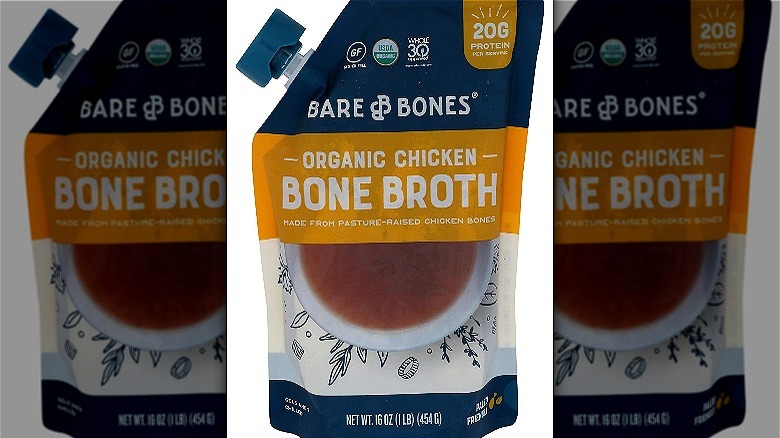 Amazon
Tons of bone broths are touted as organic these days, but it takes something special to stand out from the rest of the flock. For this reason, Bare Bones Organic Chicken Bone Broth remains one of the best money can buy. The company is Certified Organic because it exclusively sources its bones from farms approved by the Global Animal Partnership, an organization focused on ensuring livestock are humanely treated (per Hive Brands). Not only that, but the brand uses sustainable cooking techniques to make its brews, relying on a slow simmering process with steam in lieu of fire, via Bare Bones.
On paper this already appears promising, but it's even better in practice when you see the 600+ rave reviews on its website. One way we know Bare Bones is the real deal? Its broth "gels" when stored in the fridge, meaning it solidifies to a thick jello-like consistency. This viscosity signals that it's brimming with all those proteins that lead to vibrant hair and nails, including collagen which is a superhero substance for healthy skin (via Cedars Sinai). Not all bone broths do this, so leap on the chance to get your hands on it when it comes. Better-treated animals means better-tasting broth, and Bare Bones sets the bar high for what an organic brew can be.
Purchase Bare Bones Organic Chicken Bone Broth on Amazon starting at $15. 
6. Best sipping bone broth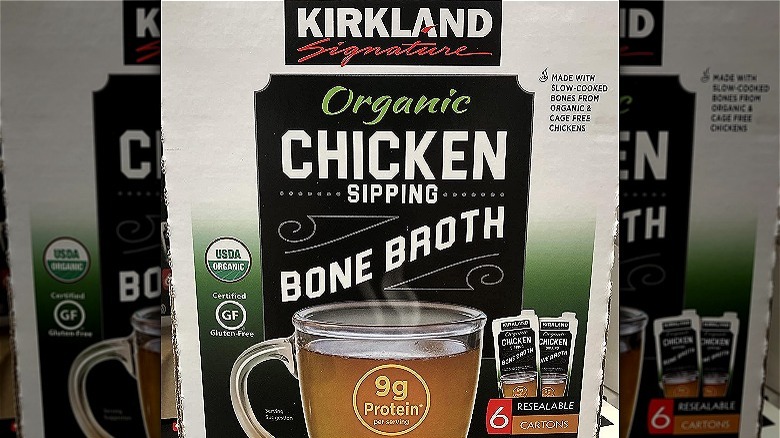 Amazon
Whereas some bone broths are intended for boosting the nutritional content in your food, others can replace your morning cup of coffee or tea. We found that Costco, that bastion of bulk splendors and bottomless samples makes the best bone broth for sipping. "I have tried every bone broth I could get my hands on in the market and this is hands down the best," one Amazon reviewer wrote of the Kirkland Signature Organic Chicken Bone Broth, adding that it "delivers" as a standalone beverage. Like many bone broths here it contains all-natural ingredients such as ethically-sourced bones and organic vegetables, with its nutritional label showing carrots, onion, celery, and a scattering of herbs. 
Really, it's no different than a comforting bowl of chicken noodle soup, and the 9 grams of protein you get per serving are just the cherry on top. YouTube channel Stacey's Journey raved about the flavor of this broth, claiming it's great for sipping cold out of the fridge. But if you prefer a warmed brew to sip on, heating it up on the stove is just as delicious. Whatever temperature fits your preferences, this is a bone broth you'll be slurping up in no time. 
Purchase Kirkland Signature Organic Chicken Bone Broth on Amazon starting at $36.41 for a pack of 6. 
7. Best splurge bone broth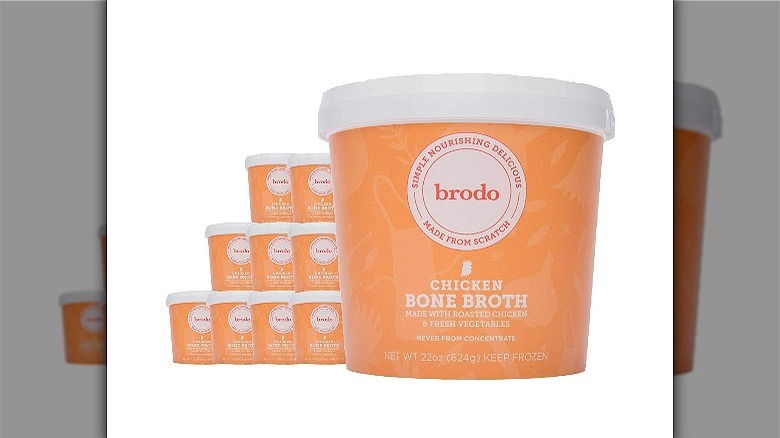 Amazon
If you'd like to treat your tastebuds to something on the fancy side, Brodo Organic Chicken Bone Broth is definitely worth the splurge. Established by New York restauranteur Marco Canora in 2014, this premium brew is made by hand with the finest ingredients that'll have you making the case for spending $13.99 for a carton. It starts with organic chicken bones, veggies, and seasonings, which boils away for exactly 24 hours while brewmasters sift out the textured bits that rise to the top manually. The end result is a creamy elixir whose quality you'll taste the moment you bring the cup to your lips. It's also free of gluten, dairy, and artificial additives (per Amazon). 
Artisanal bone broth may come at a higher price, especially if you make it a daily habit. A 10-pack on Amazon, for example, will set you back almost $140. But for many, the pros of Brodo far outweigh the cons. One Amazon review claims it is the "best tasting" and "worth the price" for its superior flavor compared to what is found at the grocery store. Plus, it's also quite wholesome as customers report feeling full and satisfied after drinking it. Considering the fact that it's filling on its own and comes frozen, you can spread out your use to make it last longer if cost is an issue. It'll be worth your while. 
Purchase Brodo Organic Chicken Bone Broth on Amazon starting at $139.90 for a pack of 10. 
8. Best budget bone broth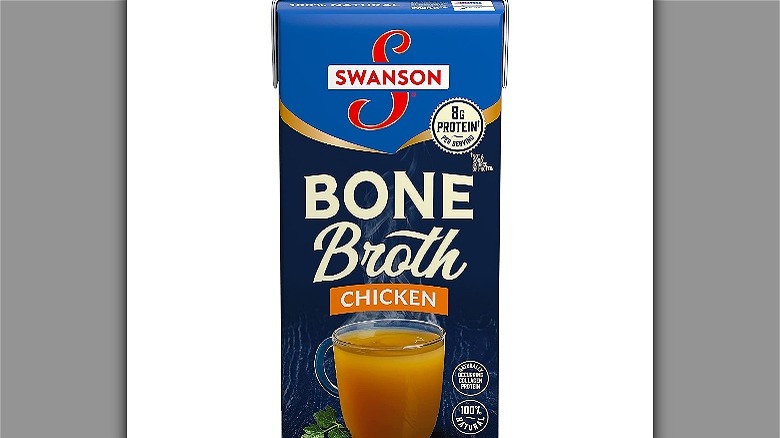 Amazon
By that token, affording nicer bone broth just isn't realistic for the majority of us. The good news? Price isn't always an indication of quality, and there's some hidden gems lurking on the supermarket shelf these days. For a bone broth that won't break the bank, you can never go wrong with one of the classics: Swanson's Chicken Bone Broth. It's an unbeatable bargain at under $4 per carton, for one, but more than that it isn't the only selling point. It contains loads of protein and collagen from non-hormone-treated chickens and is gluten-free, keto, and paleo-friendly, according to Amazon. These features are what you'd expect to see from the organic aisle at Whole Foods, only it's from a frozen food giant at a fraction of the cost. 
Certainly, in some respects, you are getting what you pay for. A few complaints from individuals who've tried it mention the slightly bland flavor and lower protein content as marks against it. Otherwise, it meets the mark for a bone broth you can drink without worrying about conserving every last drop. Influenster reviews enjoy it for incorporating into soups, for sipping out of a mug, and even for recovering during illness, as one person found. "Great flavor, great price point, and even better to have around when feeling down," they said. 
Purchase a 32-ounce carton of Swanson Chicken Bone Broth on Amazon starting at $6.11. 
9. Best grass-fed bone broth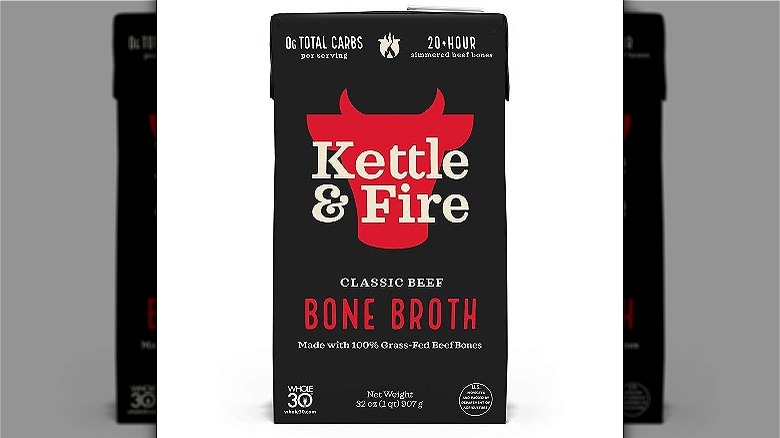 Amazon
Grass-fed beef is a nutritional workhorse. Compared to factory-farmed cattle, it's believed to boast a richer source of vitamins and minerals that keep the body in good shape, per Mayo Clinic. It isn't surprising then that Kettle & Fire's Classic Beef Bone Broth is a sacred cow in health circles, both for its carb-free status and light calorie load. As Kettle & Fire's website states, it boils beef bones anywhere between 20 to 24 hours in order to wring out optimal nourishment. This slow-and-steady mentality pays off, because the dark, meaty brew produced brims with protein and gut-happy amino acids.
Between its organic composition and generous simmering time, this bone broth achieves a staggering savoriness other brands simply can't compete with. Customers across the board love this broth, and as Amazon reviewers show, the uses for it are endless. Some users suggest warming it in a mug with salt or coconut oil as a savory treat, but it would also taste fabulous in a rice dish like risotto or jambalaya. Add in that it has a 2-year shelf life, and it's not hard to see why people beef up their nutrition with Kettle & Fire. 
Purchase the Kettle & Fire Classic Beef Bone Broth pack of three on Amazon starting at $19.74. 
10. Best unsalted bone broth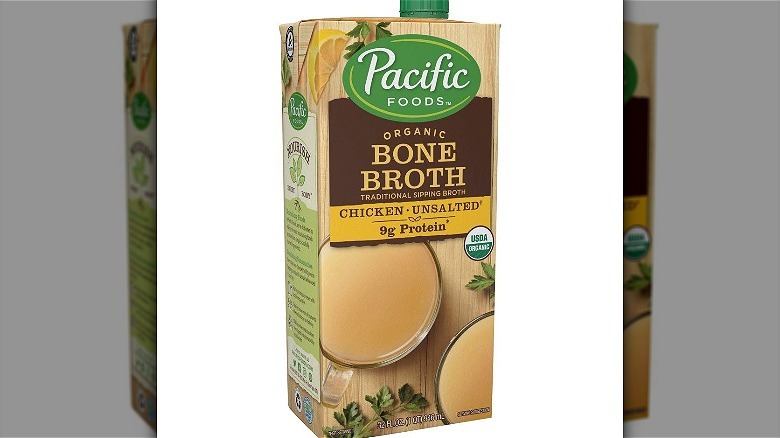 Amazon
Salt is an instant flavor mobilizer, but eating too much salt can pose long-term effects on cardiovascular health, per the Harvard School of Public Health. Understandably, people watching their sodium intake will need to be mindful when picking out a bone broth to use, and of all the no-salt-added offerings out there we discovered the best came from Pacific Foods. The Organic Gluten-Free Unsalted Chicken Bone Broth only has 125 milligrams of sodium and doesn't feature any extra salt, instead relying on a healthy dose of rosemary, onion, and vinegar boiled with the bones for its bold flavor to shine through. 
Out of 300 reviews on Target, the main response was glowing praise of the broth's comforting warmth, with its versatility across many dishes a plus. But as with anything unsalted, much less bone broth, it's bound to draw a few mixed reactions — some people found it too bland and unseasoned, which is to be expected. While the complaint is understandable, the majority of users found it was seasoned to their satisfaction, or the plainer taste easy to customize with a dash of salt. For a flavorful broth that's heart-approved, you'll want to stock your pantry with this pick. 
Purchase Pacific Foods Organic Gluten-Free Unsalted Chicken Bone Broth on Target starting at $5.79.
11. Best gut-friendly bone broth
Osso Good
Digestive issues are painfully common in the U.S. With over 20 million Americans are plagued annually by gastrointestinal discomfort per the GI Alliance, bone broth's been cited as a possible salve for conditions like leaky gut or irritable bowel syndrome because of its high source of amino acids, which stave off inflammation (via Healthline). For a bone broth that's gentle on the tummy, Osso Good's AIP Compliant Beef Bone Broth is a great choice. 
Let's start with the name. AIP translates to Autoimmune Protocol, meaning it's free of inflammatory ingredients that are known to upset the stomach, including garlic, tomato, onion, and peppercorns (via Osso Good). As the rave reviews on Trust Pilot can attest to, individuals with gut problems have experienced improved symptoms since incorporating it into their daily rotation. "I used Osso's bone broths to heal my gut. When I was so out of balance that I couldn't tolerate solid food, I was so happy to find I could tolerate the bone broth," one reviewer wrote. Others chimed in that it aided bloating and helped ease the stomach when the tolerance for solid food was low. If you're looking to treat your gut with a little kindness, this broth is well worth the price tag. 
Purchase Osso Good AIP Compliant Beef Bone Broth starting at $66 for a pack of six.