38% Of Culver's Fans Agree That This Is The Worst Sandwich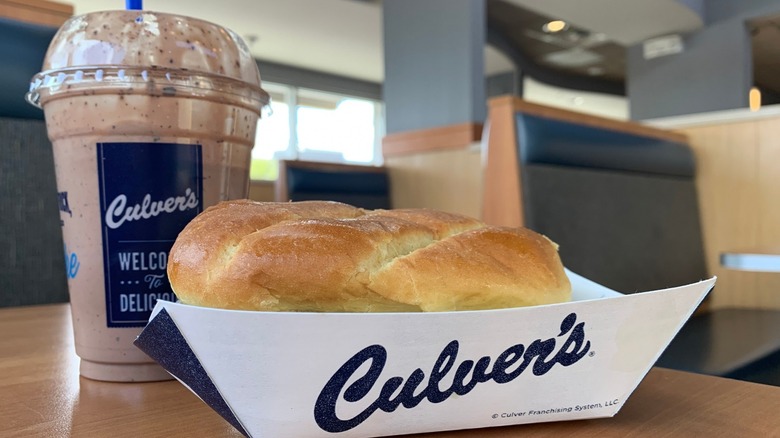 JJava Designs/Shutterstock
As far as burger chains go, there are a few big names that probably come to most people's minds. However, when it comes to America's favorite burger joint, you may be surprised to learn the title belongs to a relatively small chain called Culver's, which Eat This, Not That! reports earned the highest customer satisfaction score among the major burger slingers last year with an average rating of 4.34 out of 5.
If you've never heard of Culver's before, don't worry, you're probably not alone. Though the company first ventured outside the midwest in 1997, it has currently only made its way into 26 states. Therefore, half of the country is still missing out on its famous ButterBurgers and Culver's frozen custard – though that's not to say they won't be able to get a taste of them soon. Per QSR Magazine, the eatery has opened 50 new locations in 2019 and 2020, meaning it might not be long before you see the Culver's mascot Scoopie in your neck of the woods.
That being said, you may be curious about what superfans are ordering from the restaurant and, more importantly, what they're skipping when heading to the drive-thru so you're ready when the chain's glowing blue and white sign finally lights up your town. To help narrow things down, Mashed asked 526 Culver's lovers in the U.S. which of the chain's sandwiches they thought was the worst on the menu.
Culver's Harvest Veggie Burger isn't winning over many customers
With 39% of Americans eliminating "as many animal-related food products as possible" (via Truly Experiences), vegetarian options are a must-have for restaurants nowadays. However, it seems Culver's answer to this trend may not be passing the test. Featuring a "hearty" patty made from chickpeas, mushrooms, peppers, corn, and cheese, the chain's Harvest Veggie Burger earned 38.59% of the votes in Mashed's survey, awarding it the title of the worst sandwich at Culver's. Taste may be one factor in its poor reception, as YouTuber 2¢ Chick said in her review of the sammie that it didn't have a very strong flavor. Additionally, she also explained that the entree packs 590 calories, 25 grams of fat, and 72 carbs, giving it a nutritional value that's less-than-stellar.
For those that do eat meat, Culver's ButterBurgers are a must-try — though survey results indicate there's one version of the eatery's signature handheld that doesn't hold up. With 19.96% of votes from 105 people, the Mushroom & Swiss ButterBurger took second place in Mashed's poll. The North Atlantic Cod Filet Sandwich followed closely behind, receiving votes from 19.39% of respondents, while the Sourdough melt was dubbed the worst by 60 participants (11.41%). Finally, Culver's Crispy Chicken Sandwich received the least amount of votes with just 10.65%, indicating that, in addition to winning the fast food burger race, the chain is putting up a good fight in the chicken sandwich wars, as well.