The TV Series That Might Have The Most Realistic Restaurant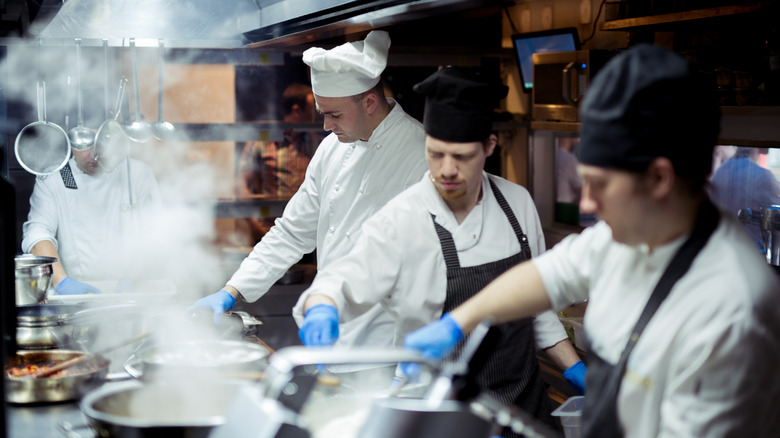 ZoranOrcik/Shutterstock
Anyone who's experienced their share of insults and injuries while working on the line in a hot kitchen during an evening dinner rush might find something relatable in a new series. While shows like "Chopped" and "Top Chef" might be able to serve up some of the pressure that can be felt in a kitchen environment, the bright lights and pristine countertops of their studio kitchens may lack a little authenticity for some viewers. On the other hand, one of FX's new series is getting good reviews for capturing what it's like to work in a restaurant kitchen — especially one that isn't doing too well.
According to FX, "The Bear" tells the story of chef Carmen "Carmy" Berzatto, played by Jeremy Allen White, who lands in his hometown after a tragedy to run the family restaurant. The show takes viewers inside a fictitious Windy City restaurant, The Original Beef of Chicagoland, and as Eater explains, "The air of this restaurant and its chef feel viscerally real, especially for anyone who's ever worked in a restaurant kitchen that's steeped in chaos." To help create "the gritty, chaotic reality of life in a regular neighborhood restaurant" (via Eater), White had to pick up the spatula in real life.
Jeremy Allen White worked in severeal kitchens to prepare for The Bear
It turns out there might be a good reason Carmy looks so natural in a kitchen. Entertainment Weekly reports Jeremy Allen White, who viewers may recognize from his role as Lip Gallagher on "Shameless," put some time in to prepare for his role in "The Bear." "I went to two weeks of cooking school. I worked in several really wonderful restaurants in Los Angeles, Chicago, and in New York," White told the outlet. Apparently, one of those restaurants was Pasjoli, a Michelin-starred restaurant in Santa Monica.
Another reason "The Bear" may feel so authentic? It has a ringer on the payroll. EW reports Matty Matheson is also a co-producer on the show who provided training and shared stories about his personal experiences in the restaurant industry. An industry the show nails with its portrayal, according to NPR, as the outlet warns, "...the series captures life on the line in a restaurant kitchen — the urgency, the tension, the heightened emotions, the raised voices. It is by no means a chill hang of a viewing experience." Luckily, viewers can just hit pause on this one anytime they need a 15-minute break.
The full season of "The Bear" is now streaming on Hulu.