TikTok Can't Believe How Many Ways People Eat Hot Dogs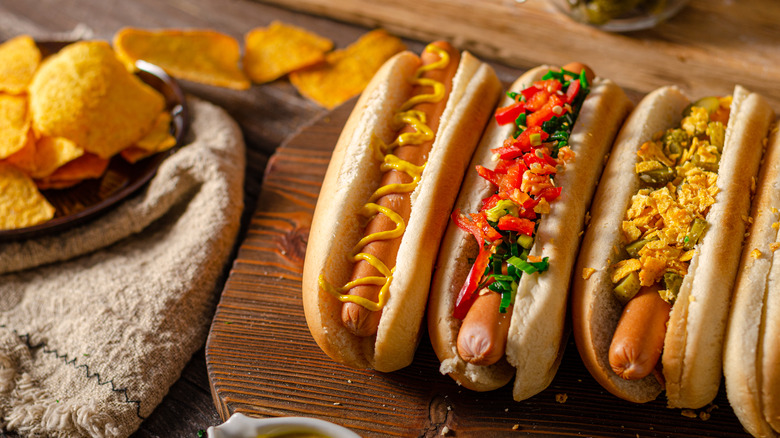 Stepanek Photography/Shutterstock
How could you not love a hot dog? This American classic is great for sports games, Fourth of July barbecues, and even Netflix binge-watching sessions — not to mention its status as an unmissable street food in Chicago, New York City, and beyond. Regional hot dog styles mean that everyone enjoys the dish a little differently. However, if your dream dog has just mustard and relish, you're keeping things pretty basic. As it turns out, beloved versions of the food from around the world just might make you realize that there are a ton of other things you should be putting your hot dog, but aren't.
A recent TikTok video by videographer Beryl Shereshewsky (@shereshe) demonstrated the variety of ways that people eat hot dogs around the world, and her followers couldn't believe the range in toppings. One user said they had "never been more surprised to find out how many different countries have and eat hot dogs." Others debated the dishes shown for their home countries, such as Venezuela and South Africa, illustrating just how many ways there are to eat a sausage in a bun.
Most of the hot dogs shown in Shereshewsky's video, which is actually part of an ongoing series in which people all over the world show how they eat hot dogs in their home countries, respected the standard formula of bun and meat — but then went rogue on the toppings. From curry to corn sauce, these ingredients have food TikTok discovering tons of new ways to bring excitement to the classic hot dog.
Mayo and mustard? Try béchamel or curry ketchup instead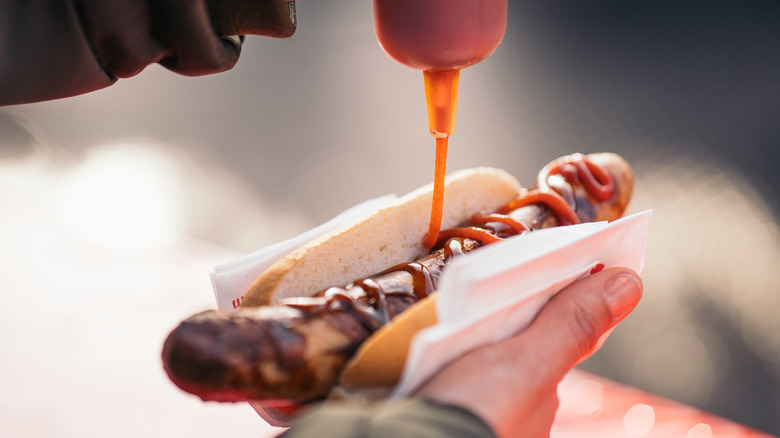 Manu Padilla/Shutterstock
No matter where you are in the world, a hot dog needs its sauce. According to Shereshewsky's video, in the Netherlands, where the hot dog is known as broodje knakworst, it is eaten with sauerkraut, crispy fried onions, and curry ketchup. This type of ketchup can be found in stores or replicated at home with hot sauce and a bit of curry powder. In Austria, meanwhile, some people just add curry powder directly to the hot dog.
For a similar juiciness and tang, South Africans use what they call smoor, a type of tomato and onion relish, according to the video. This condiment can be spiked with bell peppers and mushrooms, as well as herbs like parsley and oregano, as Jana Cooks notes, and just might inspire your next twist on your homemade relish recipe.
Other countries add creaminess with avocado, a controversial (according to the comments) move demonstrated by a user from Caracas, Venezuela. In the end, though, France may win the sauce contest: A video participant from France showed off their hot dog topped with béchamel, a thick and buttery and sauce that the French also use in other sandwiches, like the croque monsieur. Finally, as if the French hot dog weren't surprising enough, this one was also served in a baguette "bun."
Cheese is more than welcome on hot dogs around the world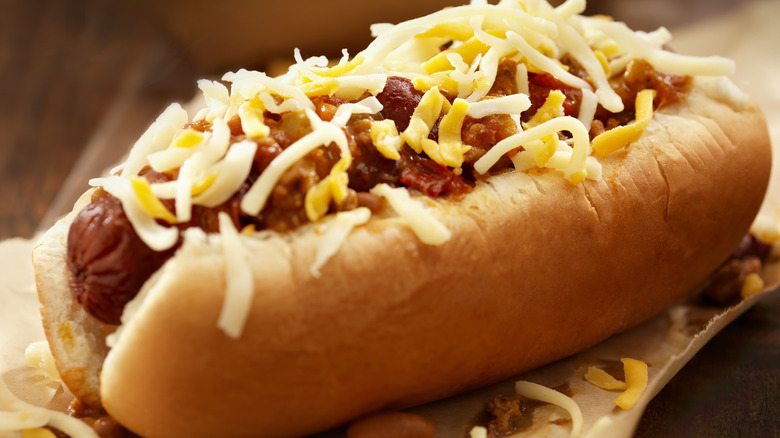 KJ Kohs/Shutterstock
Cheese on a hot dog isn't an unusual concept — after all, chili cheese dogs are popular throughout the country. Plus, plenty of the best places to eat hot dogs in the U.S. serve their dogs with gooey toppings like blue cheese, cream cheese, and even molten cheese dip. Americans aren't the only ones who love a cheesy hot dog, though: The TikTok video reveals that in France, it's not unusual to top your hot dog with Emmental cheese — and then broil it "until it becomes this cheesy, melty goodness."
Try a similar trick with your favorite melting cheese, or take a cue from Brazilians and Venezuelans by adding shredded cheddar cheese to your hot dog, sweetened with a mixture of sweet corn and mayonnaise (as shown in part one of the video series). You could even go Greek by opting for crumbled feta with a bit of tomato. The series, which reveals other intriguing toppings from around the world (think shrimp salad in Norway and salted cod fish in Bermuda), illustrates that there's no right or wrong way to enjoy a hot dog — and gives us more reasons to travel.