Easy Honey Mustard Recipe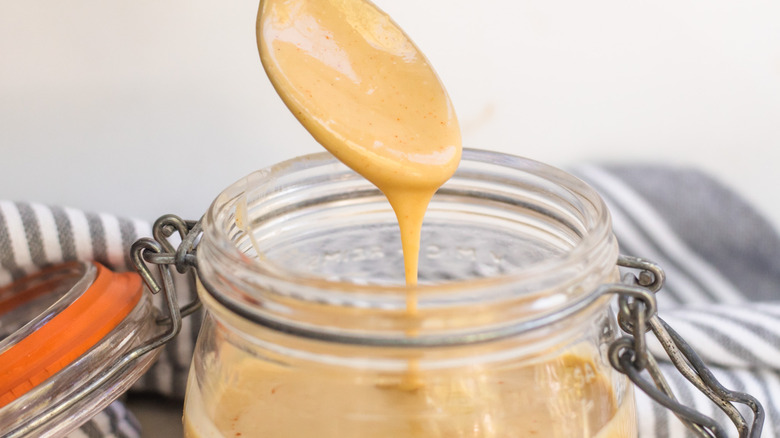 Jaime Shelbert/Mashed
There's no doubt that honey mustard one of the most popular dipping sauces around, and it goes oh-so-well with everything from chicken fingers to french fries. Honey mustard also makes a great addition to a salad, a tasty spread on a sandwich, and it happens to be a delicious marinade for chicken and other proteins. What more is there to love? 
Recipe developer Jaime Shelbert of Wholly Nourished is a wizard in the kitchen, and every recipe she makes is pure gold. "I wanted to share this quick, easy recipe because it's a favorite for a weeknight honey mustard chicken recipe my family enjoys," Shelbert shares. "Plus, it's a great way to make your own honey mustard without all the additives found in prepackaged sauces at the store." She makes a good point — with easy homemade honey mustard, you know exactly what's going into the recipe (and into your body). 
Gather the ingredients to make honey mustard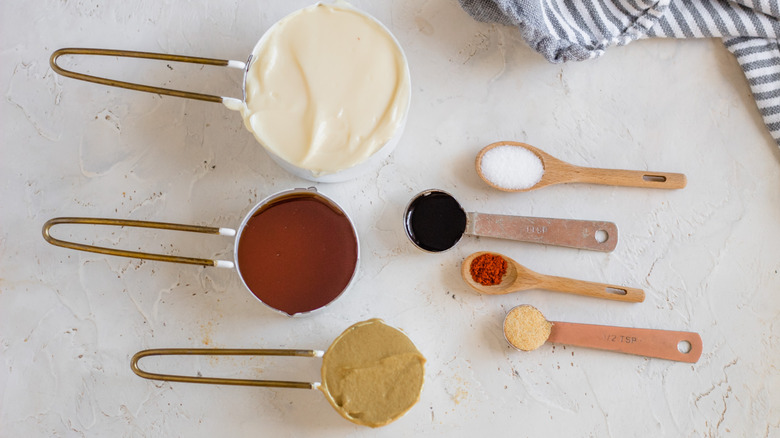 Jaime Shelbert/Mashed
Before you do anything else, you need to gather all the necessary ingredients. Be sure to grab mayonnaise, honey, Worcestershire sauce, garlic powder, salt, and paprika.
Once you have those things, you can start this easy honey mustard recipe.
Add the ingredients to a bowl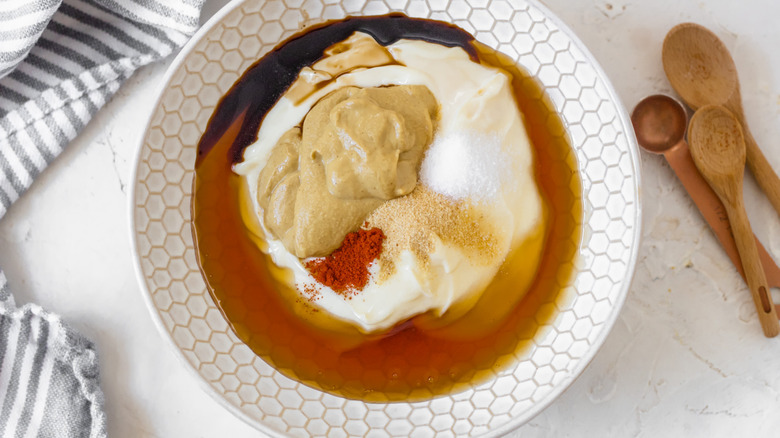 Jaime Shelbert/Mashed
Take out a bowl that's large enough to fit all the ingredients. Measure out and add in the mayonnaise, honey, Worcestershire sauce, garlic powder, salt, and paprika. By the way, the Worcestershire sauce is the secret ingredient. "My mother-in-law taught me this trick years ago," Shelbert says. "Worcestershire adds a deep, umami flavor that enhances the honey mustard. Add up to 2 teaspoons for more flavor." 
Stir the ingredients together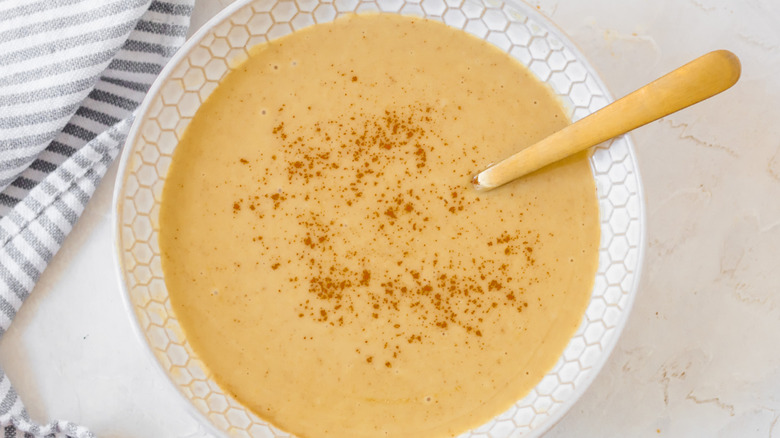 Jaime Shelbert/Mashed
All you need to do is stir the ingredients together. "You can stir the sauce with a whisk, a spoon or a fork. Stir until you achieve a smooth consistency," Shelbert notes. 
Serve and enjoy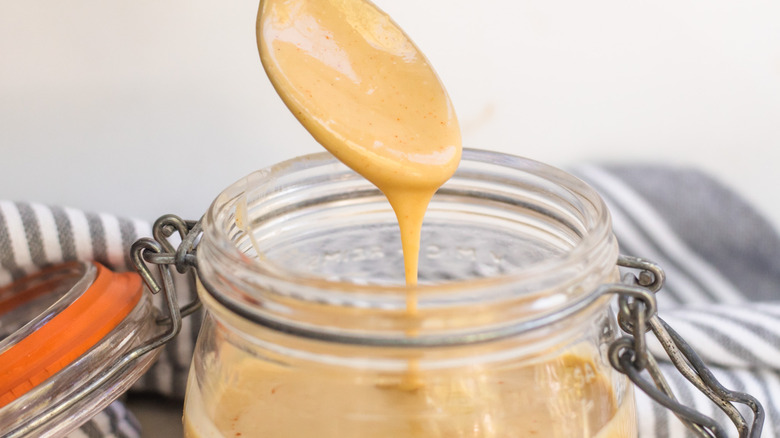 Jaime Shelbert/Mashed
This honey mustard is best when enjoyed right away. You can use it in plenty of recipes and Shelbert shares some of her favorites. "This sauce is great for dipping ... think chicken tenders, soft pretzels, or even air-fried tofu nuggets," she says. "I also like to use this sauce as a marinade for chicken prior to grilling. I then heat the remaining sauce in the microwave to either top the chicken or serve on the side." 
Storing your honey mustard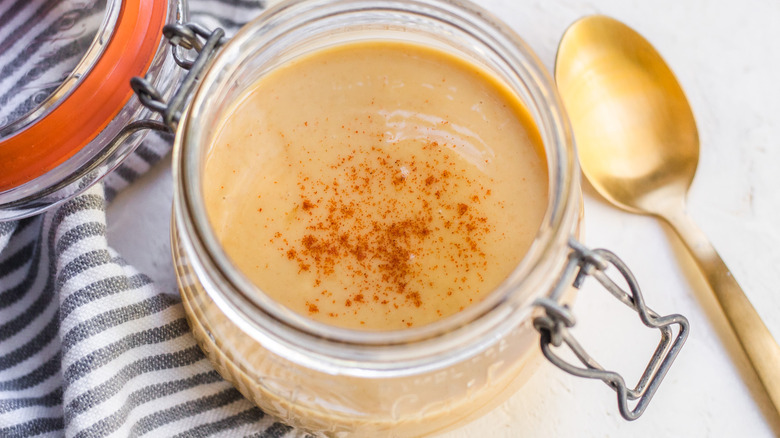 Jaime Shelbert/Mashed
If you're not going to use the honey mustard immediately, be sure to store it in the fridge until you're ready to enjoy. "Since this honey mustard sauce doesn't contain a preservative like ones purchased in the store, I recommend storing in an airtight container in the fridge for up to 2 weeks," Shelbert notes. 
Easy Honey Mustard Recipe
Skip the added preservatives found in store-bought honey mustard sauces and whip up this easy honey mustard recipe at home. It goes great chicken tenders!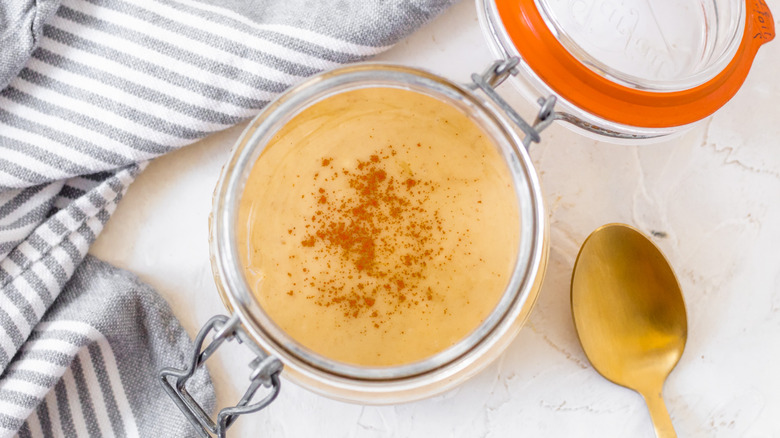 Ingredients
1 cup mayonnaise
¼ cup Dijon mustard
¼ cup honey
1 teaspoon Worcestershire sauce
½ teaspoon garlic powder
½ teaspoon salt
⅛ teaspoon paprika
Directions
Place all of the ingredients in a bowl.
Stir until thoroughly combined.
Use immediately as a dipping sauce or marinade, or store in the refrigerator until ready to use.
Nutrition
| | |
| --- | --- |
| Calories per Serving | 238 |
| Total Fat | 22.5 g |
| Saturated Fat | 3.3 g |
| Trans Fat | 0.0 g |
| Cholesterol | 11.3 mg |
| | |
| --- | --- |
| Total Carbohydrates | 9.5 g |
| Dietary Fiber | 0.4 g |
| Total Sugars | 8.9 g |
| Sodium | 260.1 mg |
| Protein | 0.4 g |