Popular TGI Fridays Appetizers, Ranked Worst To Best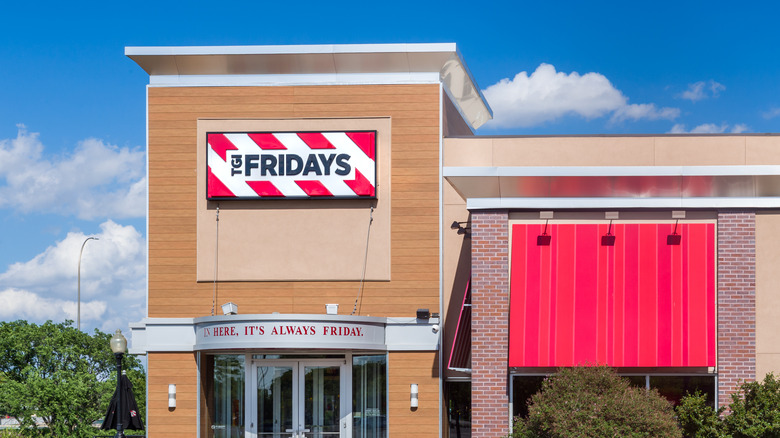 Ken Wolter/Shutterstock
TGI Fridays is a restaurant chain that specializes in American food and drink. It was founded in 1965 by Alan Stillman and was wildly popular among young people in its early years. The chain now has more than 900 locations in over 60 countries all around the world and remains a popular dining experience for families. Inside, you'll find busy booths, cluttered decor, and friendly servers that make it truly feel like an American restaurant experience.
The chain is known for its casual dining atmosphere and menu items such as burgers, salads, chicken wings, and desserts. But it is particularly well known for two things: alcohol and appetizers. While it would take months to try every drink offered at TGI Fridays, we knew we had to try some of its most famous appetizers to see for ourselves what all the hype was about. From loaded potato skins (which the brand claims to have invented) to the always classic mozzarella sticks, here are the most popular appetizers at TGI Fridays ranked from worst to best.
Loaded potato skins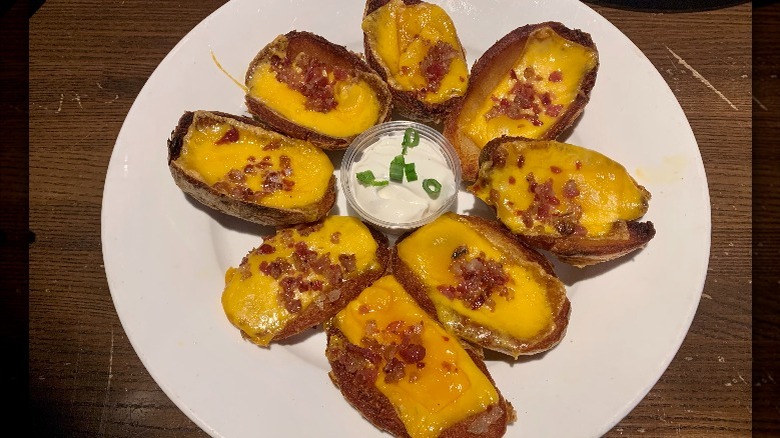 Anne Taylor/Mashed
The loaded potato skins are one of the most popular menu items at the restaurant — so much so that frozen versions have become a staple at many grocery stores. (Note: due to supply shortages, potato skins are not available at every TGI Fridays location right now.) One order comes with eight potato skins and a side of sour cream topped with green onions.
We had high hopes when we dug into this dish, but unfortunately, we weren't super impressed. For the amount of cheese and bacon piled in each potato skin, there was a surprising lack of flavor in each bite. The potatoes were in desperate need of salt, which again, was surprising considering they were stuffed with melted cheese and topped with crispy bacon bits. The sour cream dipping sauce salvaged the dish, and it was necessary for a pleasant bite. A zestier sauce, perhaps with some spices added, would have helped even more. The potato skins themselves were crispy and the potato inside was fluffy, but we're not sure we'd order these again unless the recipe was revamped. We'll stick with making our Fridays copycat potato skins recipe at home.
Traditional wings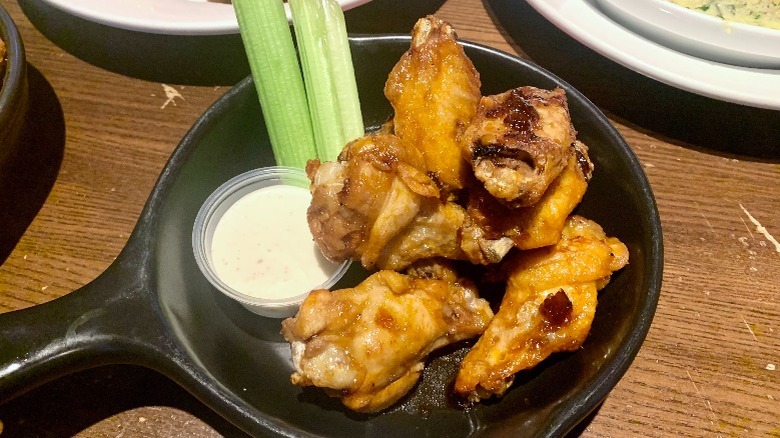 Anne Taylor/Mashed
Wings are a big part of TGI Fridays' menu. It offers both traditional and boneless and features eight different wing sauces and two different dipping sauces. We opted for traditional wings with a whiskey glaze wing sauce and ranch dipping sauce. We ordered the small size, which came with eight wings, but you can also order the regular size that comes with 12 wings or the large size that comes with 16 wings. The plate also came with two sticks of celery.
At first bite, we thought the wings were pretty dry. However, the other pieces we tried were juicer and definitely more palatable. The whiskey glaze sauce was our favorite part of the dish — it was bright, punchy, and added a lot to the wings. The ranch dipping sauce was pretty standard, but it was necessary when eating the drier pieces of chicken. We would probably order these wings again, but we might try our hand at the boneless ones to see if they are cooked more evenly than the traditional ones. Overall, it was a fun appetizer that fit well with the rest of the menu, but we hope to see it executed better in the future.
Spinach and artichoke dip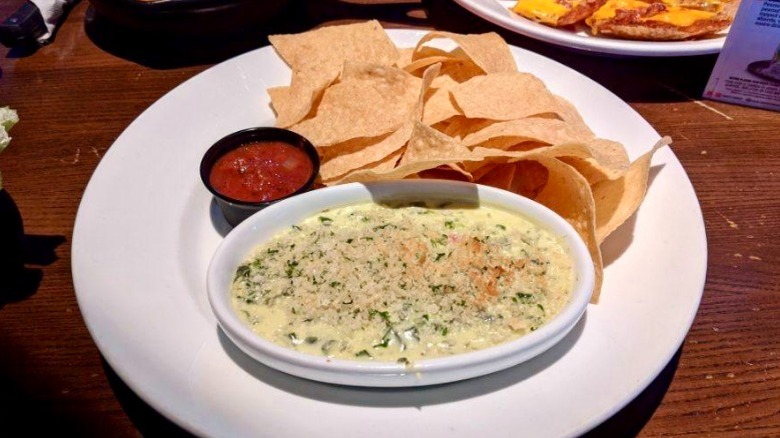 Anne Taylor/Mashed
At first glance, we thought it was odd to serve spinach and artichoke dip with tortilla chips as opposed to something more traditional like bread. We were worried the chips would break under the weight of a hefty scoop of the dip.
However, that wasn't an issue. This dip was not as thick as other spinach and artichoke dips we've tried in the past, and we were able to pile a lot of dip on each chip without it breaking. The dip itself had great flavor. It was cheesy with just the right amount of salt and was packed with spinach and artichokes. The dish also came with a small container of salsa, which was tasty and made the decision to serve chips make more sense. The chips were pretty good too. They didn't taste like they were fresh out of the fryer, but also didn't taste like they had been sitting under a heat lamp all day. We really enjoyed this dish and would definitely order it again.
Mozzarella sticks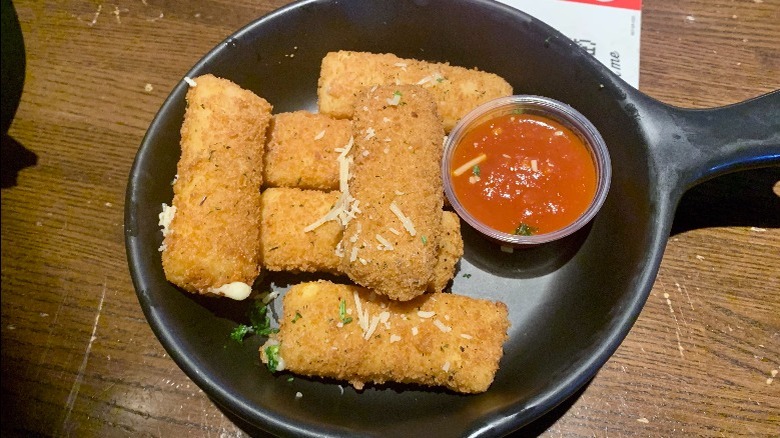 Anne Taylor/Mashed
Each order of this appetizer comes with six mozzarella sticks and a side of dipping sauce, which can either be marinara sauce or ranch depending on your choosing. We opted for marinara sauce, which we felt was more classic.
We knew this would be our favorite appetizer in the middle of the first bite when we were greeted with the greatest cheese pull known to man. With a combination of mozzarella and asiago cheese inside, these are more than your average mozzarella sticks. The breading outside was super crispy, well-seasoned, and topped with parmesan cheese that added another degree of cheesy flavor. The only downside to this appetizer was that sometimes we got a little too much cheese in one bite that was hard to swallow, but is too much cheese really a problem? We did appreciate the bright marinara sauce as a way to cut through some of the richness of all the cheese, but we would have enjoyed the dish without it. We will definitely be ordering this dish on every future trip to TGI Fridays.