Fry Lovers Will Be Thrilled About This Burger King News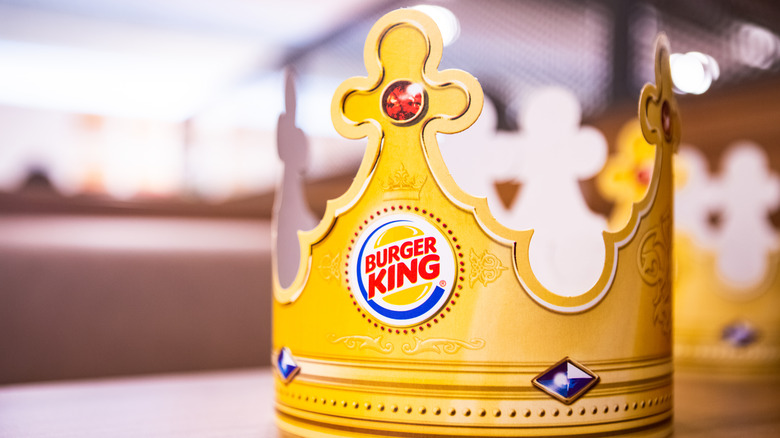 Papin Lab/Shutterstock
You might say that every day is National French Fry Day, and if you did, we wouldn't judge you. We might respect you for living life to its somewhat greasy, deep-fried fullest and keeping fries front and center, always.
But seriously, National French Fry Day is July 13. It's one of those unofficial food holidays (per Holidays Calendar) that gets a lot of attention because French fries are loved pretty much everywhere and are not a one-size-fits-all food. There are fresh-cut fries, crinkle-cut fries, thick wedges, thin and crispy shoestring fries, waffle fries – the list goes on. Somewhere along the way, the sweet potato came out of obscurity and entered the fried potato arena. You can eat fries with ketchup, mayonnaise, ranch dressing, chili, gravy — are we forgetting anything? Oh yeah, French fries topped with gravy and cheese curds, as in poutine, one of the official foods of Canada.
Restaurants of all stripes, especially fast food restaurants, will be marking National French Fry Day with freebie fries or deep discounts on fried spuds (per Thrillist). But Burger King is celebrating the day by frying up something other than potatoes. Vegetarians and vegans won't be happy, but lots of other people will be.
Burger King gives chicken fries the royal treatment on National French Fry Day
On July 13, the Whopper monarchy is giving Royal Perks reward members the extra-royal treatment by offering free Burger King chicken fries with every purchase of $3 or more (per QSR). A Royal Perks member who's in a generous mood could place an order for chicken fries and share the free chicken fries with a friend. It should be noted that the one-day-only deal is available for rewards members at participating BK restaurants, on the BK app, and on BK.com. The special offering does not extend to delivery orders.
Chicken fries look like French fries (sort of) but aren't made with potatoes. They're made with thin strips of white chicken meat that are coated with a slightly spicy breading before hitting the fryer. Wide Open Eats describes this "magical concoction on the Burger King menu" as a cross between chicken nuggets and French fries. They're served with your choice of dipping sauce: sweet and sour, barbecue, Buffalo, zesty, ranch, and honey mustard. Why did the chicken cross with the fry? Because the king decreed it.