The Best Countertop Microwaves In 2022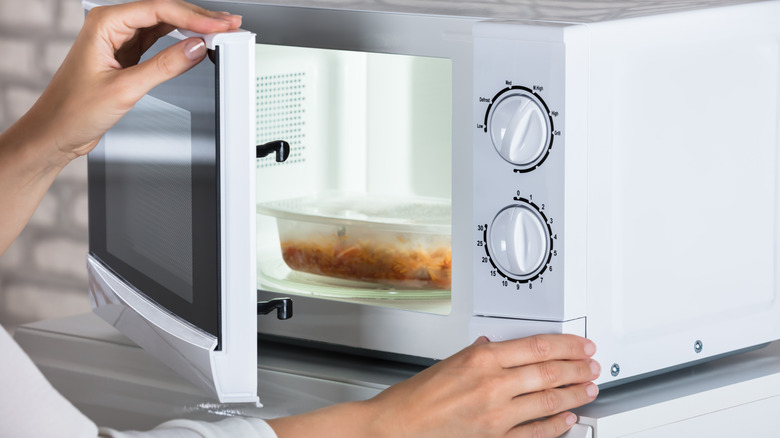 Andrey Popov/Shutterstock
We may receive a commission on purchases made from links.
The original microwaves made in the 1950s were solely for commercial use, as they were too large to fit comfortably in a home kitchen. It wasn't until 1967 that non-commercial microwaves began to be sold, thanks to new technology that made them smaller (via Smithsonian Magazine). In today's kitchens, a countertop microwave is practically a staple appliance. These practical pieces of equipment can cook, defrost, and reheat leftovers in a jiffy, with some even branching out into air-frying, broiling, convection cooking, and other cooking methods that help you combine some of your favorite appliances into one.
A priority for most people looking for a countertop microwave is space. Because these sit on your countertops rather than attaching under a cabinet or being built into your cabinets, they take up valuable counter space. Finding the right one to fit your kitchen is a must. Other important considerations to keep in mind are power, preset cooking features, aesthetics, and price. Consider the ways you'll use your microwave most, and find your ideal model using our helpful guide.
How we selected countertop microwaves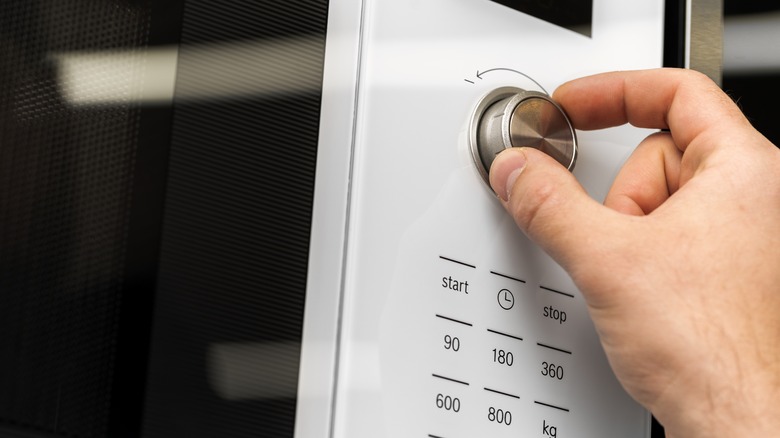 FabrikaSimf/Shutterstock
We like to make sure that we're recommending only the best of the best products for our readers' specific needs. In the case of countertop microwaves, we considered must-have features, like pricing, types of food they can handle, and power. Then, we thought about some nice-to-have features like stylish looks, extra cooking methods, and smart-enabled connections. The result is several countertop microwaves in various sizes, price points, and capabilities to help you find the one that fits your needs.
We didn't just rely on our own research and opinions, though. We also scoured press mentions, reviews from trusted sources, and real customer reviews on retailer and consumer review websites. Doing so gave us the best vantage point to find popular countertop microwaves that really deliver on the benefits they claim to have, allowing you to also get a clear picture of how each microwave might measure up to your expectations.
Best overall countertop microwave
If you're looking for a countertop microwave that has just about any feature you could want without taking up too much space or going way over budget, the GE Convection Countertop Microwave with Air Fry is it. In fact, it's several appliances in one, allowing you to not just microwave your food, but also to air fry, broil, and convection cook your way to a delicious meal. So, you may not even need to invest in that air fryer you've been eyeballing after all.
But we know that you're here for a microwave, so let's talk about that. This GE microwave has 1,050 watts of power, yet is small enough to fit on modestly sized countertops. Its presets include potatoes, pizza, and beverages, and convenient buttons let you quickly add 30 seconds to your timer, express cook for one to six minutes, and child-lock the unit. The microwave has a 4.7-star rating on Best Buy as of July 2022, with one reviewer exclaiming, "Just simply amazing! From all functions — microwave to air fryer. Everything is done faster & tastes better!"
As of July 2022, the GE Convection Countertop Microwave with Air Fry was available on Amazon for $199.99.
Best budget countertop microwave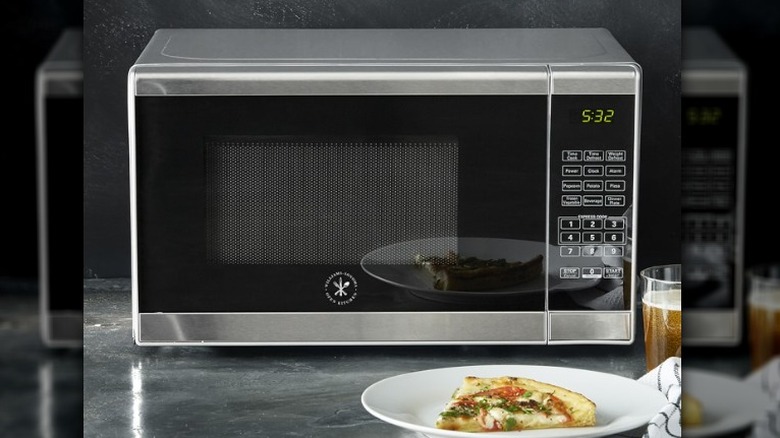 Williams Sonoma
There's no need to skimp on features if you want to save money on a microwave. The Open Kitchen by Williams Sonoma Stainless-Steel Microwave includes just about every feature most home cooks need, including 10 adjustable power levels, six presets, and a child-safe lockout feature. Where you'll save money is in the microwave's smaller size and reduced power at 700 watts. Still, that's plenty to reheat foods, defrost frozen ingredients, and cook your faves, like pizza and popcorn, in just a few minutes.
Customers who prefer budget-friendly microwaves without massive amounts of power and features they don't necessarily need love this microwave. Several Williams Sonoma reviewers state that the microwave's size and power are perfect for what they needed it for and that the easy-to-clean stainless steel is an added bonus. 
As of July 2022, the Open Kitchen by Williams Sonoma Stainless-Steel Microwave was available at Williams Sonoma for $79.95.
Best splurge countertop microwave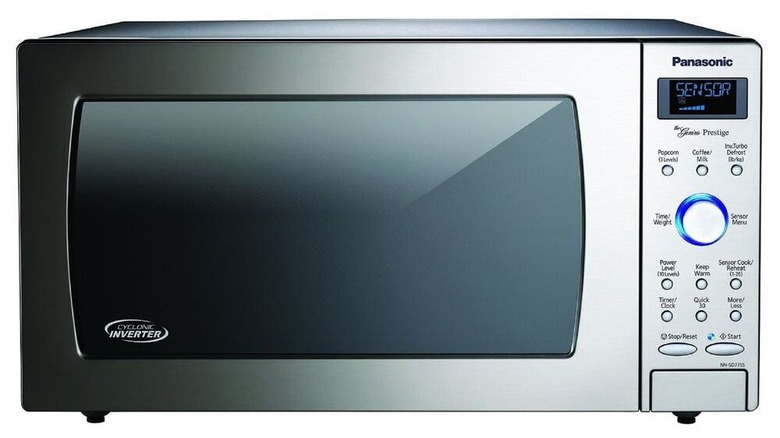 Panasonic
When you need a microwave with all the extras and money is no object, the Panasonic 1.6 CuFt 1250 Watt SD775S Microwave delivers. This appliance has a large interior that can hold dinner plates and casserole dishes with ease. With 1250 watts of power and Cyclonic Wave technology that increases typical microwave efficiency, expect it to reheat and defrost even the most stubborn, thick foods in no time. An inverter cooking system also ensures a quick, even heat with any food or beverage you place inside.
Need more reasons to splurge on this microwave? Perhaps the 20 presets, turbo defrost, or keep-warm feature will push you over the edge. Or, maybe you'll love that, despite its roomy interior and diverse array of features, it still takes up minimal countertop space with a depth and width of less than 20 and 22 inches, respectively.
As of July 2022, the Panasonic 1.6 CuFt 1250 Watt SD775S Microwave was available on Amazon for $326.34.
Best stylish countertop microwave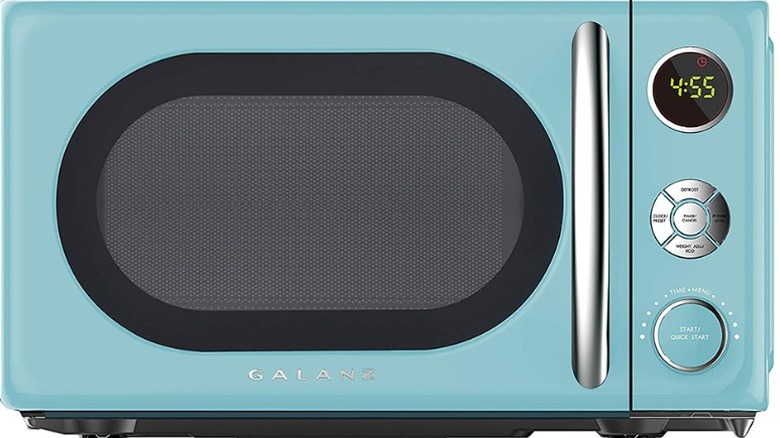 Galanz
While most microwaves look relatively similar with their black, white, or stainless-steel boxy exteriors, others were made to stand out. The Galanz 0.7 Cu. ft. Retro Countertop Microwave Oven is built for both style and function, taking a page from blast-from-the-past kitchens. The retro microwave comes in four colors — Vinyl Black, Hot Rod Red, Bebop Blue, and Surf Green — and a curved style reminiscent of some of the very first home microwaves back in the '60s.
Despite being so eye-catching that it could become your home's latest conversation piece, it also offers practicality. With 700 watts of power, a kitchen timer, a defrost setting, a rotating glass turntable, and a child-lock function, it has all the basics you need for quick and convenient reheating. Amazon customers love this microwave, noting that its color options are "beautiful" and it's perfect for quick reheats.
As of July 2022, the Galanz 0.7 Cu. ft. Retro Countertop Microwave Oven was available on Amazon starting at $59.98.
Best countertop microwave for small spaces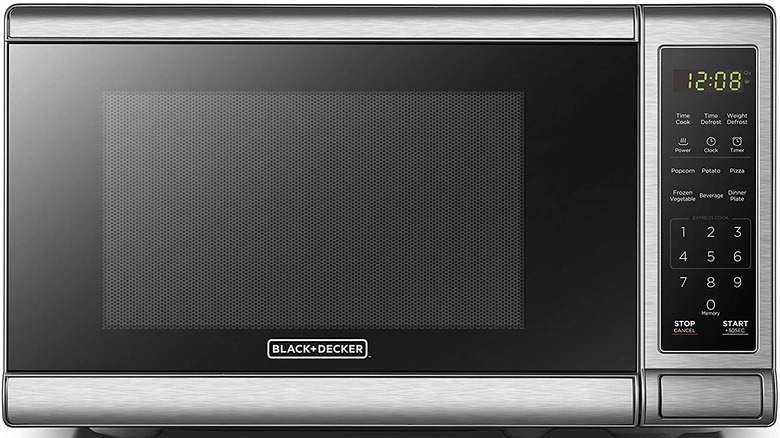 Black+Decker
Kitchen spaces that don't have a lot of room to spare, like those in apartments or hotels, can benefit from having a full-featured microwave that doesn't take up a lot of precious countertop space. That microwave is the Black+Decker EM720CB7 Digital Microwave Oven, which offers compact dimensions of 17.3" wide x 13.0" deep x 10.2" high.
Its modest stature doesn't make it skimp on features. It includes 700 watts of power with 10 power settings; presets for dinner plates, beverages, pizza, and more; and a bright, easy-to-read digital display and control panel. With its 10-inch-diameter turntable, the inside will be roomy enough to hold your dinner plate, yet the outside takes up minimal real estate in your kitchen. One Amazon reviewer states, "The size is perfect for one person and it still has the features you'd want in a full-size microwave."
As of July 2022, the Black+Decker EM720CB7 Digital Microwave Oven was available on Amazon for $99.99.
Best high-powered countertop microwave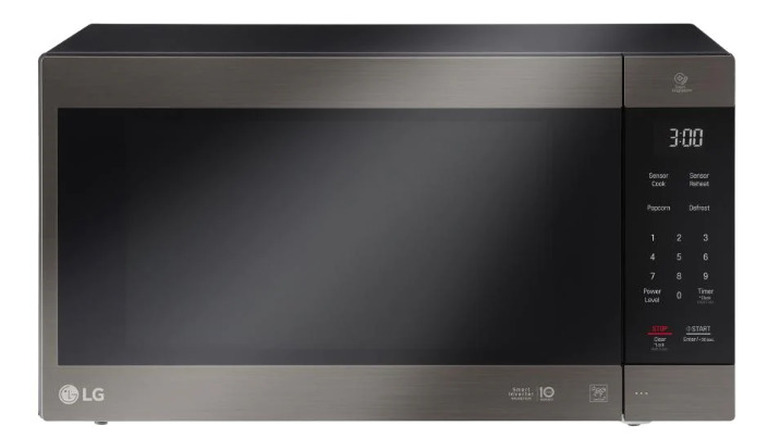 LG
Some companies use their microwaves' 1200+ watts of power as their primary marketing feature. However, including high power capabilities but not offering much else in their microwaves can leave customers disappointed. The LG Black Stainless Steel Series 2.0 cu. ft. NeoChef Countertop Microwave probably won't leave anyone feeling that way. It augments its high-power capability with Smart Inverter technology, which helps foods heat evenly all the way through, even at lower temperatures. Plus, six rolling turntable wheels add stability and reliability, preventing plates from shifting or falling over during the cooking process.
Super bright LED interior lighting, an easy-to-use control panel, and LG's EasyClean interior all make this super-powered microwave an appliance you'll want to have in your kitchen. With an average 4.5-star rating on Best Buy, this microwave gets praise for its roomy interior, excellent quality, and ability to defrost and reheat foods in a jiffy.
As of July 2022, the LG Black Stainless Steel Series 2.0 cu. ft. NeoChef Countertop Microwave was available on Amazon starting at $209.
Best countertop microwave for travel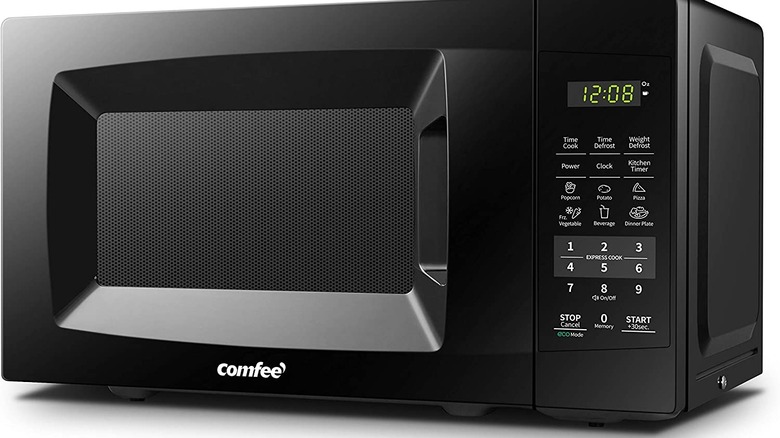 Comfee'
Whether you're taking a trip in your RV across state lines or across the country, having the convenience of an available microwave can be helpful. But when your microwave is coming with you, it needs to have a few key features. Namely, a compact design, eco-friendly power usage, and quiet operation could be important features for travelers to look for in a microwave.
The Comfee' EM720CPL-PMB Countertop Microwave Oven includes all of the above and then some. Its modest dimensions of 17.3L x 13W x 10.2H inches keep it from taking up too much of your already limited space. Its Eco Mode feature cuts power usage down by 50%. And customers who've reviewed the microwave on Amazon rave about its quietness when operating. There's even a button that mutes the button sounds so that you don't disturb others close by when using it.
As of July 2022, the Comfee' EM720CPL-PMB Countertop Microwave Oven was available on Amazon for $73.79.
Best quiet countertop microwave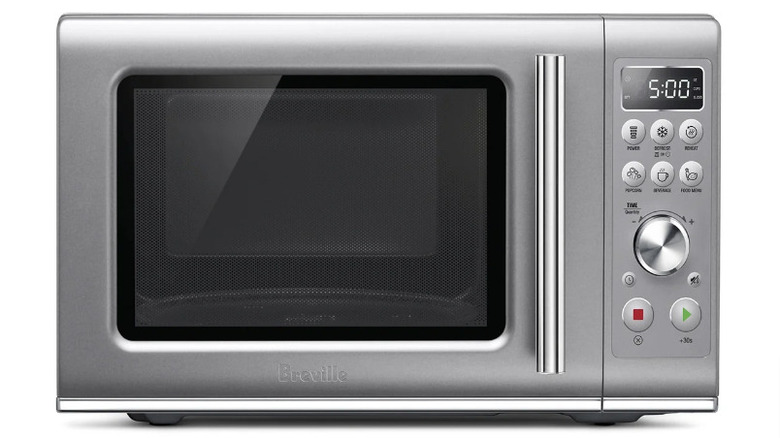 Breville
If you're not a fan of the traditional beeps, dings, and bangs of typical microwaves, you'll probably become a fan of the Breville the Compact Wave Soft Close microwave oven. This microwave is designed to be less, well, annoying, with its mute button that turns off the usual beeps and a 30-second instant start feature that gets you cooking quicker without pressing a bunch of noisy buttons to do it. The soft-close door tips it over the edge in terms of tranquility, with Breville stating that it's 80% quieter than other microwaves.
This microwave has other perks, too, like a child-lock feature, stylish gray housing, and 0.9 cubic feet of interior space. With 900 watts of power, defrost and reheat settings, and a few convenient presets, the Breville the Compact Wave Soft Close takes care of all the basics with the benefit of virtually noiseless operation.
As of July 2022, the Breville the Compact Wave Soft Close was available from Amazon for $249.95.
Best food-sensing countertop microwave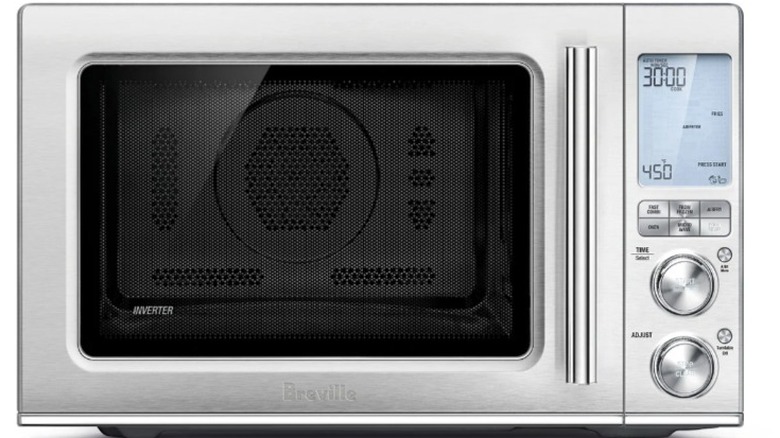 Breville
The new wave of smart microwaves can sense what kind of food you've put inside it and tailor the cooking experience to that food. The Combi Wave 3 in 1 by Breville could be the best of its kind, and not just because of its built-in intelligence. We say this because it also offers different styles of cooking — convection and air-fry — in addition to microwaving, resulting in a tasty meal that's cooked just how you expect it to be. One Breville reviewer describes it as "simple yet full of capabilities."
This microwave uses Breville's Element IQ system, which tells the microwave where it needs to send most of its power based on the food that's inside. For instance, potatoes will need more power concentrated toward their centers to cook them evenly, while veggies need more all-over heat. This technology allows the microwave to cook food from its frozen state and still get a thorough cook. Just press the 'From Frozen' button to enter that mode.
As of July 2022, the Breville the Combi Wave 3 in 1 was available on Amazon for $425.99.
Best multifunction countertop microwave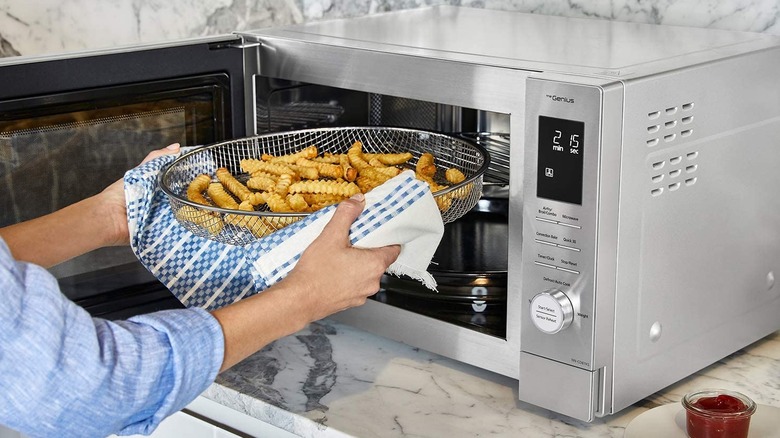 Panasonic
Nowadays, microwaves can be so much more than just microwaves, and the Panasonic HomeChef 4-in-1 Microwave Oven proves it. This microwave can knock out the need for other appliances in your kitchen like your air fryer or convection oven because it includes these cooking features inside its space-saving body. There's even a broiler feature if you don't feel like heating up your house by turning your oven's broiler on. The convection oven heats up to 425 degrees, allowing for a convenient way to skip the oven to cook a casserole or reheat leftovers from the night before.
The 1000-watt microwave offers plenty of power for quick and even heating, and the large turntable inside ensures that your food cooks thoroughly. As of July 2022, 86% of Amazon reviewers rated this microwave four stars or higher, with several being impressed at how versatile it is despite its somewhat compact size.
As of July 2022, the Panasonic HomeChef 4-in-1 Microwave Oven was available on Amazon for $408.45.
Best Alexa-compatible countertop microwave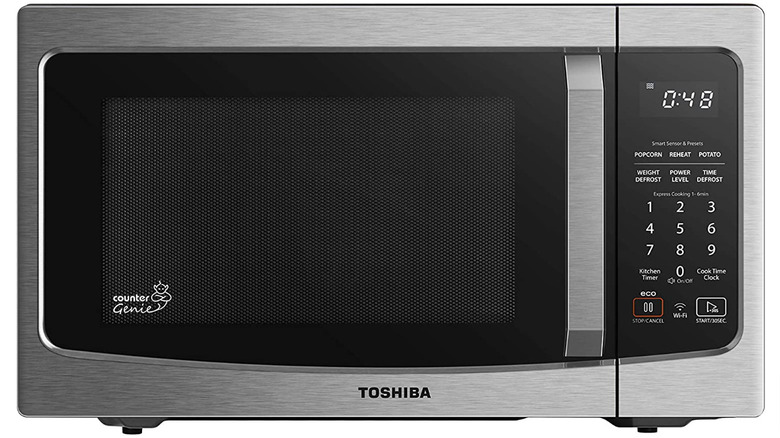 Toshiba
Why press buttons on your microwave when Alexa can set everything for you? The Toshiba ML-EM34P(SS) Smart Countertop Microwave Oven makes it happen with its Alexa-compatible smart technology that lets you use your voice to control your microwave. Tell it to defrost veggies, add more time to your current cook, turn itself off, and more. This can be a helpful feature when you're in the middle of cooking and have your hands busy or when you need to step out of the room to check the kids.
In addition to being powered by Alexa, this microwave includes 23 presets, an energy-saving mode, and a mute button. The built-in humidity sensor helps cook food to perfection every time, automatically adjusting itself as needed. One Amazon reviewer says, "After nearly two years of use, this microwave oven is going strong, and I am still super satisfied with it. Highly recommended."
As of July 2022, the Toshiba ML-EM34P(SS) Smart Countertop Microwave Oven was available on Amazon for $179.99.