The Ice Cream Cake Pops That Had TikTok Under A Spell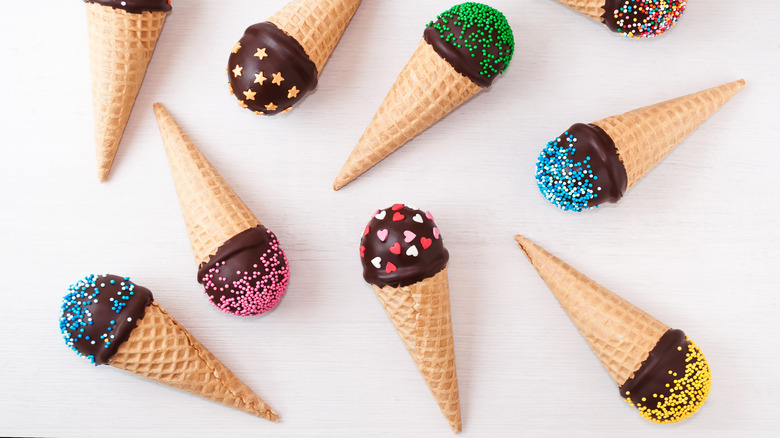 Alexander_DG/Shutterstock
We foodies enjoy looking at food that not only looks delicious, but pretty. We can spend hours on Instagram or Pinterest scrolling, saving recipes, sharing hacks with friends, and just being under that social media spell for a long time. On TikTok, the food is often paired with music, funny sounds, reactions, and unique recipes, like the famous viral pancake cereal.
A TikTok video of a unique cake pop has drawn some attention on the app. Cake pops are one of the best things to make with kids. If you have leftover cake, you'll be set to start baking cake pops (via The Best Ideas for Kids). The fun starts when the kids have to smash the cake and start grabbing chunks to craft the small pops. The rest of the process is smooth and manageable, and bringing your kids into the kitchen can enhance creativity (via Yellow Brick Road). By substituting ingredients, you can make healthier versions of this treat, as Morgan Manages Mommyhood notes. In the end, you´ll have something kids will find easy to prepare, eat and share. Maybe the treats made in the video can inspire you.
The pastel-colored cake pops are a perfect family treat
Food Network posted a TikTok video of someone making a dessert that goes beyond a regular cake pop on a stick: The baker uses a classic mini wafer ice cream cone to hold a chocolate cake pop covered with pink and sparkly sugar icing and tops it with a similar, baby blue-colored one. The stick for the pops crosses the cone in the middle. The users couldn't stop commenting on how "adorable" the double scoop looked, and one highlighted this was "cake pops at a whole new level."
However, what moved users on TikTok was the sounds that joined the video: the original sound of a 5-year-old named Abby saying she was too sick to do anything, but not sick enough to go to the doctor and certainly "not sick enough to not go to the toy store." Some cake pops might help, Food Network seems to suggest — and TikTok agrees. The cake pops on the cone, which looks just like tiny ice cream, had TikTok under a spell of family nostalgia. There was a user who remembered their son, and how typical it was for him to do anything to skip the doctor. One user actually said they felt like Abby during Monday through Friday mornings, and another remembered how their mom gave them cake pops when they were sick. Nothing resembles more childhood than ice cream, imagine an ice cream cake pop!