The Costco Sweets That Dressed Up For Halloween In July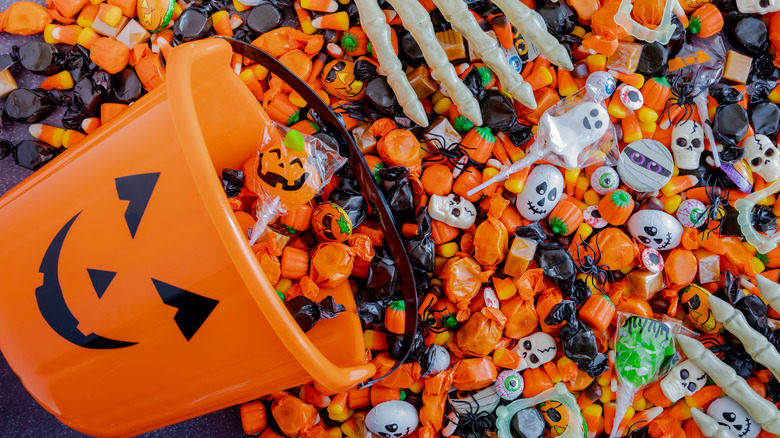 Teri Virbickis/Shutterstock
There are some holidays that you just want to happen all year round. For fans of reindeer, roasting chestnuts, and jelly-bowl bellies, that holiday is Christmas. For those who love the spooky side of life, there's a good chance it's Halloween. A lot of people have likely heard of Christmas in July but possibly not Halloween in July. Yet, it's not as rare as you may think. But we imagine that for people to get the most out of it, the trick is to treat themselves to a celebration at least twice a year.
There are already a couple of U.S. cities that have Halloween festivities in July (via the Messenger-Inquirer). Folks in San Antonio, for instance, were invited to join in the costume contests approved by the city's "Official Spooky Council," per the San Antonio Current. There were reportedly events in Denver, Colorado; Erie, Pennsylvania, and elsewhere. Sites like Twinkl share ideas on how to celebrate Halloween in July. For Sandboxx blog contributor Amy Dickey, just starting preparations earlier in the year for the spooky All Hallows' Eve celebration is enough.
Even Costco has apparently gotten into the spirit of Halloween in July, at least when it comes to a particular item that boasts a spooky look that masks the sweetness underneath.
Costco has cocoa bombs that look like eyes
Candy is definitely one of the first things that come to mind when people think of Halloween, and according to a 2019 poll by Monmouth University, America's most popular Halloween candy is Reese's Peanut Butter cups. Yet, as things start to cool down during the fall month of October, other people might think of warm beverages like Pumpkin Spice Lattes and hot chocolate. And just as Halloween can come in July, an item suited for October weather can hit Costco shelves as well. That's where boxes of white chocolate cocoa bombs, which look eerily like creepy eyeballs, come in.
Cocoa bombs are balls of hollow chocolate with various fillings and when you place them in hot milk, they melt away to reveal the treat within. These Costco cocoa bombs pack a sweet surprise. As the eyeball melts, it creates a drink filled with marshmallows. Costco Buys on Instagram spotted this particular treat. Many replies to the post come from people who seem surprised that the Halloween-themed item is in stores now. User @overkillgirl exclaimed, "It's JULY!" and @elainekannas complained, "Nooooo...it's too early." But others seemed enthusiastic. For example, @megfsykes tagged a friend and said, "If you see them pick some up for me!" User @theadcockcircus called the eyeballs "awesome." Costco Buys reports that these treats are $19.99 for 16 eyeballs, but the price may be different at other locations.