Padma Lakshmi's College Degree Has Nothing To Do With Food
While Padma Lakshmi's career revolves around food, you might be surprised to learn that her college degree has nothing to do with cooking. In an interview with Closer Weekly, she says that her special relationship with food dates back to her childhood, sharing "Food was such a big part of my life ever since I was small. Some of my fondest memories are of cooking with the women in my family, especially my grandmother." 
Lakshmi is known for her TV stints on "Top Chef," "Taste the Nation," and "Melting Pot," where she is opinionated and renders comments and advice on recipes, ingredients, and cooking styles. She also has an Instagram account orientated toward all things food, where she posts videos of herself cooking and also comments on other food-related posts. To take it a step further, her website claims she is a food expert. Considering Lakshmi has published cookbooks and often graces us with tasty recipes, we can't argue that.
Padma Lakshmi's original aspirations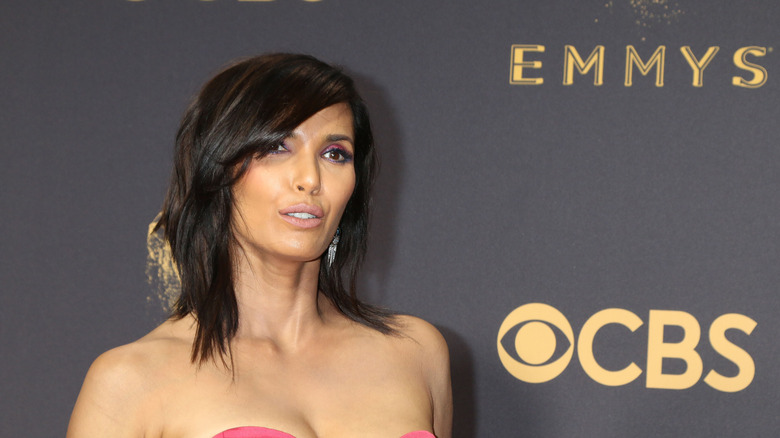 Kathy Hutchins/Shutterstock
Perhaps, even after all of her culinary successes, you never noticed that Padma Lakshmi is never officially referred to as "Chef Padma Lakshmi." Let's dig a little deeper.
Lakshmi's dream was to become an actress, and while she may have missed her mark, she did not do so by far. Although acting is not her main line, she has been featured in nine movies aside from the TV shows she has hosted and televised programs where she is a guest (per TV Guide). So while not a full-time actor, she is still a television celebrity. According to Biography, Lakshmi was also a model and in her words, "was the first Indian model to have a career in Paris, Milan, and New York."
As for college, her initial field of study was psychology, but after her second semester, she changed direction dramatically. "I switched my major to theatre after that," she says in an interview with Clark University. Per her website, Lakshmi "graduated from Clark University with a Bachelor's Degree in Theatre Arts and American Literature."