Why Michael Symon Prefers A Charcoal Grill Over Anything Else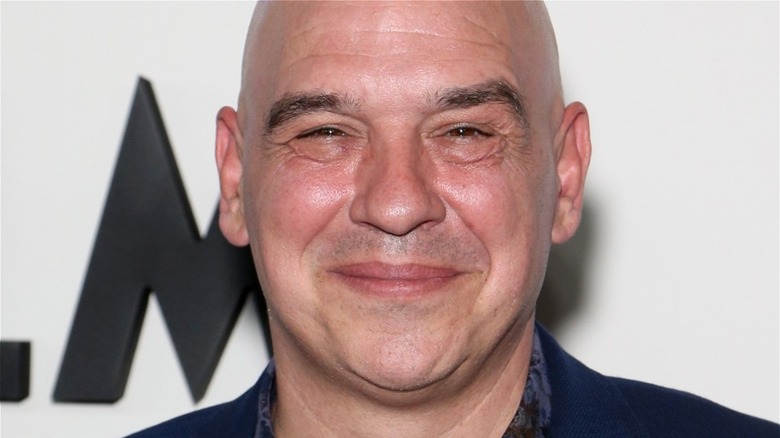 Gabe Ginsberg/Getty Images
Summertime means one thing for many American dinner tables: grilling season. According to Omaha Steaks, around 76% of people in the United States plan to grill during the summer months. And every summer, the age old question surrounding grills returns for many chefs: Gas or charcoal? While many grillers ponder what the difference between using a charcoal or gas grill really is, there are even more grill options to consider when cooking your chicken or burgers outside. 
As noted by Lowes, grill masters can prepare food on everything from a pellet grill to an infrared grill to a smoker. Of course, deciding which type of grill you'll need to make the tastiest meal can be overwhelming. However, renowned chef and host of Food Network's "Burgers, Brew, and 'Que" Michael Symon recently weighed in on the debate. While he prefers to stick to the classic charcoal grill, his preference doesn't just come down to the taste charcoal grills provide.
Michael Symon feels you have more control with a charcoal grill
After a Twitter user recently asked chef Michael Symon if he uses a gas grill for anything, the Food Network host replied that he always goes for a charcoal grill. According to Symon, there are two major reasons for this. While, of course, he enjoys the flavor a charcoal grill gives his food over a gas grill, he added that he finds, "charcoal easier to work with (especially with getting heat up to where I want it)."
If you follow Symon's cooking tips closely, you may not be as surprised by this revelation. In 2020, Food Network posted a Facebook video of the chef demonstrating how to control the heat on a charcoal grill using the air vents on the grill. As Symon showed, for a hotter temperature inside, grillers need only open the vents to create more air flow. To lower the temperature, simply close the vents. Those who enjoy using a ceramic charcoal grill may have even better temperature control and moisture retention (per Lowes). While Symon does favor a charcoal grill, he encourages others to do what works best for them. In a response to another commenter who asked if he ever uses pellet grills, Symon said, "Not my thing but people seem to enjoy them ... and again I'm just happy people are cooking." Just avoid these grilling mistakes people often make when you hit the grill.