Why The Amalfi Coast's Lemons May Be In Danger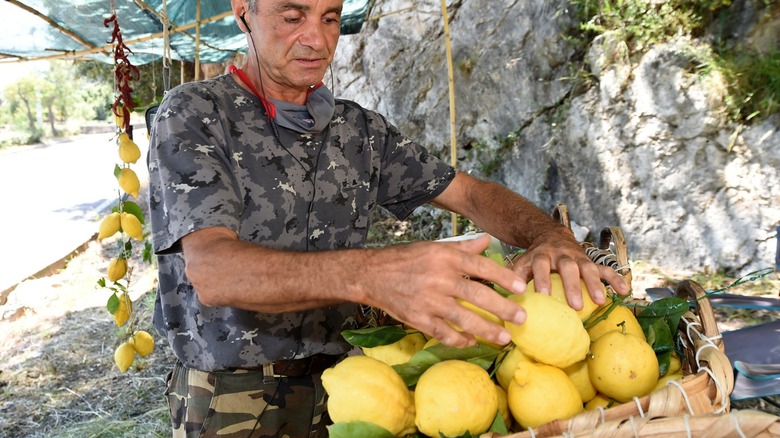 Francesco Pecoraro/Getty Images
Lemons are among the most common and versatile fruits, but the varieties you normally encounter in the United States aren't the only kinds. PlantSnap lists more than 30 separate varieties that include the popular Lisbon and Meyer lemons that many Americans know and love. Another type, the Sfusato Amalfitano lemon, carries the name of the Italian region responsible for its cultivation (per Delicious Italy). According to CNN, and the lemons are the main cash crop for Italy's Amalfi Coast, and Piccadilly Costa D'Amalfi states that the lemons possess a strong aroma and contain very acidic juice. That makes them ideal for many of these 45 best lemon recipes.
If you've never seen a lemon that weighs almost seven pounds, then a visit to the Amalfi Coast could be next on your culinary tour of the globe. And you might want to book that trip sooner rather than later. Your chances to behold the colossal citrus could be running out, as multiple factors threaten not only the lemons but the livelihoods of those who grow the fruit.
Two threats to the Amalfi lemon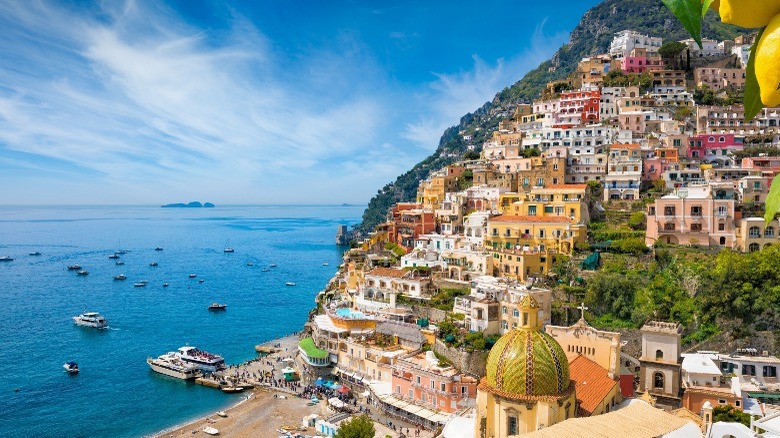 IgorZh/Shutterstock
The landscape of Italy's Amalfi coast has been changing, and for lemon farmers, it's not necessarily for the better (per CNN). The two factors driving the transformation of the area known for lemons are urbanization and climate change. Tourism has been a major motivation behind the urbanization. While European Best Destinations calls the Amalfi Coast "one of Italy's hidden gems," CNN explains that residents have been converting what was once land used for lemon terraces into accommodations for the growing number of tourists. Rising temperatures from climate change have led to frequent fires among groves as well, per CNN. The Christian Science Monitor did a similar report in 2017, citing how increasingly intense rains were producing mudslides and threatening the region's lemon trees. 
Not all the news is gloomy, though. Experience Amalfi Coast says the region is working to use the tourist traffic to raise awareness about its agriculture through lemon grove tours. The conservation of these fruits and the farms that produce them is a great thing for all citrus lovers. Whether you're more apt to follow a lemon bar recipe or a creamy lemon pasta recipe, we can all raise a glass of lemonade to the continued cultivation of Amalfi's lemons.