Trisha Yearwood's Heartbreaking News About A Furry Friend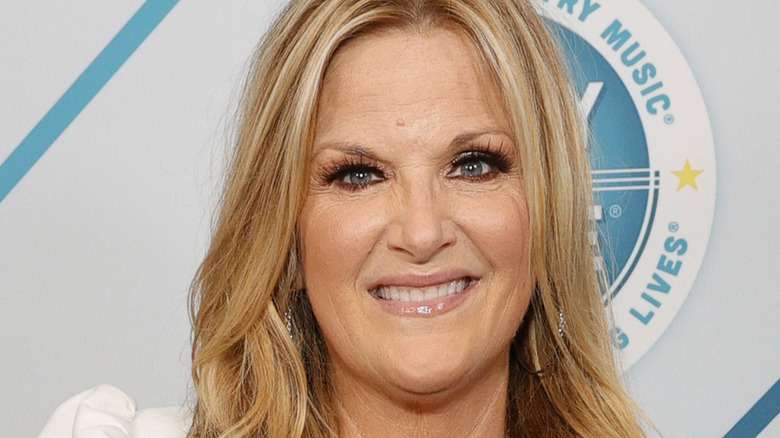 Jason Kempin/Getty Images
We know and love Trisha Yearwood for a lot of things — her country songs, her chemistry with husband Garth Brooks, her show "Trisha's Southern Kitchen," to name a few. But in addition to conquering both the music and culinary worlds, Yearwood has also ventured into other industries. In the spring of 2021, Yearwood launched her own pet collection in honor of her two rescue dogs, Emmy and Millie. According to People, Yearwood uses the collection and its proceeds to help animal shelters and spread awareness about the importance of spaying and neutering.
Of course, Yearwood's own pets have been featured on various products from the Trisha Yearwood Pet Collection, but several other rescue pups have also volunteered as models. Some of these other pups include Dottie, Brodi, Riley, Hank, Pete, and Boo. Unfortunately, Yearwood recently shared some sad news about one furry member of the collection's family and fans were devastated (via Instagram). 
Instagram mourns the loss of a pup star
Over the weekend, Trisha Yearwood posted on Instagram about the passing of one of her pet collection's models, Brodi. Brodi appears on Yearwood's lavender pet-safe cologne. According to Yearwood's post, Brodi crossed the rainbow bridge at the age of 15 and is now "running free." Yearwood offered condolences to the pup's family, her sentiments shared by many fans in the comments.
Brodi's mom, Lisa Geissler, wrote on Facebook that Brodi was "an amazing role model to all other dogs around him" and was the best secret-keeper. Between his rescue in 2006 and his passing in 2022, Brodi watched his human siblings graduate high school and college, and even got to welcome a baby to the family. Without a doubt, Brodi touched many lives with his goofy smile and big heart. In his honor, consider visiting one of the fast food restaurants that want to feed your dog, and treat your fur baby to something special.