Things You Didn't Know About Dippin' Dots
If you've been in an amusement park, shopping mall, or at a large, outdoor event in the past 25 years or so, you're probably familiar with the miracle that is Dippin' Dots. They're BB sized balls of ice cream frozen so hard that they don't stick together. Instead, you get to enjoy your ice cream (in tons of different flavors) as tiny little beads. That means no messy, melty slurping as you try to eat it as quickly as possible. Sounds great, right? Well, the rest of America agrees. Ever since Dippin' Dots burst onto the scene at Opryland in 1989, the little frozen balls of joy have excited ice cream lovers of all ages. But aside from knowing they'll roll off your spoon if you aren't careful, what do you really know about Dippin' Dots? Let's dig in to the truth (and strange history) behind this fun and festive frozen treat.
They were invented by a microbiologist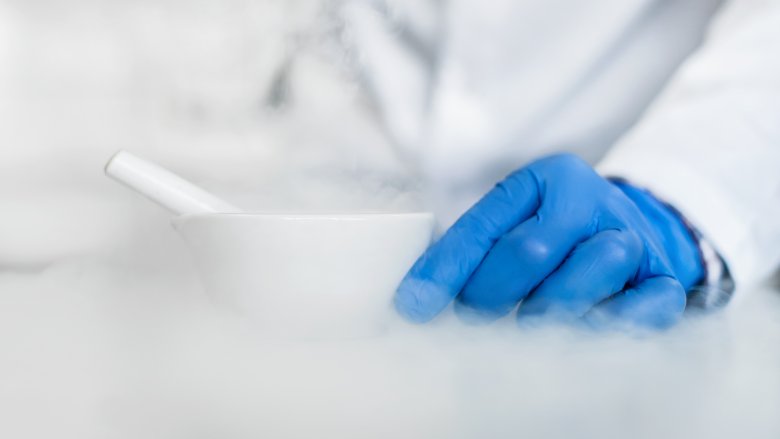 Shutterstock
We can thank science for the invention of Dippin' Dots because it was while a microbiologist named Curt Jones was working on a project to flash freeze yogurt bacteria to use in animal feed that Dippin' Dots were born. As he was using liquid nitrogen to freeze the bacteria, he got the idea it might also work for ice cream. "I grew up on a farm and used to make homemade ice cream a lot," he told USA Today. "Working on the yogurt bacteria, I found the little beads fun to play with. Then a month or two later, I was making ice cream with a neighbor and decided it would be better if we could freeze it faster, like we were doing with the yogurt." That was all the way back in 1988 and the ice cream of the future was born.
The ice cream is cryogenically frozen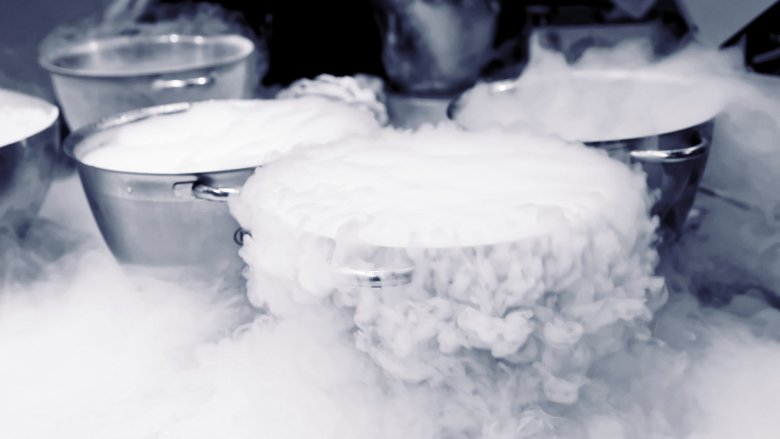 Shutterstock
According to the Dippin' Dots website, the process by which Dippin' Dots are made is a result of Jones' "knowledge of cryogenic technology." What that really means is that ice cream mix is encapsulated in a liquid nitrogen cooled tank at such a cold temperature it's flash frozen into tiny beads. It's a very fast process and as super scientific and futuristic as it sounds, it really just requires that you have ice cream mix and some liquid nitrogen on hand. In fact, if you happen to be one of the few with said liquid nitrogen on hand at home, you could (very carefully and with all the necessary safety precautions) make it right now, at least in small portions.
Dippin' Dots aren't the only flash frozen ice cream around
Because the process for making Dippin' Dots is fairly straightforward, that also means they aren't the only option for flash frozen ice cream. In fact, Dippin' Dots brought a lawsuit against a competitor in 1996 for patent infringement. The competitor, Mini Melts, was started by brothers who were previous Dippin' Dots distributors. Ultimately, however, the judge on the case determined that Dippin' Dots didn't acquire its patent correctly, meaning Dippin' Dots not only lost their lawsuit, they lost their patent as well. Essentially, the judge invalidated the patent because the process for making the ice cream was too obvious.
You probably won't find them at your nearest grocer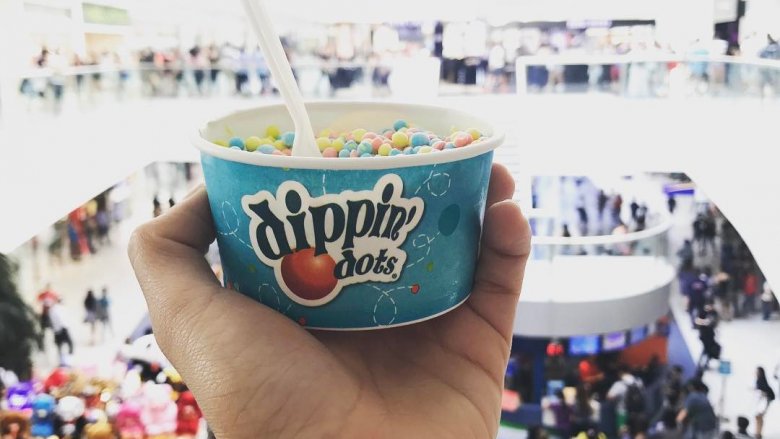 Instagram via @theelizabethsantos
Not only are Dippin' Dots frozen at 320 degrees below zero, they must stay at 40 degrees below zero to keep their shape. That means they require special freezers for storage (freezers that you won't typically find at your average grocery store). It also means that while you can buy Dippin' Dots online to be delivered on dry ice, they have to be eaten pretty much right away. Until the science team at Dippin' Dots figures out a way for us to keep the dots in our freezers at home, we may be stuck with only enjoying Dippin' Dots when you're at an amusement park, ball park, or zoo.
The company filed for bankruptcy protection
According to the Wall Street Journal, it was after battling their biggest lender for four years that Dippin' Dots ultimately filed for Chapter 11 bankruptcy protection in 2011. According to a statement from the company at the time (via CNN), the bankruptcy was the result of Dippin' Dots' "failure to reach an agreement with its secured lender Regions Financial, following several attempts to do so," with a company spokesperson telling CNN that Dippin' Dots owed Regions about $10 million. But unfortunately, that wasn't the only debt. According to CNN, the company had "liabilities totaling $12 million, with debts ranging from $657,000 owed to Marion, [Illinois]-based Peoples Bank to $7.16 owed to Quimby Rubber Stamps Shoppe of Paducah, [Kentucky]."
They were acquired by a new owner
The year after Dippin' Dots filed for bankruptcy, an Oklahoma business firm purchased the company for $12.7 million. Scott Fischer, the new president of the company, said at the time, "We are committed to ensuring that Dippin' Dots reclaims its status, not as a novelty of the past, but as the ice cream of the future." Fischer later told USA Today that Dippin' Dots were a part of his own childhood. "I still remember the first time I tasted Dippin' Dots," he said. "As a kid who visited Six Flags Over Texas and Sea World, I had never tasted anything quite like Dippin' Dots, and it had me hooked from the first bite. As an adult, I still maintain an appreciation for the product, not only for its taste, but for its innovative character and unique status as a culinary invention." Fischer continued, "It's no exaggeration to say that Dippin' Dots played a role in my childhood, and I look forward to growing the company in the future."
There's a Dippin' Dots personality quiz
With Dippin' Dots being acquired by a new owner and working to reclaim its place as the ice cream of the future, you may be wondering which flavor is best. There are a lot of flavors of Dippin' Dots, so choosing a favorite is no easy feat. Luckily, there's a quiz to help you find out what flavor best suits your personality. With questions like, "What would you do if you saw your crush at the mall with someone else?" the questions may not exactly be targeting an adult demographic, but it's still fun to see what flavor your 15-year-old self would be immortalized as. I'm strawberry, by the way.
They set a Guinness World Record
In 2014, Dippin' Dots set a world record for the most ice cream cups prepared by a team in three minutes. The five-person team managed to make 473 cups of Dippin' Dots in the allotted time! "Our attempt was a fun and unique way to commemorate the 30th anniversary of National Ice Cream Month," said Jones, the Dippin' Dots founder who was also part of the five-person team. "We are thrilled that our team successfully completed the challenge. We'd like to thank the talented Ashley Monroe for helping us with our record-setting effort as well as the many Nashville families who came out to cheer us on." According to the Guinness Record website, the company also donated 400 servings of Dippin' Dots to the Monroe Carell Jr. Children's Hospital at Vanderbilt University.
They were on the receiving end of a one-sided Twitter feud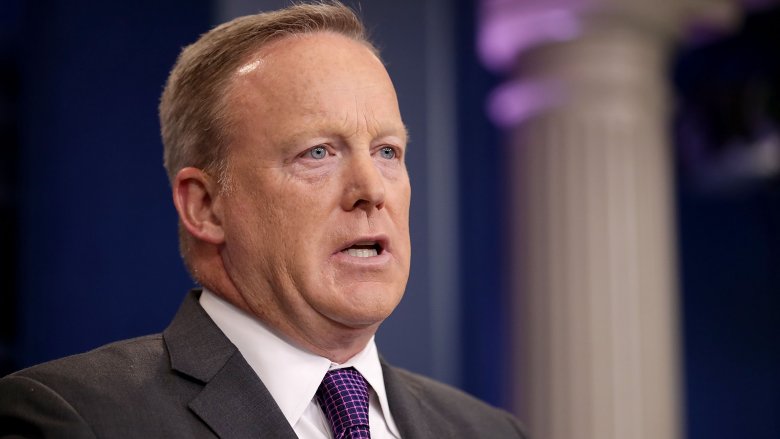 Getty Images
Former White House Press Secretary Sean Spicer is apparently not a fan of the BB sized frozen treat, a sentiment he shared over the course of several years on Twitter. While the one-sided feud began long before Spicer became Press Secretary — all the way back in 2010 according to the AV Club — it garnered brand new attention in 2017 after Spicer's first media briefing. The Dippin' Dots Twitter team reached out to Spicer offering an olive branch of friendship in the face of the renewed interest in the "feud." Shama Hyder, a marketing specialist working with Dippin' Dots told the Washington Post, "Ice cream should probably be the last thing that's ever really political." Billie Stuber, a senior marketing manager for Dippin' Dots agreed, saying, "If anything should make someone happy, it should be ice cream, especially Dippin' Dots."
They're branching out
While the Dippin' Dots you know and love may be of the tiny bead variety, the brand has unveiled new products to keep things fresh and exciting. In addition to branching out into sherbet, frozen yogurt, and dairy-free ice dots, some locations offer Dot Sundaes and Dot Quakes. With 90 billion dots consumed annually across nine countries, who knows what they'll come up with next!