Creamy Shrimp Dip Recipe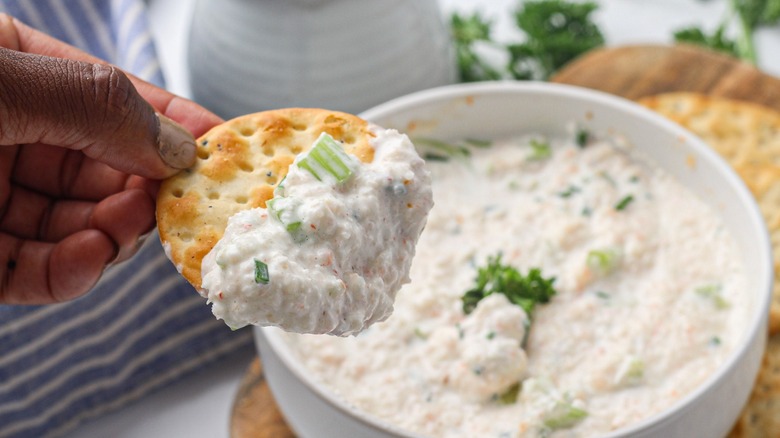 Susan Olayinka/Mashed
When you need to find a snack for a party, game night, book club, or backyard gathering, one of the easiest and most obvious options out there is chips and dip. This simple pairing is convenient, versatile, and easy to mindlessly snack on. Sure, you could pick up a jar of your favorite salsa, hummus, or onion dip, but anyone can do that. Why not take things to the next level? With just a few ingredients and a blender, you can surprise guests at your next get-together with this savory, indulgent creamy shrimp dip, courtesy of recipe developer Susan Olayinka, who runs the blog The Flexible Fridge.
"This creamy shrimp dip goes great with crackers or baguette slices. You can also use it as a spread for sandwiches or wraps," Olayinka says, proving that even if you're not making this for a crowd, it'll be easy to put this dip to good use. Here's how to make your own creamy shrimp dip.
Gather your shrimp dip ingredients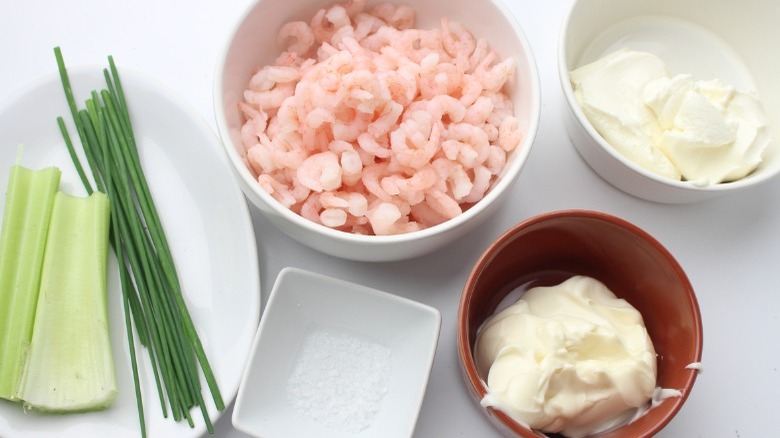 Susan Olayinka/Mashed
This shrimp dip requires only a handful of ingredients, starting with cooked shrimp. If you're not buying pre-cooked shrimp, factor in the time it'll take to cook them up — thankfully, shrimp cook quickly! You'll also need mayonnaise, cream cheese, diced celery, chopped chives, and a little salt. "I think the special ingredient in this creamy shrimp dip is the mayo. It really helps to give it a smooth and creamy consistency," Olayinka says.
Blend the base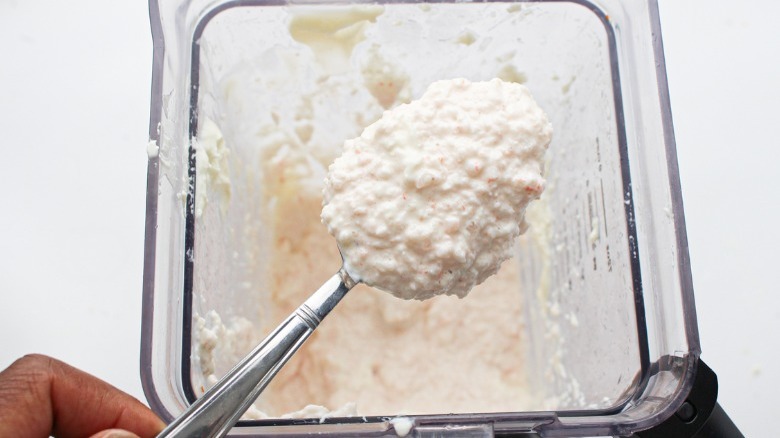 Susan Olayinka/Mashed
Aside from making the shrimp ahead of time, this dip recipe requires no cooking. Instead, get out your blender or food processor and toss in the shrimp, salt, mayo, and cream cheese. Let the machine take over from there until the mixture is fairly smooth and uniform.
Add the other ingredients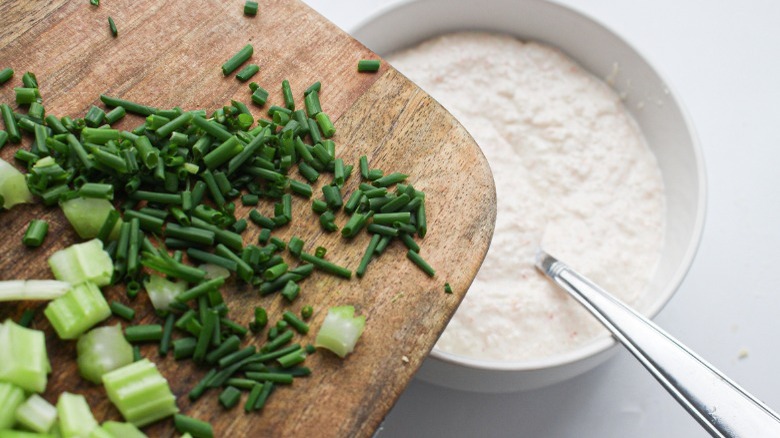 Susan Olayinka/Mashed
Believe it or not, you're almost done making this dip. After transferring the contents of the blender to a bowl, simply stir in the chopped celery and chives and stick the whole thing in the fridge to cool and set for about an hour. In the meantime, put a podcast on and start on the dishes, if you want to be responsible.
Serve up your homemade shrimp dip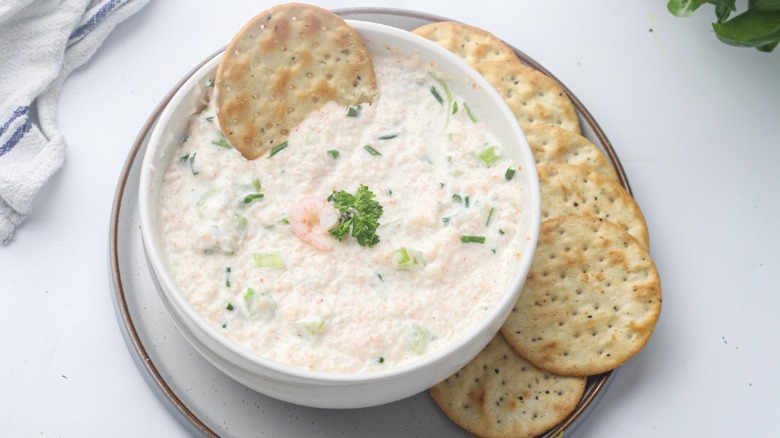 Susan Olayinka/Mashed
After it's been properly chilled, your shrimp dip is ready to serve! "I think garnishing this creamy shrimp dip with parsley or chives gives it a nice touch," Olayinka says. "It also helps to make it look more appetizing." But of course, you can serve it as-is and it'll still be a hit.
"This recipe makes about 1 cup of dip, which is enough for 4-6 people," Olayinka notes, but if you have leftovers, she says they can be "stored in the fridge for up to a week. Just make sure to keep it in an airtight container." Once you have this shrimp dip recipe in your repertoire, store-bought salsa will be a mere afterthought.
Creamy Shrimp Dip Recipe
Give hummus and salsa a rest and opt for this creamy shrimp dip instead.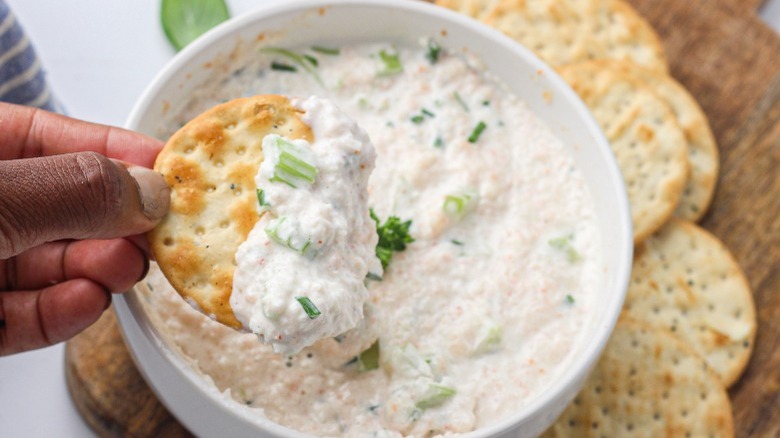 Ingredients
9 ounces cooked shrimp
½ cup mayo
½ cup cream cheese
½ teaspoon salt
1 celery rib, diced
10 sprigs fresh chives, finely chopped
Directions
Place the cooked shrimp, mayo, cream cheese, and salt in a food processor or blender.
Blend until smooth.
Dice the celery into small pieces and chop the chives.
Stir the celery and chives into the shrimp dip.
Chill for at least an hour.
Serve with crackers or baguette slices.
Nutrition
| | |
| --- | --- |
| Calories per Serving | 378 |
| Total Fat | 33.3 g |
| Saturated Fat | 9.3 g |
| Trans Fat | 0.0 g |
| Cholesterol | 177.8 mg |
| | |
| --- | --- |
| Total Carbohydrates | 2.7 g |
| Dietary Fiber | 0.3 g |
| Total Sugars | 1.2 g |
| Sodium | 884.7 mg |
| Protein | 16.5 g |