French's Is Reinventing The Donut For National Mustard Day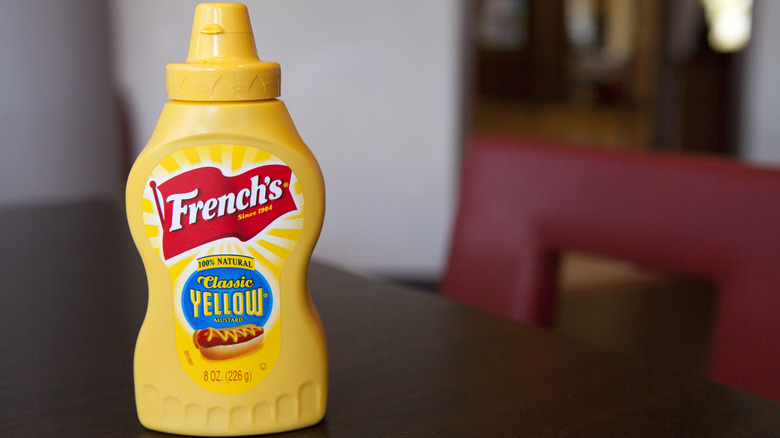 JJava Designs/Shutterstock
Many would argue that coarse-grain Dijon is one of the finest choices in the mustard aisle, and we're not here to ruffle any feathers by arguing otherwise. But if you were to frequent 100 cookouts across the country in one night, Santa Claus style, you'd more than likely find that one brand of the yellow condiment appears most often on America's checkered vinyl tablecloths: French's Classic Yellow Mustard. 
Despite its name, the brand has established itself as just as much of an American staple as the hot dog on which it finds its squiggly-lined home. And while it's been around since the 1904 St. Louis World's Fair (per McCormick), the brand seems intent on keeping consumers' attention with fresh, unexpected drops.
In 2020, the brand unveiled its limited-time mustard beer, which Food & Wine called "bright and refreshing, with just a touch of vinegary mustard flavor cutting through the tart tropical acidity." The experiment was decidedly less polarizing than the previous year's mustard ice cream, but you have to applaud them for thinking outside the box. In honor of National Mustard Day (August 6), French's is tapping into another sweet treat to pair with your morning cup of coffee.
French's Mustard Donuts bring a bright tang to a classic glazed treat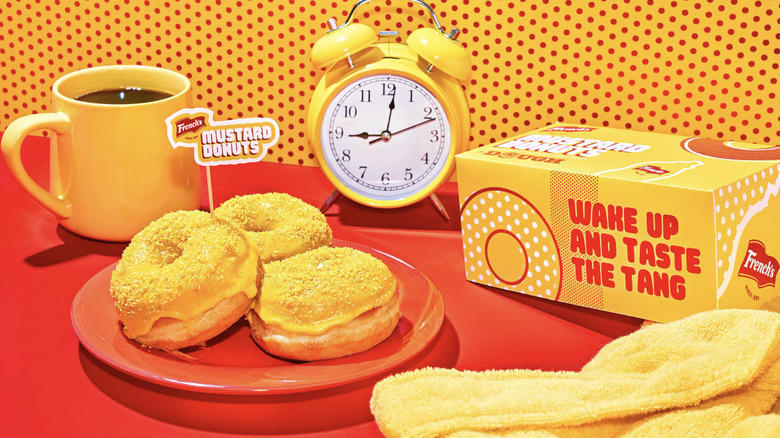 French's
According to a press release, French's is celebrating National Mustard Day with French's Mustard Donuts, a treat created alongside New York City bakery Dough Doughnuts. A fresh take on the classic glazed donut, the limited-edition drop features a "fluffy donut" ring glazed with a "bright and tangy mustard icing" made from French's Classic Yellow Mustard, topped with cake crumbs for extra sweetness. 
On National Mustard Day only, adventurous mustard fans in the Big Apple can visit any of Dough Doughnuts' six NYC locations to score a free mustard donut — each of which will be "adorned with vibrant yellow decor and pop art" — while supplies last. 
Those in other parts of the country can visit Dough's website on Saturday, August 6 at 9 a.m. ET to reserve a complimentary order of the treats, which will be available in limited quantities for nationwide shipping. If you miss out, you can take a stab at the mustard donut recipe at home.