Classic Belmont Jewel Cocktail Recipe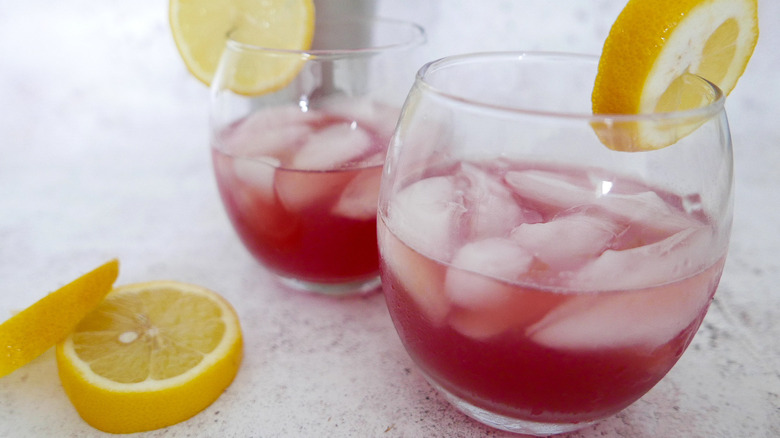 Classic Belmont Jewel Cocktail Recipe
If you've never tried a Belmont Jewel cocktail, then it's time to grab your favorite oversized hat and harness your inner horse-racing enthusiast as you whip the Belmont Stakes' signature cocktail. Whether or not you're a fan of bourbon, you just might find you like this combination of flavors. "I'm not a huge fan of bourbon, but this cocktail, it's delicious and very refreshing," says recipe developer Ting Dalton of Cook Simply. "The combination of lemonade, pomegranate juice, and cold ice makes this cocktail a winner to enjoy at any time." 
And you really can enjoy one at almost any time, because it only takes about 4 minutes to pull together. So whether you're mixing up a pitcher of drinks before your Belmont Stakes viewing party, or you just want something cool to sip on after a long day at work, you can have a classic Belmont Jewel cocktail in your hand in almost no time at all. 
Gather the ingredients for a classic Belmont Jewel cocktail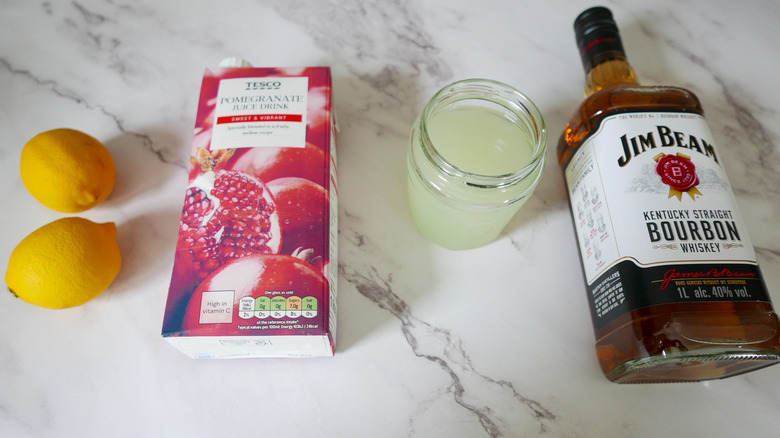 Ting Dalton/Mashed
All you'll need to make this refreshing, fruity cocktail is bourbon whiskey, lemonade, pomegranate juice, a lemon, and if you want, more lemons to cut into wedges or wheels for garnish. "The special ingredient here is the lemon juice. It adds an extra zesty zing to the drink and tempers the sweetness. It's fresh, and delightful to drink," says Dalton. So don't skip the lemons. 
Add the ingredients to a cocktail shaker and shake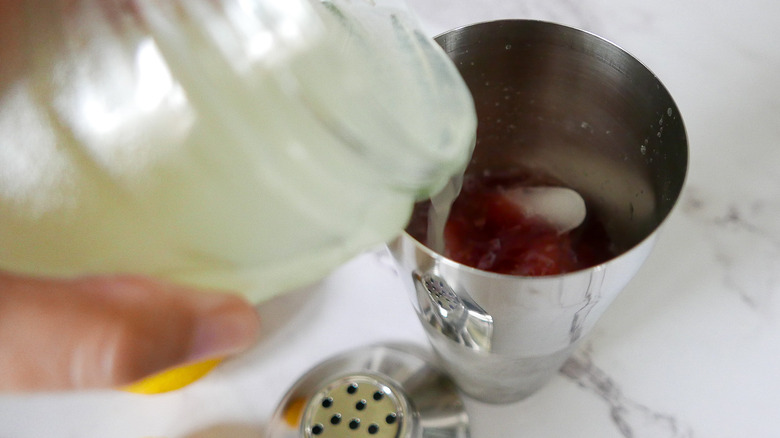 Ting Dalton/Mashed
With your ingredients in front of you, fill a cocktail shaker with ice, then add the bourbon, lemonade, lemon juice, and pomegranate juice to a cocktail shaker. Shake the shaker until the liquids are very cold. 
Of course, it's important to remember that there's some flexibility with how you make the drink. For instance, it's up to you whether you use a store-bought lemonade or opt for a homemade version. "I used shop-bought lemonade which is slightly on the tarter side. But that is my preference and you can definitely go for sweeter or use homemade lemonade," says Dalton. 
Strain into glasses, garnish, and enjoy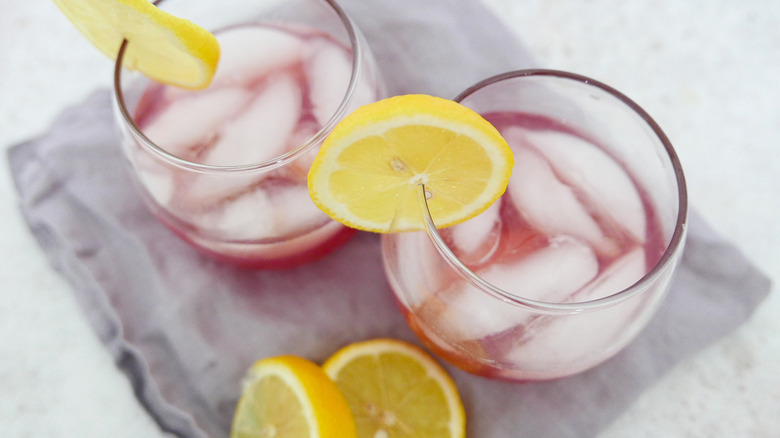 Ting Dalton/Mashed
Once the drink is nice and cold, all you have to do is strain it into an ice-filled glass, and garnish with a wedge or wheel of lemon. "It pairs well with salty snacks including peanuts and chips," says Dalton, so if you're making drinks for friends, it can't hurt to offer a spread of salty snacks to enjoy with the drinks. 
Classic Belmont Jewel Cocktail Recipe
This classic Belmont Jewel is subtly sweet and perfectly refreshing.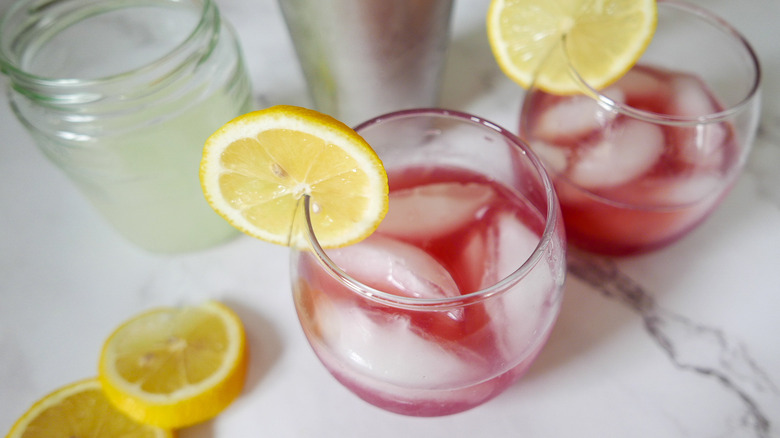 Ingredients
1 ½ ounces bourbon whiskey
2 ounces lemonade
juice from ½ lemon
1 ounce pomegranate juice
Optional Ingredients
Directions
Combine the bourbon, lemonade, lemon juice, and pomegranate juice in a cocktail shaker with lots of ice.
Shake until it's very cold, and strain into a glass filled with ice.
Garnish with a lemon wheel or wedge.
Nutrition
| | |
| --- | --- |
| Calories per Serving | 137 |
| Total Fat | 0.2 g |
| Saturated Fat | 0.0 g |
| Trans Fat | 0.0 |
| Cholesterol | 0.0 mg |
| | |
| --- | --- |
| Total Carbohydrates | 8.5 g |
| Dietary Fiber | 0.8 g |
| Total Sugars | 6.3 g |
| Sodium | 6.5 mg |
| Protein | 0.4 g |