TikTok Just Got A Sneak Peek At A Brand-New Trader Joe's Ice Cream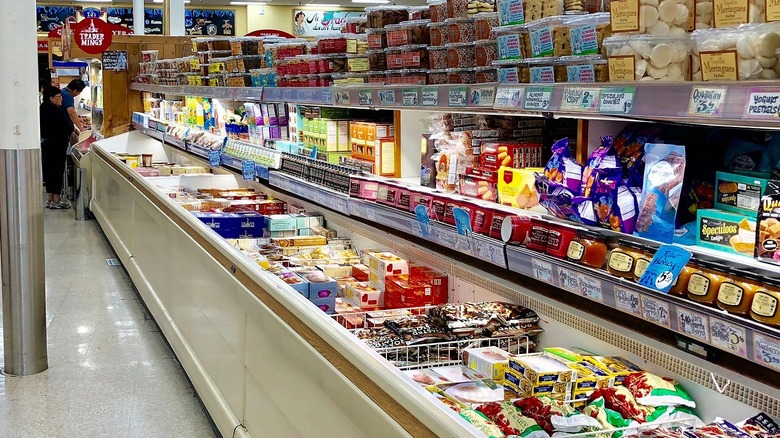 Cassiohabib/Shutterstock
There are many reasons people are devoted fans of Trader Joe's. Whether it's for the unique product offerings or its employees' friendly attitudes, people who love Trader Joe's are loyal. Even the store's nautical design aspects make it stand out from all the other American stores out there, via Business Insider.
While Trader Joe's offers the staple supply of everyday ice creams such as strawberry and chocolate, it's well known that they also offer products that are a little out of the ordinary including non-dairy frozen dessert options made with oat milk. There are also interesting flavor combinations such as the Cold-brew Coffee and Boba flavor (via Instagram) — which was one of the worst-ranked Trader Joe's ice cream flavors.
Some flavors come and go and of course, there are going to be some fans up in arms when they leave the shelves. However, that means a new flavor combination might take its place, like one that was just shared on TikTok by a self-identified TJ's employee.
Will you go bananas for this new Trader Joe's flavor?
TikToker @anxioushungry says that they're an employee at Trader Joe's and that she a new flavor "accidentally" turned up in the store she works in. "It is not in stores," she said. "It's interesting. I hated my first bite and I was like 'eww' but then I kept eating it and I literally couldn't stop. I think I just wasn't expecting banana when it clearly says Banana Pudding Flavored."
The ice cream is Banana Pudding with a salted caramel swirl and vanilla wafer cookie pieces but is not available in stores — yet! A Reddit user posted about the new ice cream release on Reddit and said they tried calling their local store but it wasn't listed in the store's inventory. Another Redditor replied, "They really need to stop with all these awesome new ice cream flavors. My a** can only get so big." 
Other Reddit users wondered if it was artificially flavored. "If it's got the TJ's name on it, it should be NO artificial anything," someone replied. Others said the flavor combination sounded a bit like Bananas Foster – the New Orleans dessert that's a mix of bananas cooked in a caramelized rum and butter syrup (via Southern Living). Hopefully, the product will hit stores soon so you can find out for yourself if you like.