Why TikTok Just Can't Get Behind A Jamie Oliver Breakfast Hack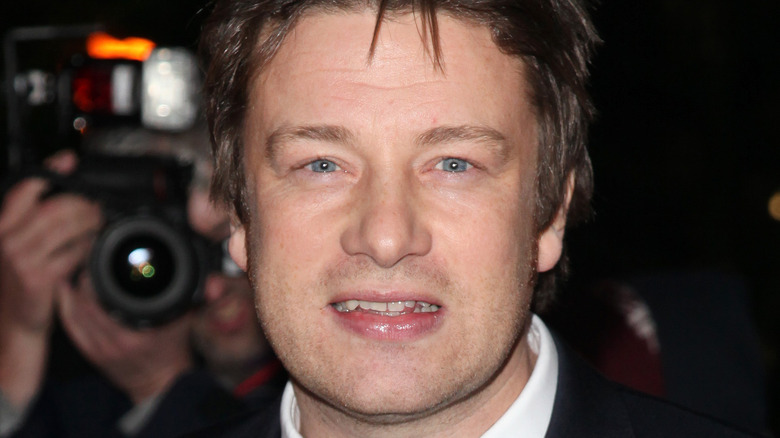 Featureflash Photo Agency/Shutterstock
There are two kinds of people at music festivals: ones that overpack and ones that under pack. A few necessities include a tent, sleeping bag, a source of shade, rain jacket, duct tape, and a portable phone charger (via BuzzFeed). Basically, anything you think you'll need to survive outdoors for a few days. Most, if not all, music festivals have some sort of food offerings, but it can get expensive, so some festival-goers like to cook at their campsite. That's what inspired the latest breakfast hack from Jamie Oliver.
Oliver posted a TikTok with the caption, "Festival-goers, you need to see how easy this is!" In his 46-second video, he butters a big pan and pours in a big ladle full of eggs. He says it takes only 20 seconds to cook, then he uses his spatula to fold the egg in on itself until it forms a little square. He ends his TikTok by putting the omelet on a piece of bread drizzled with olive oil. While his technique does demonstrate a fairly simple way to whip up some eggs, you can add this hack to the list of times Jamie Oliver made everyone angry because the TikTok commenters were not having it.
Jamie Oliver brought a whole kitchen setup to a festival
The main issue commenters had with Jamie Oliver's hack was the amount of equipment he had with him. In his TikTok, he has a spacious portable kitchen setup, complete with at least two burners, a big pan, and a spatula. He also has a huge bowl of pre-cracked eggs from which he scoops "about one and a half eggs." The majority of the comments focused on the chef's setup with two TikTok users writing, "Festival goers. All you need is a massive portable cooking station costing thousands for eggs on toast," and, "Ahhh yes Jamie let be bring half my kitchen with me to a festival cheers."
Another user commented, "That's the last thing I want to do at a festival." However, a few TikTokers argued that Oliver's hack wasn't ridiculous at all, writing, "[D]epends on what kind of festival, most people I know bring full cooking setups," and, "Gas stove, pan, egg, cheese and bread. Not exactly a lot to bring, is it[?]" Perhaps his egg hack would be more appreciated at this giant omelet festival.