The Real Reason The TSA Wouldn't Let A Cupcake Pass Through Security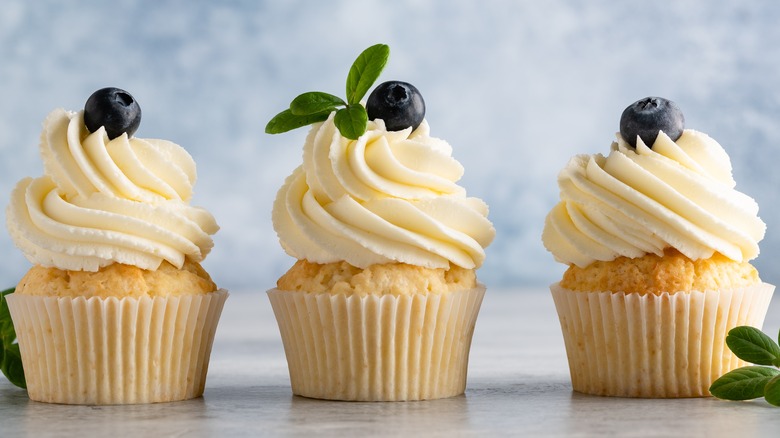 Alena_Kos/Shutterstock
The world faces many challenges and risks that seem to increase as the days go by, but there is an unlikely contender: cupcakes. Although not instantly recognizable as a massive security threat, cupcakes have been deemed to pose a risk by airport officials carrying out safety checks on passengers' luggage.
According to CNN Travel, Rebecca Hains embarked on a trip in December 2011 from Boston's Logan Airport with two seemingly innocent cupcakes packed into separate mason jars. Albeit an arguably unusual form of transporting cupcakes, the sweet treats were made by Wicked Good Cupcakes, which sends the cakes out in the mail — explaining the need for them to be tightly packaged. 
Although the different flavored cupcakes (one chocolate and the other red velvet) made it through Boston without incident, the return journey led to the red velvet snack being seized at the Las Vegas airport for security reasons. We'll take a look at why — and what the rules are — below.
Cupcakes could be used to hide explosives
Incredible as it may seem to confiscate a cupcake, the decision was made in the interests of safety. CNN Travel reports that the Transportation Security Administration (TSA) seized the cupcake because it contained an unexpectedly thick layer of icing. Officials were concerned that the unconventional snack could have been used to conceal explosives.
According to NPR, security officials believed the cupcake fell foul to a rule banning liquids, gels, creams, pastes, and aerosols of more than 3.4 ounces from being taken onto airplanes (via TSA). Hains stated the cake and jar weighed 8 ounces, and the TSA deemed the icing to constitute a gel. The rule was introduced following a 2006 plot to use liquid bombs disguised as drinks bottles on planes, BBC News explains. 
The decision may seem pedantic to some, but the TSA makes clear that the final decision on whether to permit an item rests with checkpoint officials. In a homage to the strange incident, CNN Travel reports that Wicked Good Cupcakes changed the name of the suspect cupcake to National (Security) Velvet.