The Best Appetizers We Should All Know How To Make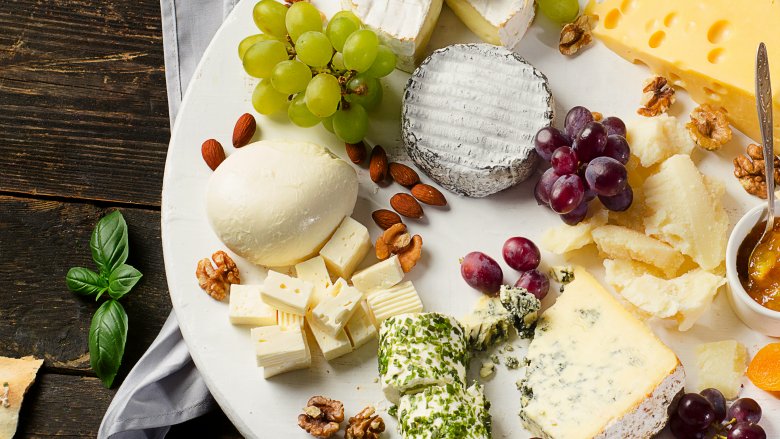 Shutterstock
When you're hosting guests for dinner, drinks, or to watch the big game, appetizers can sometimes get a bit forgotten, leaving you scrambling to throw together something at the last minute (or just opt for whatever chips or crackers you can find in the cupboard). And when you're tasked with bringing an appetizer to someone else's dinner or event, it can present a bit of a conundrum. Don't fret. There are plenty of options that you can always have in your back pocket, ready to pull together whenever the need arises. They're delicious, easy, and everyone should know how to make them.
Crostini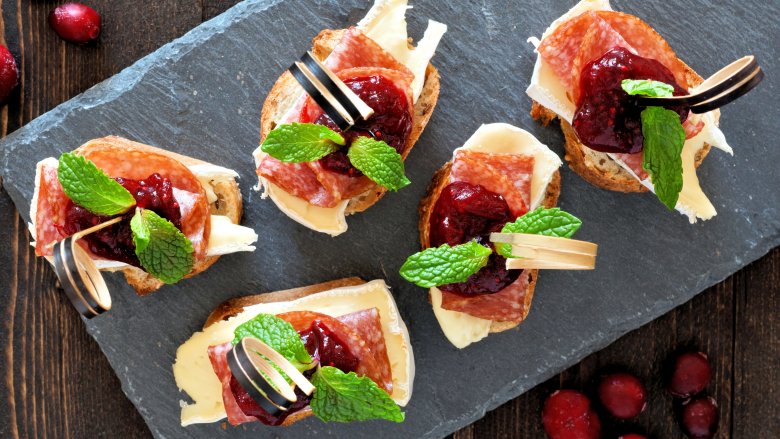 Shutterstock
Crostini are an excellent choice if you're looking for a delicious, easy appetizer in a hurry. The first thing you need for any crostini you'd like to make is good quality crusty bread. Slice the bread thinly into toasts, brush with oil, sprinkle with salt and pepper, and toast until golden brown. Then, let them cool. Toppings for crostini can be nearly endless. You can go with a "traditional" mix of tomatoes, garlic, olive oil, and basil, if you'd like, or you can add cheeses, peaches, plums, apples, pears, blackberries, jams, roasted, smoked, or cured meats, herbs, smoked or roasted veggies, and more. No matter the toppings you choose, the end result will be well-loved by all those eating them.
Stuffed mushrooms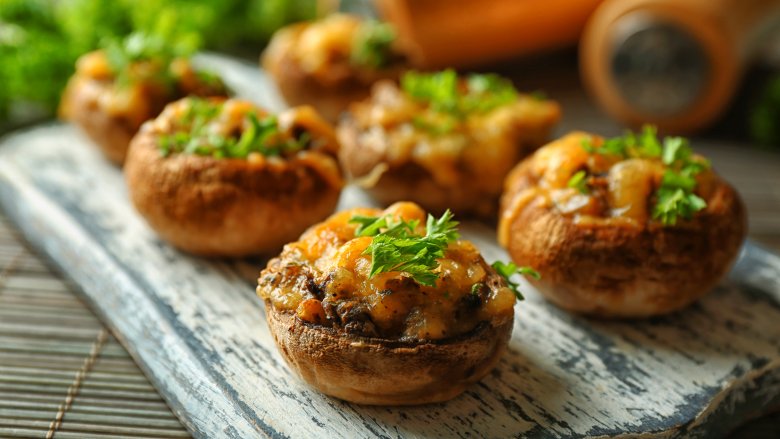 Shutterstock
Stuffed mushrooms are always a show-stopper and they're easier to make than you might think. You'll likely want to work with baby Bella or button mushrooms. For filling, you can opt for meat like sausage, crab, cheese, minced mushroom stems, caramelized onions, herbs, breadcrumbs, spinach, and more. Bake them until they're cooked through and golden brown. My aunt makes stuffed mushrooms each year for my family's Christmas celebration and they're often one of the first appetizers to go. If that's not a ringing endorsement, I'm not sure what is.
Snack mix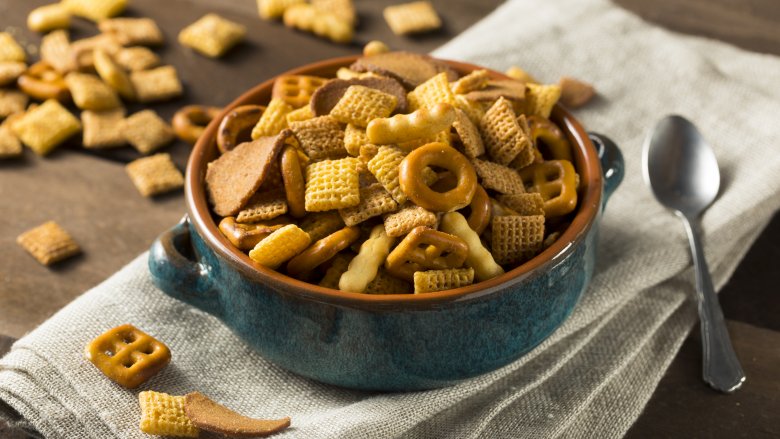 Shutterstock
Snack mix, like popcorn, might not sound like the fanciest or fussiest choice for an appetizer before a special dinner, but sometimes the fanciest or fussiest appetizer isn't everything you thought it would be. Sometimes simple is best. For your snack mix, you'll need a mix of nuts, seeds, and cereals, pretzels, cracker bits, and other delicious things. Then, focus on your seasoning. Butter, a flavorful oil, lots of herbs, spices (like chili powders, garlic, baking spices like cinnamon and cardamom), tahini, infused salts, the flavors of ranch dressing (make sure it's just the dried herbs and spices that make up its flavor and you're not putting a wet ranch dressing on your mix), and more can all make your snack mix taste fancier than it really is and no one will be the wiser. Toss your base in the seasoning and then bake until toasty and delicious. It'll be a hit.
Marinated shrimp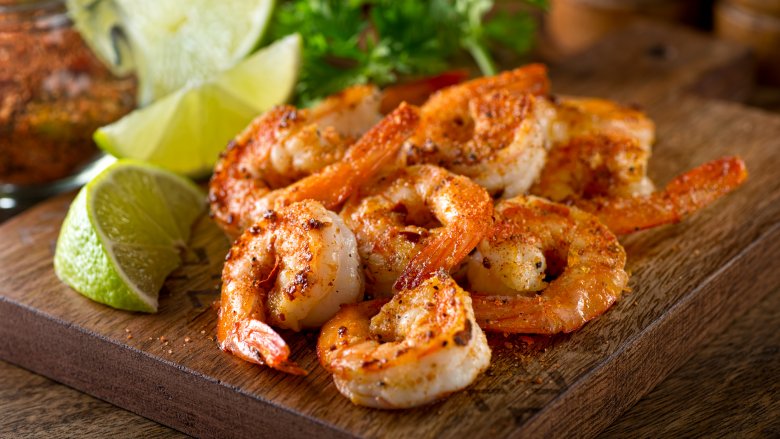 Shutterstock
Marinated shrimp might not be your typical go-to when it comes to the appetizers you make most often, but you might want to add it into your regular rotation because it couldn't be easier and is sure to impress. You can either marinate your shrimp before or after cooking, so if you if you throw all of your raw shrimp in a marinade, don't worry, you're not doing it wrong, and if you cook it first, that's OK too. Make sure your marinade is super flavorful — herbs, citrus, spices, tasty vinegars, all are fair-game when it comes to designing the perfect marinade. I actually like to marinate my shrimp after cooking, though the flavor is sometimes a bit milder because it wasn't able to absorb that flavor quite as much. Either way, remember, appetizers don't need to be fussy, so if you've cooked your shrimp, it's not too late to marinate. If you serve it cold, the order of steps doesn't matter.
Things wrapped in puff pastry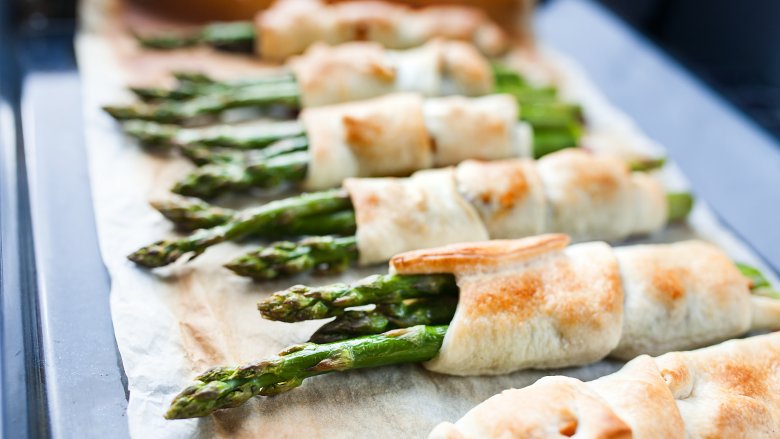 Shutterstock
Puff pastry always makes things fancy. Wrapping treats in puff pastry is an easy appetizer that everyone will love. Asparagus, hot dogs (of course), cheese, and more can all be wrapped in puff pastry, baked until cooked through and golden brown, arranged on a platter, and served. It doesn't require much time or effort on your part (just use store bought pastry) and whatever you make is sure to be buttery and delicious.
A better cheese plate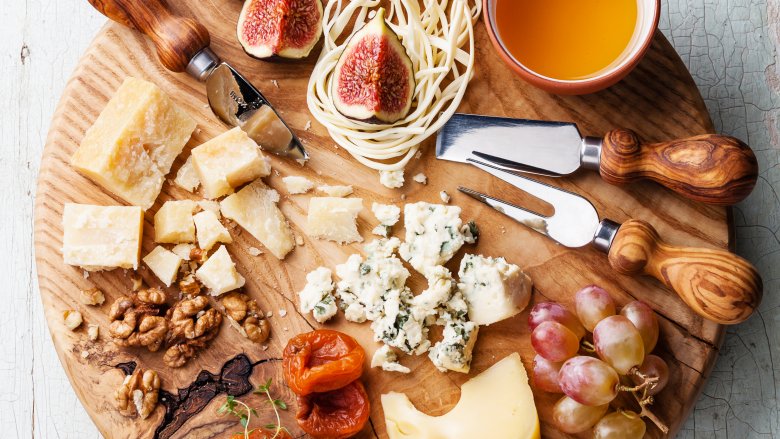 Shutterstock
Cheese and crackers doesn't have to be a boring, thoughtless appetizer. You can make it better than that. Buy an assortment of tasty cheeses and lay them out on your cheeseboard. Then, add bread, seedy crackers (homemade aren't hard, but finding good ones at the store is easy), nuts like walnuts, pistachios, or pecans, dried fruits like apricots, cherries, and cranberries, fruit preserves, fresh fruit like grapes and figs, honey or honey comb, seeds, or whatever else you think would go well. It's delicious, sure, but it also makes a pretty centerpiece during a cocktail hour.
Spiced nuts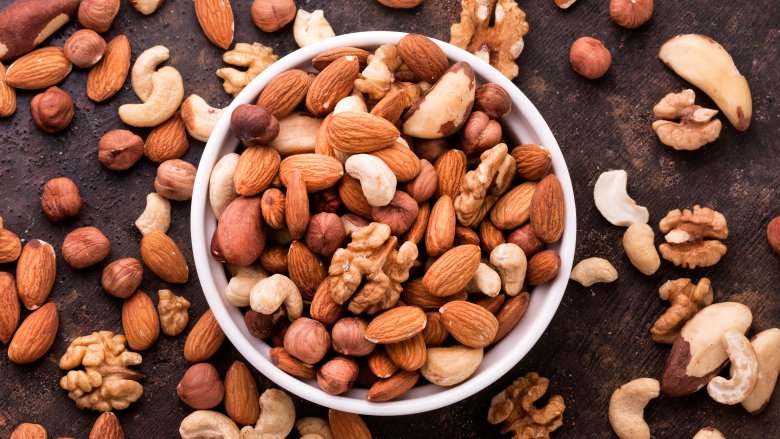 Shutterstock
Spiced nuts, like popcorn, are nearly infinitely riff-able and make a delicious, easy, and light appetizer for those times when either the focus isn't on the food, but you still need a snack, or you have a huge meal coming up (like Thanksgiving), but people are going to be drinking and waiting around before eating. First, decide which nuts you use. A mix of walnuts, pecans, peanuts, cashews, even hazelnuts, is sure to be delicious. Next, focus on your seasoning. Add brown sugar or maple syrup, chili powder or cayenne pepper, salt, and rosemary for a sweet, spicy, and seasonal take on spiced nuts. Go with cumin, chili powder, garlic, salt, and oregano for a more Mexican-inspired take. You could even do brown sugar or maple syrup, cinnamon, cardamom, nutmeg, and salt for an after-dinner sweet treat.
Assorted dips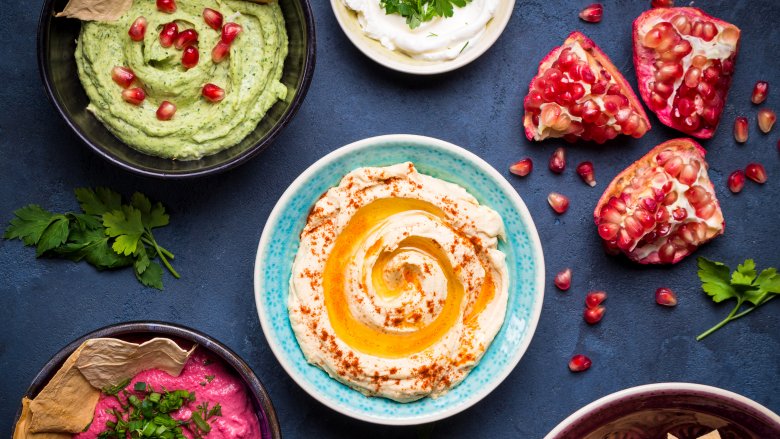 Shutterstock
Dips are one of the easiest appetizers out there and if you gather a few and add plenty of things to dip with, it'll look like a thoughtful, curated appetizer, rather than just that you had some leftover hummus in the fridge. Bowls of colorful, flavored (or garnished) hummus, guacamole, caramelized onion dip, tapenade, or whatever else your family and friends like paired with veggies, crackers, bread, and pita make a tasty, casual spread that's sure to please just about anyone. 
A better crudité platter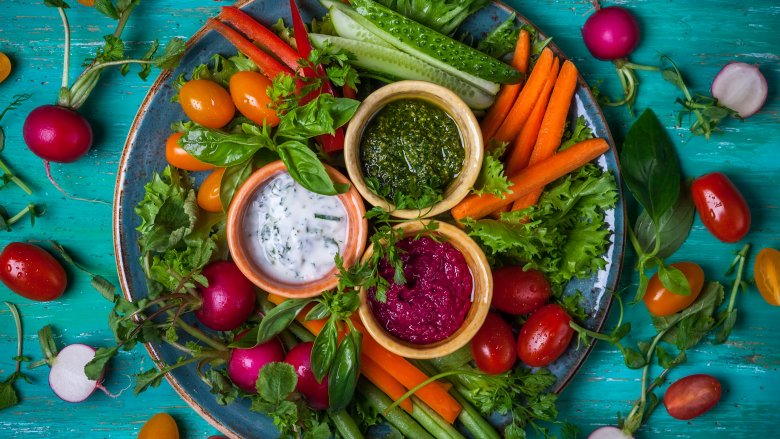 Shutterstock
No one eats the veggie platter, right? Or, if they do, they eat the carrots, maybe some cherry tomatoes, cucumber if it's there, and not much else. Next time you're tasked with bringing veggies, bring a better crudité platter. Marinate the veggies, grill them, rub them with lemon, garlic, or spices, or drizzle them with a vinaigrette. Rather than opting for the same old kind of gross ranch dressing from the grocery store, make a flavorful dip, pesto, hummus, vinaigrette, or whatever else you'd like in order to pair with your veggies. The same old raw veggies can get kind of boring, liven up your next veggie tray — your guests will surely appreciate it.
Mini meatballs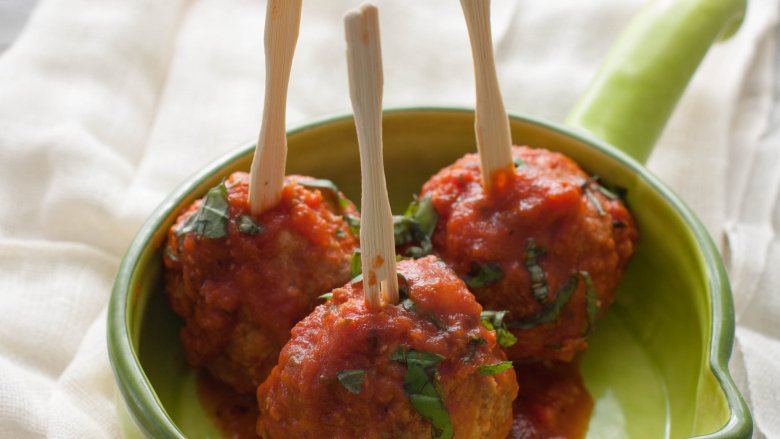 Shutterstock
Practically everyone loves meatballs. Next time you have to make an appetizer, make it meatballs. Meatballs are great because they're easy, delicious, and extremely versatile. Use pork (or beef) and Mexican-inspired flavors, chicken and Thai or Vietnamese-inspired flavors, beef (or pork) with Italian-inspired flavors, turkey and Thanksgiving-inspired flavors, or your favorite ground meat and flavor combination. Get creative. A meatball doesn't have to be a mix of beef and pork simmered in tomato sauce. For a real showstopper, choose several different varieties and make an assortment of different mini meatballs. They'll be all eaten up before you even know it.
Popcorn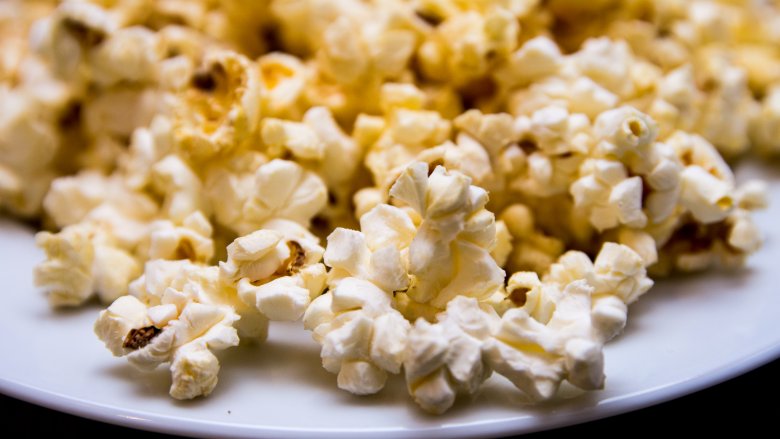 Shutterstock
Popcorn might not sound like a sophisticated choice when it comes to appetizers before a dinner party, but that's just not true. It's easy and comes together quickly, and can take on nearly any flavor combination, making it an excellent choice for a last-minute appetizer. First, pop your corn in a popcorn maker or large, cast-iron (or other) pot. You can use a popcorn oil, but coconut oil will also work well. If you're going to use coconut oil, opt for one that's refined (which you may not normally use) to ensure that the finished dish won't taste too much of coconut. Then, decide on your toppings. Butter, garlic, rosemary, basil, spices like smoky paprika, chili powders (don't use too heavy a hand), Chinese five spice, and more can all take your pre-dinner popcorn over the top.
Pea pesto with ricotta
This pea pesto with ricotta is a super simple recipe from Tasting Table you should always keep in your arsenal of appetizer recipes. Whip up a batch and serve it as a dip for veggies, chips or crackers, or as topping for crusty bread. Either way, we're pretty sure it'll always be a crowd pleaser!