Why Longhorn Steakhouse Is Petitioning For A New Emoji
Whether you're texting via a smartphone, a tablet, or a computer, sometimes the best way to get your thoughts across is by using emojis. According to Vyvyan Evans, the author of "The Emoji Code," "Seventy percent of the meaning of an oral conversation comes from nonverbal cues. Emojis add personality to the text and generate empathy among users" (via CBC News). While it seems that emojis are being added and revamped in our texting arsenal per The Wall Street Journal – oddly enough, some of them are pushed by our favorite restaurant chains.
Back in 2015, Taco Bell started a petition for a taco emoji. According to Change.org, Taco Bell reasoned that we should have a taco emoji if we have a floppy disk emoji — only one of the two is actually useful, and we all know which one. Anyway, after much discussion, we got the taco emoji. Another instance occurred in 2019 when Canadian restaurant chain Valentine petitioned for a poutine emoji (via Eater Montreal). As fans of the cheesy potato dish may know, poutine is one of many iconic Canadian foods you need to try before you die. The love for this food is expressed by many, which is why it has over 5,000 signatures in demand for its emoji, per Change.org. 
Along with this trend, Longhorn Steakhouse has also come forward in hopes for its food-related icon. So exactly what kind of emoji is this chain wanting to add to our digital keyboards?
Longhorn Steakhouse wants a fire-grilled steak emoji, not a raw one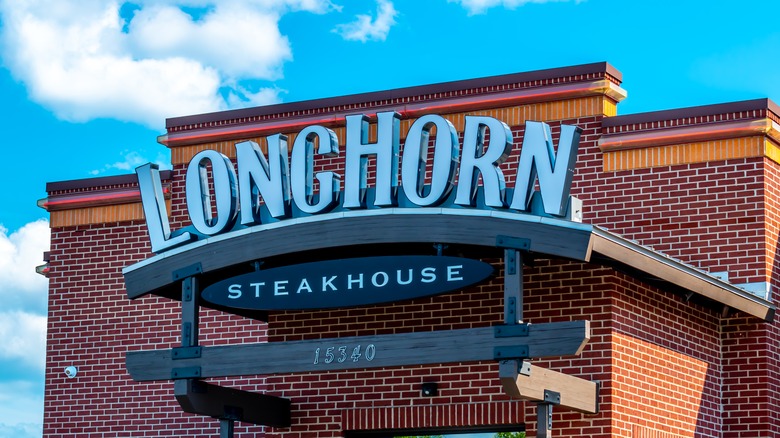 Bruce VanLoon/Shutterstock
Even if you haven't been to LongHorn Steakhouse, it goes without saying that steaks are among the most popular Longhorn menu items, hence the name of the establishment. So when the restaurant posted on Twitter that it was submitting its petition for a fire-grilled steak emoji, was anyone truly surprised?
You might be thinking, "Don't we already have a steak emoji?" Technically, yes, but it's a raw steak. It gets the job done in a pinch, but a raw piece of meat doesn't convey quite the same meaning as a grilled steak. Maybe the Unicode Consortium could even provide options for how you want your steak prepared.
Other emoji ideas requested are Indian food, a lime, a waffle, celery, and dinosaur chicken nuggets (via Change.org), with many others following. The possibilities are truly endless. All we can hope for is to have our emoji prayers answered.