Who Makes The Iconic GBBO Trophy?
First hitting the British airwaves in 2010, "The Great British Bake Off" has since become a phenomenon among bakers and baking enthusiasts worldwide. The show follows 12 amateur bakers as they stir, sift, and ice their way through 10 weeks of bread, cake, and pastry challenges. These famously tough tasks are designed to showcase each baker's unique skills while testing their knowledge of the more technical side of the culinary art. 
At the end of each season, the contestant who manages to most successfully bake their way through all of the challenges is awarded the show's iconic trophy, a glass cake stand emblazoned with the GBBO logo. That's right, the winner does not get a cash prize, meaning contestants simply sign up for the show in hopes of mingling with Prue Leith and Paul Hollywood — plus winning the title of "the UK's Best Amateur Baker" and a cake stand that's carefully crafted by U.K. glassmakers.
GBBO's glass cake stand is made in Bristol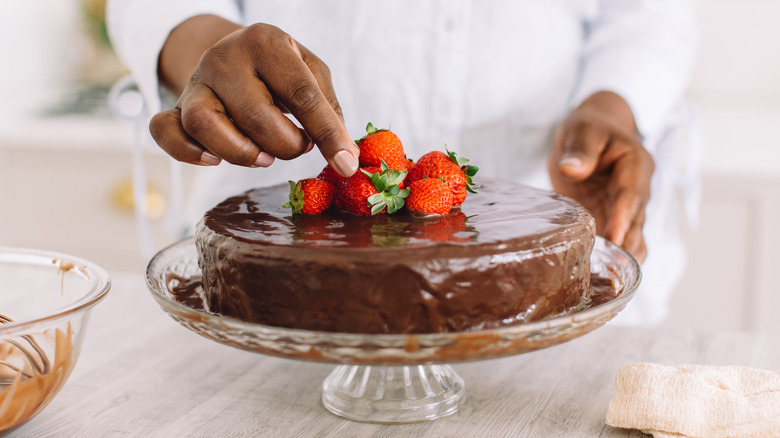 JLco Julia Amaral/Shutterstock
Arguably a bigger privilege than winning the coveted GBBO trophy is actually making it, an honor that has been bestowed on Bristol, U.K., glassware maker Creative Glass Guild. About a decade ago, "chuffed" guild members took to their website to announce, "For the second year running, the BBC has commissioned our studio to create the trophy for the Great British Bake Off." Showing their love for the show's original judge, the studio added, "We can't wait to see the cake stand in Mary Berry's hands!" 
Judging by recent news, the same brand is still making the trophy more than 10 years later: The GBBO cake stand is so recognizable that Season 11 winner Peter Sawkins said he had to "smuggle" it home for fear of spoiling the season for fellow travelers on his trip back to Edinburgh (via Radio Times). Along with other fans, we're certainly glad the stand made its way to Scotland safely and didn't quash any of the GBBO suspense.