Papa John's New Pizza Is Inspired By Game Of Thrones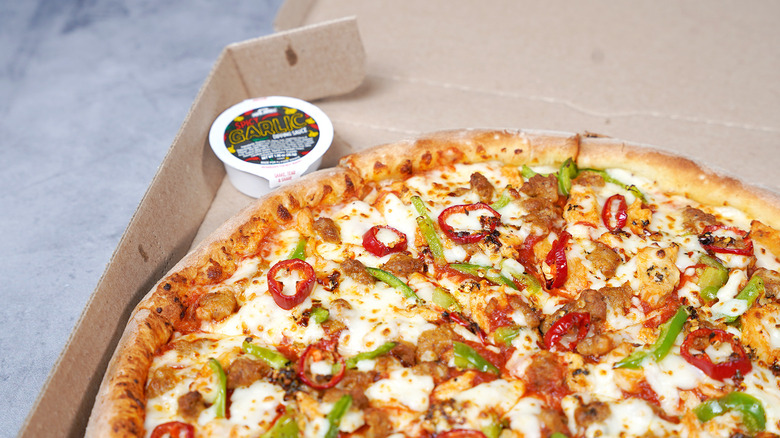 Phelan Ebenhack/AP Images for Papa Johns
HBO and HBO Max subscribers are all abuzz about "House of the Dragon," the highly anticipated prequel series to "Game of Thrones." Although the new series takes place nearly two centuries before the time of "Game of Thrones," it shares a number of commonalities with its predecessor and the source material written by George R.R. Martin. Put simply, the series is filled with drama, intrigue, and soap opera (per CNN).
Much of the action in the show focuses on the Targaryens, a family of ash blond-bordering-on-white hair people with names like Aegon, Rhaenys, Rhaenyra, Daemon, Maelor, and Viserys, some of whom are skilled dragonriders. There is family drama, power struggles, sexual tension, corruption, the threat of war, and an Iron Throne, all amidst a somewhat dark, candlelit backdrop. With all of that going on, we certainly hope no one is required to eat a horse heart, like Emilia Clarke did in that infamous "Game of Thrones" scene.
HBO spent an estimated $20 million per episode (mic drop) for the first season of the new series, and a new episode is set to drop each week for 10 weeks (per Esquire). It promises to keep our collective eyes glued to the small screen, and Sunday nights this fall seem ripe for "House of the Dragon" viewing parties in millions of households — perhaps even with dragon-inspired Papa John's pizza.
Want a Papa John's #DragonFlame pizza in your city? Shout it out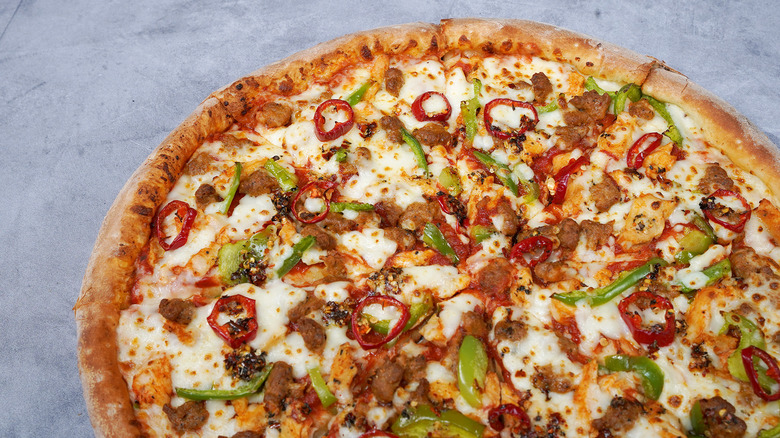 Phelan Ebenhack/AP Images for Papa Johns
While we're busy trying to keep track of all the character names and bloodlines and contemplating coloring our hair a trend-setting "House of the Dragon" silvery-white shade for fall, Papa John's is introducing a pizza influenced by the new series (per FoodBeast).
The appropriately named Dragon Flame Pizza had its debut party at Kings Landing Park in Apopka, Florida, on the same day as the HBO series opener (via Fox Business). The uber limited-time-only pie is hot stuff, according to Papa John's. Beyond the usual crust and signature sauce, the pizza comes together with smoky shredded chicken, Italian sausage, and bites of Fresno chiles and green pepper. The pie's underlying kick comes from powdered sriracha, red chili, and garlic crunch.
In a twist, getting your hands on this pizza isn't quite as simple as placing an order. In fact, you might even say this variety of pizza is nearly as rare as dragons in "Game of Thrones." Luckily, Dragon Flame Pizza will pop up in another city this fall, and Papa John's is asking "Game of Thrones" and "House of the Dragon" fans to nominate their city for a pie drop using the hashtag #DragonFlame on Twitter. Shoutouts so far include Atlanta, Georgia; Houston, Texas; New Orleans, Louisiana; Tulsa, Oklahoma; West Palm Beach, Florida; and Huntington, West Virginia, among others.