The Touching Way An Arkansas Cracker Barrel Honored A Late Police Officer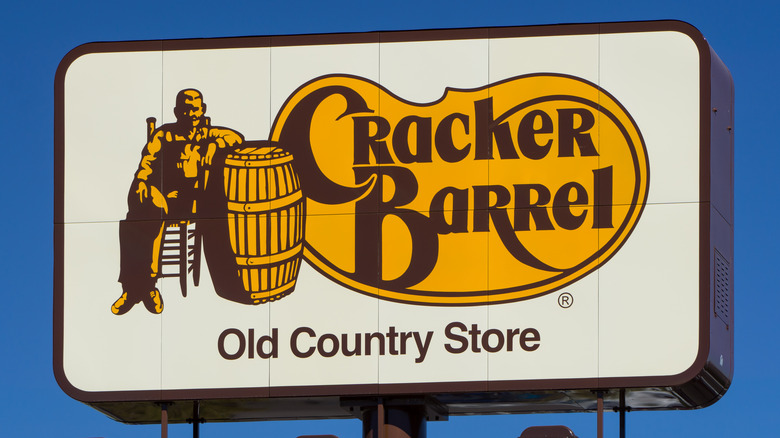 Ken Wolter/Shutterstock
If you've ever been to a Cracker Barrel restaurant for a hearty breakfast, lunch, or dinner, you might well have looked around and wondered: Is all the stuff on the walls here real? There's so much bric-a-brac. And you wouldn't be the first to wonder. Cracker Barrel, a down-home restaurant chain based in Lebanon, Tennessee, takes great pride in its authenticity, and every last photograph, sign, tool, toy, and knick-knack that decorates the walls of every Cracker Barrel restaurant is vintage or antique — no imposters allowed (per Country Living). Take it all in while waiting for your pancakes, chicken and dumplings, and other classic country fare Cracker Barrel serves.
Every Cracker Barrel is dressed up to look like a country store, and every item comes from the design warehouse jam-packed with more than 90,000 items at Cracker Barrel HQ. Every restaurant and store looks a little different, but the restaurant in Jonesboro, Arkansas, has added a poignant photograph that makes it stand out.
Jonesboro's Cracker Barrel honors fallen police officer Vincent Parks
The Jonesboro Cracker Barrel has carved out a space for a current photo on its dining room mantel — an image that holds special meaning for both the restaurant community and the community at large (per KAIT8). Next to an antique clock is a photo of late Jonesboro police officer Vincent Parks. Parks died at a hospital in North Little Rock after his first day of police training exercises (per Northwest Arkansas Democrat Gazette).
According to his obituary, Jones was dedicated to his family, including a wife and young daughter, and had recently changed careers to become an officer with the Jonesboro Police Department. Before that, he worked for Cracker Barrel for 14 years. His co-workers at the restaurant wanted to honor Parks with a lasting memorial. The former employee who "made everyone smile," according to his boss, now smiles down on the restaurant's diners.
"The response we have gotten from it is incredible and the messages sent to us," Cracker Barrel manager Tim Winberry told KAIT8, the local ABC affiliate. "It really speaks to the impact he had on people's lives."