Elon Musk's Unconventional Steakhouse Order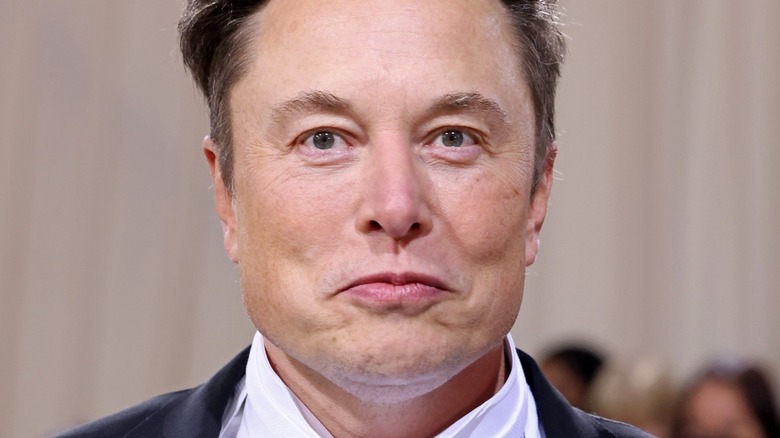 Taylor Hill/Getty
Ever wondered what the wealthy, eccentric Elon Musk orders when he dines at a steakhouse? In an interview with Joe Rogan, Musk let on that when it comes to food, he prefers to live in the moment. "I'd rather eat tasty food and live a shorter life," he said. Musk's eating preferences are varied and draw from a range of cuisines and flavors. When in Europe, he eats German foods (his favorite is döner kebab, he said on Twitter), and he also appreciates French cuisine and barbecue (via CBS News). For a late-night snack, the Tesla founder is even partial to Cinnamon Toast Crunch, as he revealed in a 2019 tweet.
Aside from his Canadian-dollar-a-day diet during his college days, per CNBC, we cannot say that Musk has a particularly unusual taste in food. Then again, we're not entirely sure what the standard diet for a rocket-firing tycoon is. According to a chef in Los Angeles, however, Musk's steakhouse order is anything but average.
Elon Musk's 'super advanced' steak order
A contemporary Korean steakhouse is tucked away on the ground floor of the Beverly Center in Los Angeles. The restaurant, ABSteak, strives for authenticity while also offering twists for local clientele, such as a dehydrated and grilled watermelon "steak" for vegan diners, per the Beverly Hills Courier. Not only does this restaurant get its laurels from its celeb patronage, but also from the presence and expertise of owner Arika Back, a Michelin-starred chef and restaurateur who you may recognize from when he cooked versus Bobby Flay on "Iron Chef."
It's here at ABSteak where Musk gets his beef fix. In an interview with People, Back said that the SpaceX founder often orders the restaurant's ssamjang dry-aged beef. The next-level, super savory steak is partnered with Korean-style miso and a chili sauce called gochujang. According to Back, Musk and his son are the only two patrons outside of the food industry who order the steak, which he calls "super advanced" in flavor. Judging by Musk's choice of steak, his eccentricities influence his food choices, too, and considering his son's affinity for his father's favorite, perhaps those culinary interests run in the family.