Burger King's Faux Food Beauty Products Are Turning Heads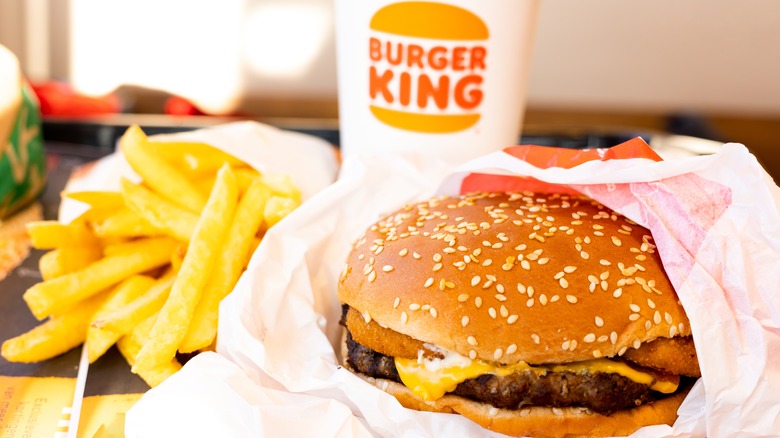 SrideeStudio/Shutterstock
Burger King loves to make its rivalries with other fast food chains as juicy as its burgers. Arguably its favorite company to target is McDonald's — Burger King has ridiculed the Golden Arches in various publicity campaigns, including the slogan "never trust a clown" and urging people to "set fire" to McDonald's advertisements using augmented reality (via The Drum).
Given its dislike of competitors, it is strange that Burger King should choose to mimic an advertising strategy used by KFC (which, The Drum notes, BK also burned by claiming that "the king always outranks the colonel"). KFC's website shows that the fried chicken chain has launched a variety of novelty non-food items over the years, such as chicken-scented Crocs, a drumstick-shaped phone case, and a pillow with Colonel Sanders' face on it.
In a spookily similar coincidence, Burger King has revealed on Instagram a range of food items that could be used for "the ultimate form of self-care." The post features several breakfast items that Burger King suggests could also double up as ways to boost well-being and beauty — and Instagrammers are definitely on board with the plan.
Hash brown eye masks are featured in Burger King's self-care promotion
Burger King's Instagram post utilizes some lighthearted gimmicks to promote its breakfast items, including Fluffy Biscuit Pillow, Breakfast Burrito Yoga Mat, French Toast Body Scrub, and Hash Brown Eye Mask. Clearly not designed to provide any practical benefit, the "beauty inventions" are not shown as being available to buy and come with an injury warning: "PLEASE do not actually put hot food items on your eyeballs or anywhere on your body." We can only imagine the chaos that unfolded to warrant this disclaimer.
Instagrammers are nonetheless supportive of Burger King's wellness ideas, with commenters saying, "I'll take the yoga mat," and, "definitely the pillows. A nap is the best self care." One user can't contain their Burger King affection, exclaiming, "I love you Burger King."
The Instagram post could be perceived as slightly odd given Burger King's apparent desire to reduce its famously bold commercial campaigns. According to Marketing Week, Burger King's award-winning creative advertisements haven't helped to boost the company's sales, and the chain wants more "thoughtful" and less "diluted" marketing — in line with more successful campaigns from rival McDonald's.