What You Need To Know About The New Market Pantry Cookie Recall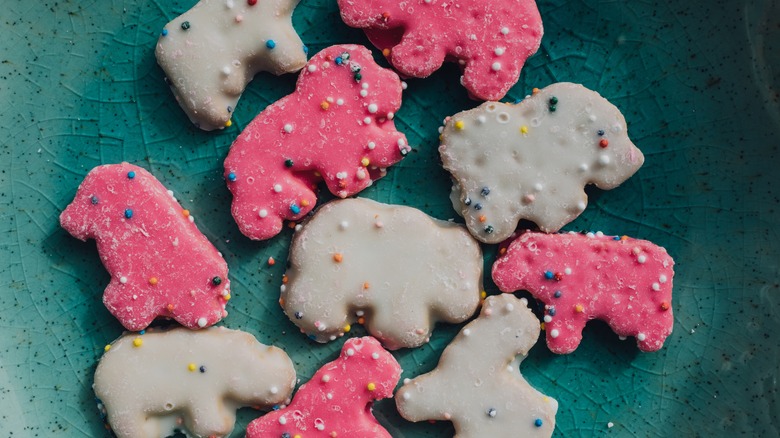 Nicole Kandi/Shutterstock
Though Target is known more for its household items and clothing, the chain sells most of your typical groceries as well. One of Target's private-label brands is Market Pantry, which produces everything from pizza snack rolls and mac n' cheese, to snack crackers and animal cookies. Unfortunately, though, on August 24, Market Pantry recalled its White Fudge Animal Cookies, which come in a 44 oz. clear plastic jar shaped like a bear. According to Fox 29, a batch of the animal cookies may have been contaminated by foreign objects, with customers allegedly finding bits of metal wire in some of the cookies.
The U.S. Food and Drug Administration is recommending that anyone who purchased this particular product check the expiration date and lot number against those of the affected batch. It goes without saying that no one wants to bite into an animal cookie and be injured by a piece of wire in the process. 
What else do we need to know about the animal cookie recall?
According to the FDA's notice, the recalled batch of Market Pantry animal cookies were shipped to Target locations all across the United States. However, the recall has been narrowed down to a single batch with an expiration date of February 21, 2023. The batch also has the jug lot number Y052722, case lot number Y052722, time stamp of 15:00 to 23:00, and UPC code 085239817698. No other batches are affected.
If your Market Pantry animal cookies match the recall information, you should not eat them. Instead, either throw them out or return them to the store for a refund. Thankfully, there have been no reports of injury due to the contaminants. In the meantime, you can buy an unaffected batch of the white fudge animal cookies, the regular animal cookies, or any of Market Pantry's other snack items. It's better to be safe than sorry, after all!