The Chick-Fil-A Hack That Blew Up TikTok
If asked whether visiting a Chick-fil-A drive-thru is really a pleasure, much of America would say yes. 2022 marks the eighth year in a row that the chain known for its chicken nuggets and crispy french fries was deemed the U.S.'s number one fast food restaurant (per WFLA). The ranking is based on the American Customer Satisfaction Index and Chick-fil-A has been steadfast in its dedication to customer service in order to keep earning the highest score in the convenience chain category.
But while the chain's approach to handling its customers has certainly earned it a large fan base, the Chick-fil-A chicken that people find so delicious might really be what keeps fans coming back for more. But sometimes Chick-fil-A lovers might want to mix things up a bit rather than stick to the usual options. And that's exactly what TikToker grubspot's video was meant to do – help viewers discover how to hack a Chick-fil-A classic. The advice was anything but conventional. The hack involved adding a kick to the chain's iconic chicken sandwich by topping it with an unexpected side.
This Chick-fil-A hack will have people asking for mac and cheese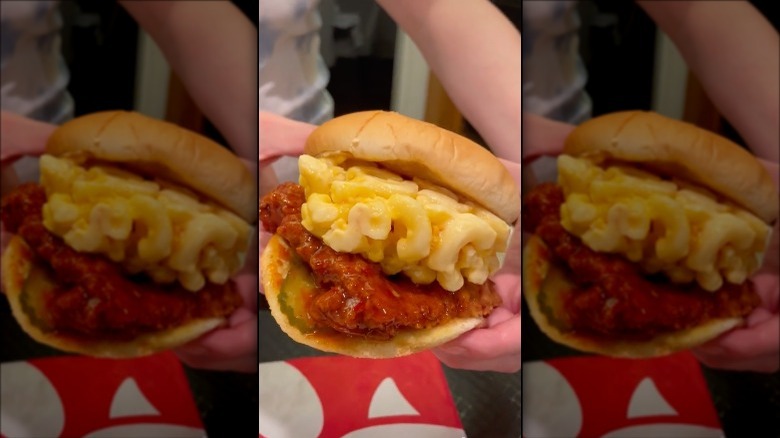 TikTok
As the TikTok video starts, grubspot unveils the first of his two extra ingredients for the upgraded chicken sandwich – sweet and spicy sriracha sauce. The TikToker then places the chicken patty into the package the sandwich came in, squeezes the two packets of sauce into the same container, and shakes up the concoction so the patty can be coated in the flavor. The next step, however, raised doubts in some TikTokers. To finish off the hack, after returning the patty to the buns, grubspot topped off the sandwich with a side of mac and cheese.
Tiktokers in the comment section were divided on whether the viral hack was a Chick-fil-A lovers' greatest dream or most horrific nightmare. Plenty of users seemed eager to try it. User Anthony Alfredo wrote, "​​Of course I see this on Sunday." A commenter going by Braiden approved and said they also enjoyed eating mac and cheese on spicy chicken. However, other Chick-fil-A fans couldn't bring themselves to support the mac and cheese combo. One user wrote, "Mac and cheese ruined it." Brock Benson was not impressed, stating, "Lost me at Mac and cheese." Despite its mixed reviews, the hack has scored over 780,000 likes on the platform. But Chick-fil-A fans who found themselves replaying the video more out of dismay or intrigue than excitement could always have a look at TikTok's Chick-fil-A nugget salad hack instead.