Reddit Is In Shambles Over A Subway App Meltdown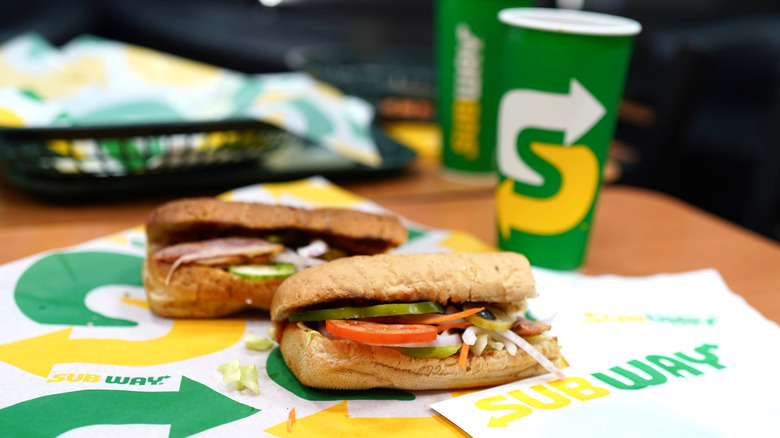 Prachana Thong-on/Shutterstock
Despite our love for technology, things can sometimes go wrong due to a system glitch or human error. Whatever the reason, if the mistake is a harmless one you can usually get a good laugh out of it.
While Subway has over 50 years in the fast-food arena, the brand is just as new to mobile app technology as everyone else. The restaurant chain is well known for its delicious sub sandwiches served on in-house baked bread. However, sometimes the chain offers other items, like one Subway favorite that may be making a return and limited-time items that are part of a promotion.
Earlier this year, Olympic gymnast Simone Biles appeared in a Subway commercial (via YouTube), and a new promotional sandwich called the Vaultwich appeared on the fast-food chain's menu. The gold medalist took to Twitter to tell fans about her new sandwich and how to order it through the app. "Tell me how much you love it and a few of you might get a little surprise," she said. However, this isn't the surprise people were expecting.
A glitch with the Vaultwich
Simon Biles might be a national treasure for her Olympic status but apparently, people aren't willing to pay $99 for a sandwich endorsed by the athlete. 
A Reddit user got a bit of shock when ordering the sandwich and finding the add to cart button said $99.00. The sandwich features pepperoni, Genoa salami, BelGioioso mozzarella, banana peppers, green peppers — and with what appears to be a typo in the app — "drizzled without our Baja Chipotle sauce." That seems like an interesting sandwich but as many Reddit users pointed out, probably not worth the high price. 
Others pointed out the sub was very similar to a Spicy Italian and perhaps the original poster should order that instead. Another Reddit user suggested it was a human error because in the old system if you put $99 on anything it would block it from consumers and that this had been entered by someone who was not used to the new app. According to many replies on the post, restaurants will do this when they're out of an item to prevent people from ordering it.
When the sandwich is available from your local Subway, it's usually $5.99 for a six-inch or $10.99 for a footlong, and the Subway website confirms that it does indeed come with Baja Chipotle sauce.