The Burger King Syrup Video That's Soothing Instagram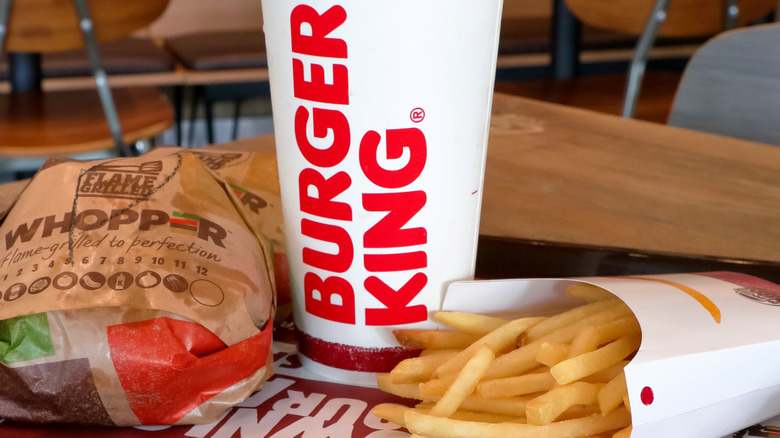 agencies/Shutterstock
Given its fast food credentials, Burger King is unlikely to be considered a bastion of good health. However, that hasn't stopped the famous Whopper chain from championing a healthy dose of meditation.
Meditation has been around for thousands of years, and is designed to promote well-being by calming the mind, according to the National Center for Complementary and Integrative Health. People use meditation to help with sleep, anxiety, and stress, and as of 2017, the CDC estimated that 14.2% of Americans take part in meditation activities.
Mindworks details that meditation can take various forms, including prayer, breathing techniques, and focusing on a specific task. But one meditation idea suggested by Burger King appears to have been overlooked — until now.
In a post uploaded to Instagram, Burger King reveals a video of pouring golden syrup. The video's caption offers viewers to "take a moment to meditate with French toast sticks", something that is impressing Instagram.
Burger King's French toast sticks aren't quite as healthy as meditation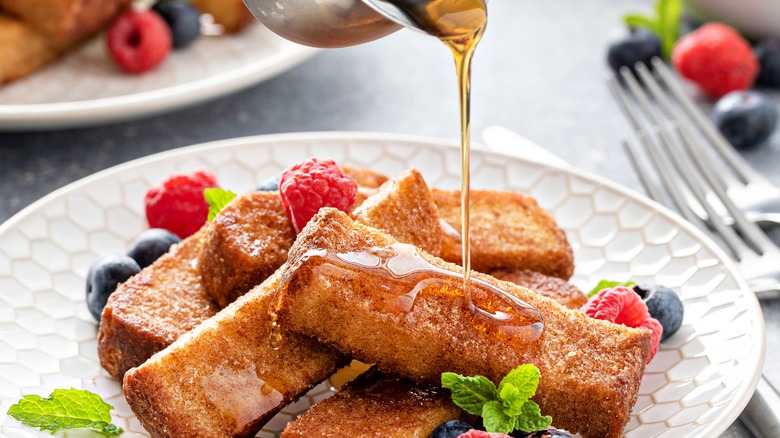 Elena Veselova/Shutterstock
Burger King's Instagram video paying homage to the syrup of French toast sticks has received over 1,000 likes, and is being received well by viewers. One describes it as "extremely satisfying", earning the reply from Burger King of "we aim to please."
The intention of the clip might be to create the gratifying sensations of ASMR (autonomous sensory meridian response) videos. VOX reports that ASMR videos are designed to be relaxing, and can involve such mundane activities as crinkling paper, stirring soup, and spraying water.
"OMG, I love BK," enthuses one Instagrammer, while another declares the toast sticks to be "really good." They may well be, but the health benefits of Burger King's French toast sticks probably aren't as good as those of meditation. According to Burger King, three French toast sticks with syrup contain 351 calories, 318 milligrams of sodium, and 26 grams of sugar.
Not everyone is convinced about the syrup's succulence — one commenter wonders if it's actually car oil. Some Instagram users are also concerned with more pressing matters. One demands the return of the cinnamon toast crunch milkshake, while others ask for comebacks for Cini Minis and Mac n' Cheetos.