Sweet Coffee Jelly Recipe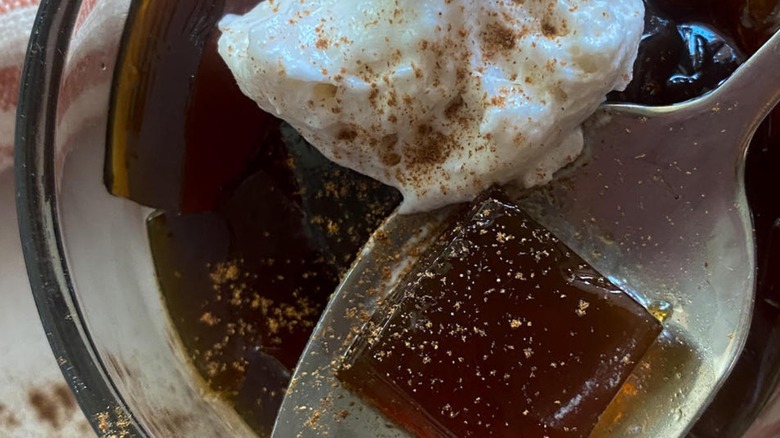 Miriam Hahn/Mashed
In need of a new dessert idea? Recipe developer and health coach Miriam Hahn brings us this recipe for coffee jelly. Never heard of coffee jelly? Think jello, but coffee flavored.
Hahn notes, "I think this is a fun dessert to serve with brunch or with a fun lunch. It is light and refreshing and such a fun, different dessert!" Because it is made from strong coffee, the caffeine content in coffee jelly may make this recipe a bad idea for an after-dinner dessert. Hahn notes, "You can definitely serve it with dinner too, however if coffee keeps you up, you would want to be careful there."
While Hahn says, "Coffee jelly is often served with whipped cream," other than this topping, this recipe comes together with only 3 ingredients: gelatin powder, sugar, and coffee. We love a recipe that can be whipped up without an endless list of ingredients.
Gather the ingredients for your sweet coffee jelly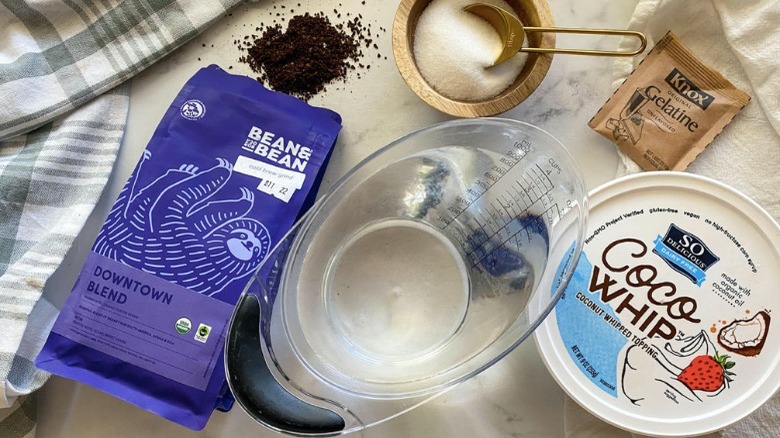 Miriam Hahn/Mashed
To make this sweet coffee jelly, you can start by gathering your ingredients. For this recipe, you will need strong brewed coffee, hot water, unflavored gelatin powder, sugar, whipped cream, and optional topping of cinnamon.
Add water and gelatin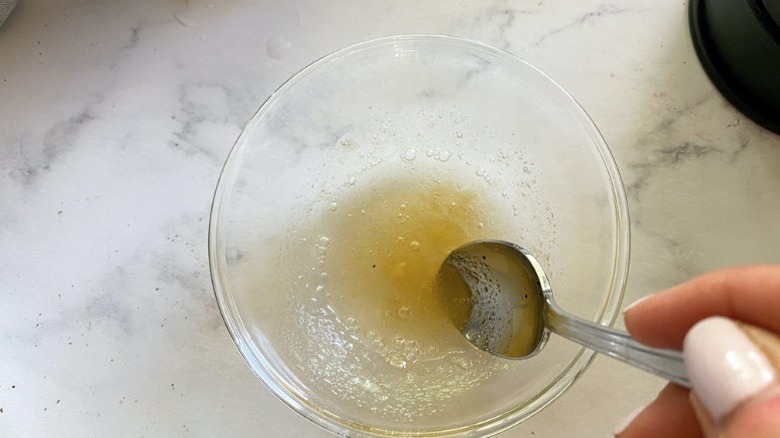 Miriam Hahn/Mashed
If you haven't brewed your coffee yet, brew it now. Hahn recommends using a French press if you have one on hand to create very strong coffee. She says, "I like using a French press with a coarse grind of coffee because it gives you a stronger coffee that is perfect for coffee jelly." If you don't have a French press, a drip coffee maker will do — just be sure to add more coffee grounds than usual so the beverage is extra strong. While that is brewing, mix the water and the gelatin in a small bowl.
Add coffee and sugar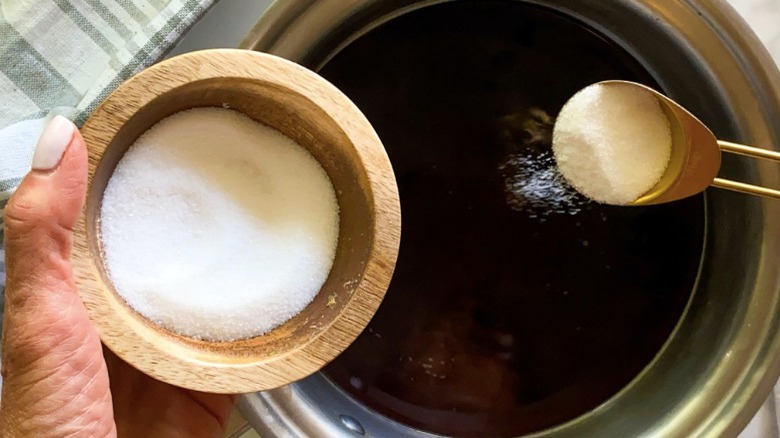 Miriam Hahn/Mashed
Then, add the coffee, sugar, and gelatin mixture to a medium pot. Place this pot on the stovetop and bring the mixture to a boil. Boil this mixture for about 5 minutes. Make sure to stir the mixture frequently to avoid it burning.
Pour into a pan and chill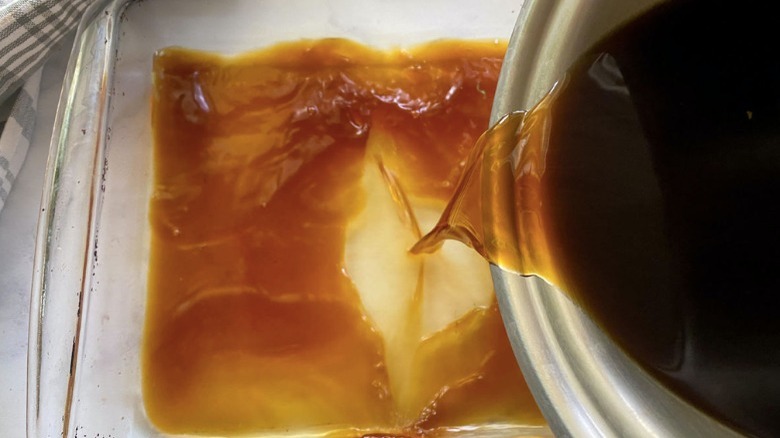 Miriam Hahn/Mashed
Hahn mentions, "Coffee jelly is just like jello! You can pour the liquid mixture into individual ramekins before putting it in the fridge, or you can pour it into a shallow pan and cut it into cubes like I have done." Whichever you choose, pour the jelly into some container, whether it is several ramekins or one 9x9 inch baking dish. Then, chill it in the fridge for at least 6 hours. After at least 6 hours, remove the baking dish from the fridge. Serve up a scoop of coffee jelly and top it with whipped cream and optional cinnamon.
Sweet Coffee Jelly Recipe
Learn how to make this sweet coffee jelly for a fun dessert with a bit of a caffeine kick that makes it a perfect way to finish brunch with friends.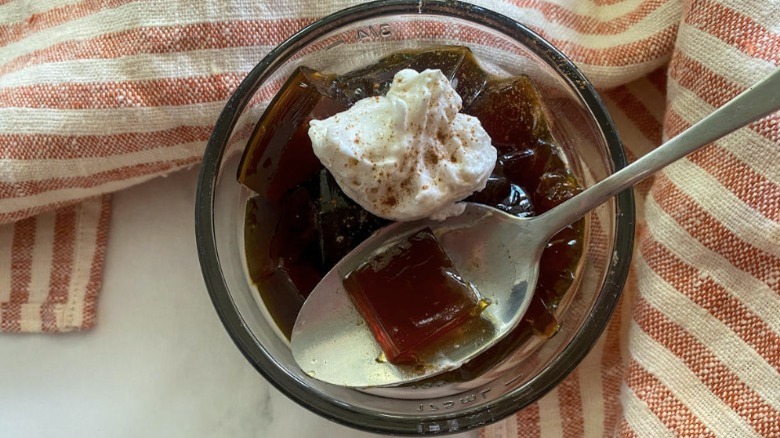 Ingredients
2 cups strong, brewed coffee
2 tablespoons hot water
1 packet unflavored gelatin powder
3 tablespoons sugar
Whip cream, for topping
Optional Ingredients
Directions
A French press will make a stronger brew than a drip coffee maker. If you have a French press, use coffee that is ground into a coarse grind (a grind used for cold brew works well). Use 6 tablespoons of the grounds with 2 cups of boiling water. Let it steep for 5 minutes before pressing down to plunge the grounds to the bottom. If you are using a drip coffee maker, use the ratio of 6 tablespoons of coffee per 2 cups of water.
While that is steeping, mix the gelatin and water together. Stir well to dissolve the gelatin. This might take a few minutes.
Pour the brewed coffee, sugar, and gelatin mixture into a medium pot and bring to a boil. Continue to boil for 5 minutes, stirring frequently.
Pour the mixture into a 9" x 9" square pan and put it in the fridge for at least 6 hours.
Cut into ½" cubes and serve with whipped cream. Add cinnamon if desired.
Nutrition
| | |
| --- | --- |
| Calories per Serving | 76 |
| Total Fat | 1.6 g |
| Saturated Fat | 1.0 g |
| Trans Fat | 0.0 g |
| Cholesterol | 5.8 mg |
| | |
| --- | --- |
| Total Carbohydrates | 9.5 g |
| Dietary Fiber | 0.0 g |
| Total Sugars | 9.5 g |
| Sodium | 18.1 mg |
| Protein | 6.2 g |