José Andrés Got In On The Fake Space Photos Meme Trend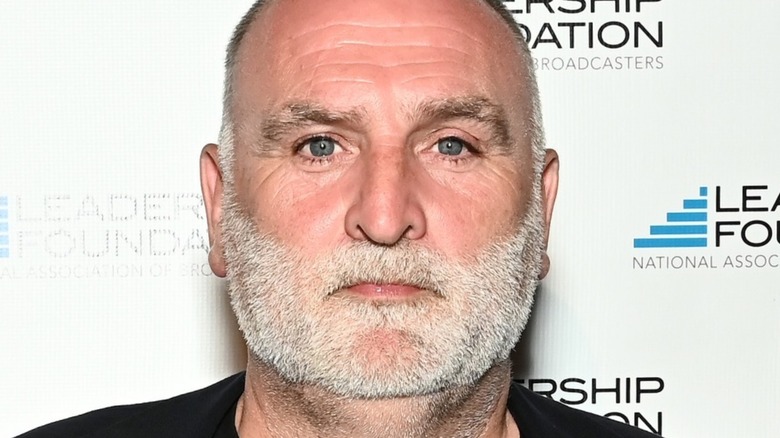 Shannon Finney/Getty
NASA's Voyager 2 took a dramatic image of the planet Neptune in 1995, taken from a distance of approximately 4.4 million miles. NASA Science, which then shared the image of the distant planet on its website, said it had been taken with the help of green and orange filters, likely giving the planet a purplish-bluish tinge. And while it was taken more than 20 years ago, it recently resurfaced on social media, giving chef and humanitarian José Andrés a chance to add a personal twist to a recent Twitter post. 
The celebrity chef who has appeared on shows like "Good Morning America" and "The Daily Show," shared the image of Neptune with the caption, "People of tweeter! This is actually a purple tomato and blue berries Gazpacho Soup with goat fresh cheese photographed under a microscope." The tweet picked up steam with the chef's followers, a number of which went with the joke.
José Andrés description of the planet Neptune had Twitter in stitches
One of Andrés' Twitter followers responded saying, "Chef Andres, that soup sounds simply out of this world." While another tweeted back, "Well that answered the question that was just plaguing me, 'What should I make for dinner?' Thanks, Chef!" A third cheekily asked whether the dish would "Soon to be on the menu at Jaleo?" 
A fourth shared an image of what looked like ducks in a river and wanted to get the chef's take on which food item it would be. The caption of the original picture translated from Polish as, "Jupiter is about 620 million kilometers from Earth. This is what it looks like in a Webb telescope. People who are even a bit interested in astronomy simply drop their jaws at the sight of such a level of detail. We are entering a new era of exploring the cosmos!" The chef's response? "Duck and Iberico pork patê with Malabar black pepper."
Andrés' blueberry gazpacho tweet was a moment of levity on social media for the Spanish chef, who has spent much of the past half year in Ukraine with his non-profit organization World Central Kitchen. One fan praised Andrés' for his work saying, "You are a national treasure."