We Tried Hidden Valley Ranch's Truff Sauce. Here's How It Went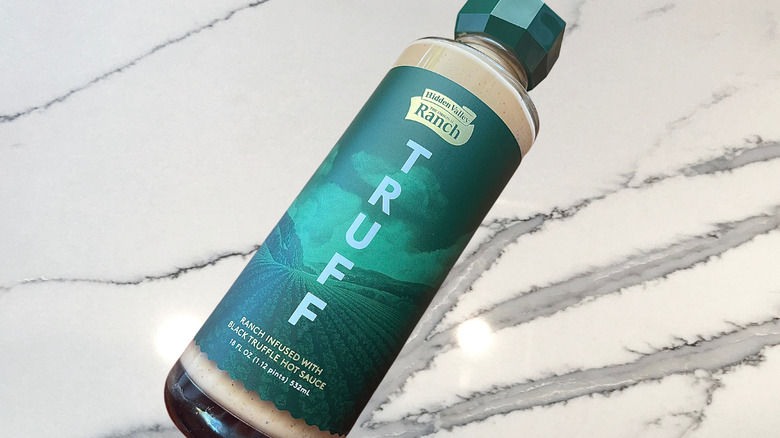 Molly Delmore/Mashed
It's the sauce collaboration we didn't know we needed. Truff and Hidden Valley Ranch announced the condiment of all condiments, a truffled-flavored hot sauce-ranch hybrid that has us drooling just typing this review. We knew we had to get a bottle and pour it on some of our favorite foods to see if this sauce lived up to the hype.
Truff Co-Founder and co-CEO Nick Ajluni told "Good Morning America" that ranch had been the most requested Truff product, so the idea has been brewing for some time now. It was no surprise when Truff reached out to the inventor of ranch dressing, Hidden Valley, to see if it was down for the collaboration.
After experimenting with the recipe, the teams created the perfect marriage of hot sauce and ranch to create the new product: Ranch Infused with Black Truffle Hot Sauce. We tried Hidden Valley Ranch's Truff Sauce. Here's how it went.
What's in the new Hidden Valley Ranch Truff Sauce?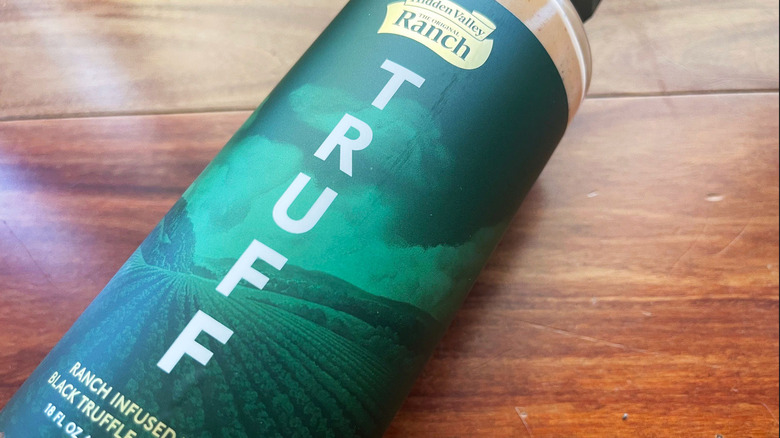 Molly Delmore/Mashed
The name provides a glimpse into the ingredients, but we took a closer look into the exact makeup of this Ranch Infused with Black Truffle Hot Sauce. We found it challenging to imagine what this sauce would taste like as we knew it would be something more unique than your average spicy ranch sauce.
Mixing these two iconic brands created a sauce that resembled buttermilk ranch but added a hot, truffly taste. The spice comes from the red chili peppers, and we found the black truffle extract incredibly potent. Immediately after opening, a waft of truffle blew through the air and into our nostrils.
It gave off more truffle ranch flavor than hot sauce, but we had no complaints. The thick orange-speckled sauce tasted and smelled of truffle with a hint of ranch and a spicy aftertaste. This sauce draws you back for bite after bite, inviting you to keep eating.
How much does the sauce cost?
Truff does not produce your average hot sauce. Consumers refer to it as a luxury hot sauce for a good reason. A Truff White Hot Sauce bottle, which comes in the same size as the Ranch Infused with Black Truffle Hot Sauce, sells for $34.99 on the company's website.
On the other hand, a standard 24-ounce bottle of Hidden Valley Ranch retails for $4.99 at Target and other major retailers. As you can see, this price varies drastically from Truff's.
The new Ranch Infused with Black Truffle Hot Sauce will be available online for $24.99 in the larger 18-ounce bottle while supplies last. We're excited to see it at a lower price than Truff's White Hot Sauce. That large bottle will last you a while and might be worth it if you feel strongly about delicious sauces. Almost $25 for sauce may seem dramatic, but Truff and Hidden Valley made a unique sauce with this collaboration, and you're probably not going to find anything else like it.
Where will it be available, and for how long?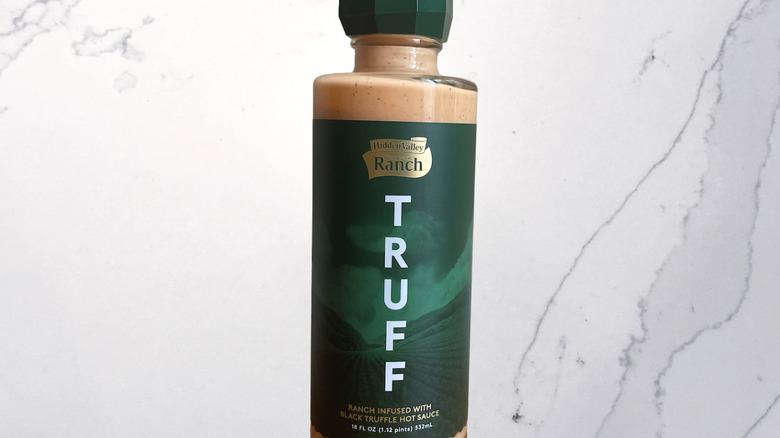 Molly Delmore/Mashed
You're likely wondering how to get your hands on a bottle of this Ranch Infused with Black Truffle Hot Sauce. The Spicy Truffle Ranch officially goes on sale on August 30, 2022, at 11 am ET and will be available while supplies last.
Because this sauce will only be available for a limited time, make sure to jump on the waitlist as soon as possible. Truff advertised that ultra-limited quantities would be available. With ranch being the number one most requested product for Truff, we're surprised the company won't be making more of this new sauce.
We expect this sauce to be in high demand, as not only has it been requested, but the brand has hyped it up on its website and social media. Since we have tasted the sauce and can confirm its deliciousness, we suggest jumping on the waitlist to get your hands on this incredible sauce bottle.
How does it compare to other sauces?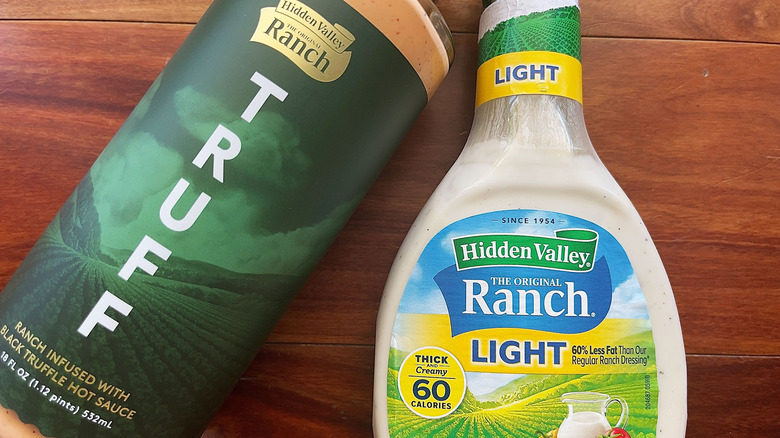 Molly Delmore/Mashed
It's challenging to compare a luxury hot sauce brand and ranch dressing hybrid like this one to any other condiment on the market because we have yet to try another sauce like this. It's thick and creamy like ranch dressing, but the spicy nature and strong truffle taste and smell make it feel unfamiliar.
Compared to regular spicy ranch dressings you'd find at a restaurant, this one packs more truffle than spice. While we love truffle-flavored food items, this truffle ranch is not for the faint of heart. The overpowering smell stops you dead in your tracks after opening the bottle.
The color of this dressing resembles a spicy aioli, but the comparisons end there. Based on Truff's other sauces, we knew to expect a truffle explosion, and the brand certainly delivered with the Ranch Infused with Black Truffle Hot Sauce. If you like ranch and a little bit of spice, you'll probably enjoy this, unless you hate truffles. If you do, this sauce should be avoided.
What's the nutrition of this new sauce?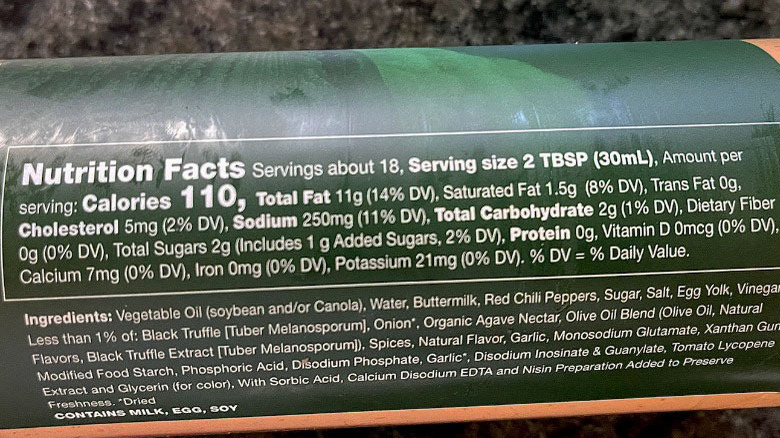 Molly Delmore/Mashed
While we usually don't fixate on the calories of our favorite sauces, we dove into the nutritional information of the new Hidden Valley Ranch Truff Sauce for research purposes.
The serving size Ranch Infused with Black Truffle Hot Sauce is only two tablespoons, which won't suffice if you're a serious Truff lover. These two tablespoons contain 110 calories, so use them wisely if you're watching your waistline. On the other hand, if calories don't matter to you, use as much of this sauce as your heart desires and tastebuds can handle. The truffle overload will probably hold you back from polishing off half the bottle in one sitting, but it's pretty easy to eat more than two tablespoons with a meal.
Calories aside, the Hidden Valley Ranch's Truff Sauce contains only 2 grams of sugar and 2 grams of carbohydrates, so the macros are surprisingly better than we anticipated. Grab your favorite chicken wing, pizza, or chip, and start dipping into this delicious sauce.
The verdict: It's definitely worth a taste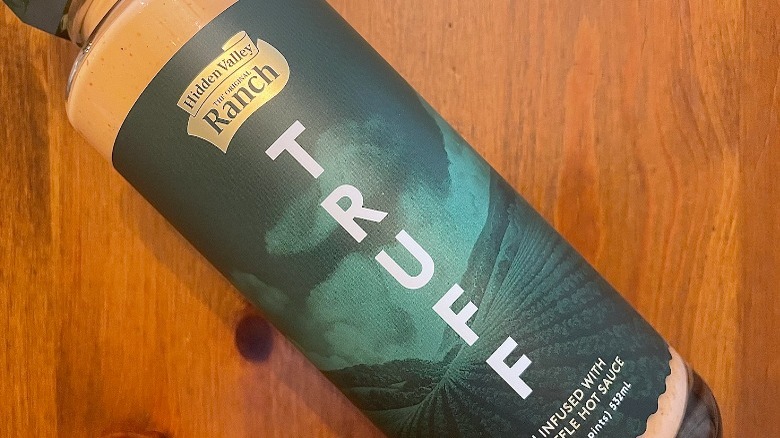 Molly Delmore/Mashed
This ultra-limited release unites two iconic sauce brands to provide one of the most extraordinary condiment collaborations we have tried. This luxurious, rich, spicy truffle ranch dressing is a new frontier in condiment innovation.
This is the perfect sauce to dunk or drizzle on your favorite comfort foods. We'll use the sauce from our magnum bottle to dip wings and pizza crusts or drizzle in salads and wraps. The possibilities are endless when it comes to this thick, fancy dressing.
If you like truffle, and we mean really enjoy it, then you'll love this sauce. If the spicy truffle combination does not make you jump for joy when you reach for a condiment, stick to the original Hidden Valley Ranch. This sauce is best for those who can handle lots of intense flavor.
If you're curious about Hidden Valley Ranch's Truff Sauce, check it out. It's definitely worth a taste.