Instagram Is Raining Hearts On Daphne Oz's Anniversary Post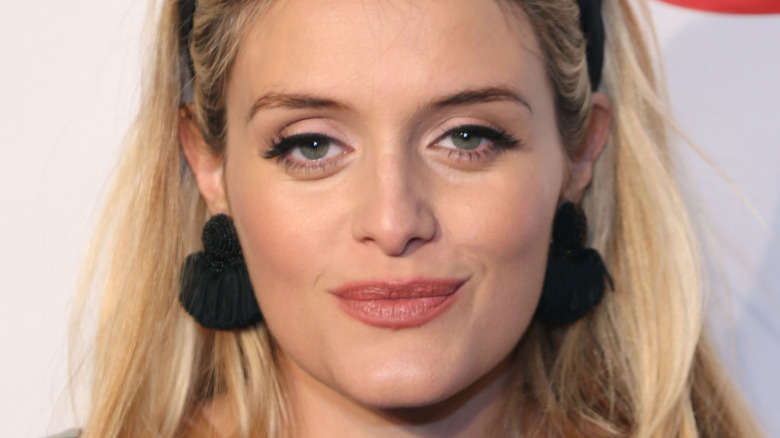 Manny Carabel/Getty Images
College was a pivotal time for Daphne Oz — not only was it where she was inspired to jump-start her career in nutrition when she wrote her book, "Dorm Room Diet" in 2010 (via HarperCollins Publishers), but it was also where she met her now-husband, John Jovanovic. Jovanovic and Oz met at Princeton University, and have since married after being college sweethearts (via The New York Times).
The couple must be pretty busy between Oz serving as a judge for "MasterChef Junior"'s eighth season and Jovanovic handling his duties as the CEO of Nova Fleet (via Concordia). In addition, the couple has four children together — Philomena Bijou, Jovan Jr, Domenica Celine, and Giovanna "Gigi" Ines — who have kept them on their toes. Despite their busy lives, it's possible to squeeze in some time to show appreciation and affection. Oz recently made an Instagram post that was a sweet tribute to all the years she and her partner enjoyed together.
Oz's married years have been the best of her life
Daphne Oz's Instagram post is a testament to the strong foundation of her and Jovanovic's relationship. On Monday, August 29, the celebrity chef took to Instagram to celebrate her 12th wedding anniversary. She called them the "best 12 years of [her] life" and posted a series of pictures of her and her husband. The images included tender moments from their wedding and more recent memories.
Both friends and fans were gushing in the comments. Eden Grinshpan sent the couple two heart emojis, writing, "happy anniversary babe!" Other commenters include vegetarian restaurant owner Camilla Marcus, who commented, "the sweetest" with two heart eye emojis, and Lauren Bush Lauren, who also wished the pair well with a heart emoji.
Oz might have looked back on her wedding day, but it seems that she hopes to keep fans engaged while creating new memories. She continues to document new projects and her personal life on her media platforms and website. That includes books she's written since the days of "The Dorm Room Diet," such as the bestseller "Eat Your Heart Out." Could Oz end up calling the next 12 years the best of her life, too?