Dollar Tree Shoppers Were Confused By These Dippin' Dots Gummies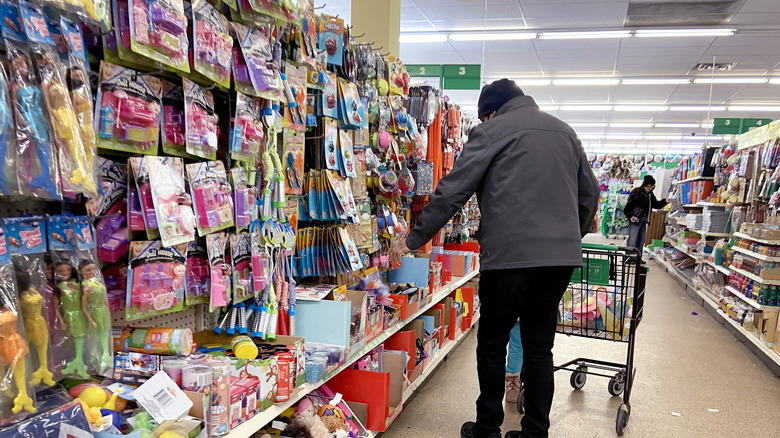 Scott Olson/Getty Images
While major grocery retailers (such as Walmart, Kroger, and Publix) typically have the same stock year-round, Costco is one exception, with its stock being refreshed regularly. But it's mostly the smaller retailers that do a great job at introducing us to new products. Trader Joe's and Aldi are well known for switching up their stock with new, seasonal novelty items that tend to be a hit with shoppers. For example, in August 2022, Trader Joe's introduced its shoppers to new peach mango foaming hand soap, crunchy chili onion peanuts, and peanut butter caramel-coated popcorn (via The Kitchn).
Dollar Tree is a bit of an underdog when it comes to their new items. The popular bargain store regularly updates its craft supplies, party decorations, home decor, food, drinks, toys, and more (via Dollar Tree). One Instagram user, @dollartreedollie, shared some photos of some seemingly new Dollar Tree Dippin' Dots gummies — but they are definitely not a snack you'd want to sneak into a movie theater.
Dippin' Dots gummies are actually vitamins
In @dollartreedollie's photos, she shows the gummy options at her store, and it turns out they're actually vitamins. The variations at her local store include melatonin, elderberry, and children's multivitamin. Dollar Tree also offers a vitamin C pack, but product availability depends on each store's inventory. Most of the comments on her post are of excitement at the great find. A user wrote, "I got these ... a while ago, they worked good for melatonin and taste great." Another online fan wrote "My kids will love these." But a few people worried if they were actually safe for kids, since the packaging could be confused for regular gummies.
"My worry is for all the kids asking parents 'Mommy, can I get this?' *sees dip[pin] dots logo* 'Yeah, sure sweetie!'," one user wrote. While the vitamins' packages do say that they are vitamins, they aren't designed to look like typical vitamins, which could lead to the confusion. Another user was worried about the sugar content, writing, "How many grams of sugar are in it? That's my only concern. They're probably more like Candy which sorta cancels it out."
However, the Dollar Tree Dippin' Dots melatonin gummies contain just 3 grams of sugar, which is the same amount that a comparable melatonin gummy brand from Target contains. The Dippin' Dots vitamins also are made with pectin instead of gelatin, making them vegetarian-friendly. The only real issue with the Dollar Tree vitamins is that you only get 10 gummies for $1.25 (a total of 12.5 cents per vitamin). You can get a 60-count of melatonin gummies from Target for $4.89, which is just 8 cents per vitamin.