In-N-Out Burger's Beautiful Instagram Tribute To Its Founder
How do we love you, In-N-Out Burger? Let us count the ways. We love you because you use fresh meat (never frozen), which seems to make your burgers really stand out in the crowd of fast-food burgers — and worth the half-hour wait in the drive-thru line. We love you because you make your milkshakes with real milk — ice cream, in fact (per USA Today). We love you for your burger toppings, including "hand-leafed lettuce," which is extra important when we order Protein Style burgers (hold the bun) from the not-so-secret menu (per Forbes). We love you because hot-headed British chef Gordon Ramsay loves you and wishes you would cross the pond (per YouTube). We love you for your iconic arrow sign, which helps us find our way to your doors day and night, and for the crossed palm trees that let us know we've arrived at the right place.
In a world gone high-tech and rapid-paced, we love that the more things change, the more things stay the same at In-N-Out. Company president Lynsi Snyder seems committed to growth while at the same time honoring the past and staying true to the chain founded in 1948 by her grandparents, Harry and Esther Snyder (per Forbes). "I felt a deep call to make sure that I preserve those things that [my family] would want," she said. The restaurant chain honored its history and founder with a July 2022 Instagram post.
In-N-Out honors innovation of founder Harry Snyder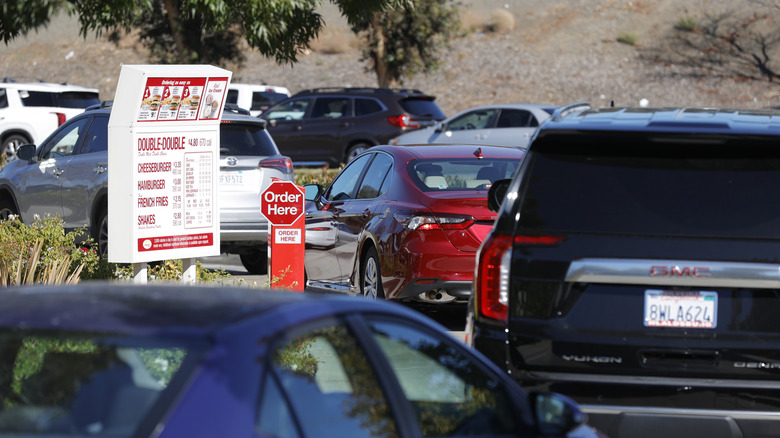 Justin Sullivan/Getty Images
In some respects, eating at an In-N-Out is like stepping back in time — each location of the regional burger chain has a 1950s diner ambiance, per USA Today. In-N-Out might seem quaint, but Harry Snyder was a street-smart businessman who capitalized on post-World War II population growth and car culture in Southern California by purportedly being the first restaurant to introduce a speaker system for ordering food from your vehicle (per KCET).
Not having to get out of our cars for a coffee or meal is something we take for granted today, but In-N-Out took the opportunity recently to honor its founder and his pioneering approach to getting customers in and out quickly. "Today, on #NationalDriveThruDay we celebrate the innovation of our founder, Harry Snyder, as he introduced California's first drive-thru hamburger stand," In-N-Out posted on Instagram. "His philosophy of providing fresh food and friendly service continues to be the cornerstone of In-N-Out Burger."
The post includes an image of the double drive-thru In-N-Out location. "The only drive thru I'm willing to sit in for 40 min," replied one Instagram user. "Drive-thru or dine-in, still the best fast food ever," another user chimed in. "Harry is a legend," added another.