What Happened To PRO-NRG After Shark Tank?
Oftentimes, energy drinks are frowned upon due to their ability to cause health problems. According to the National Center for Complementary and Integrative Health, the large amounts of caffeine found in these beverages are associated with high blood pressure, rapid heartbeat, and heart rhythm disturbances. When mixed with alcohol, which 25% of college students do, consumers are more likely to end up in the hospital, drive intoxicated, and become injured. When Tania Patruno brought her business, PRO-NRG to the spotlight, she was likely hoping to point consumers to a healthier alternative.
Patruno appeared on ABC's "Shark Tank" in episode 6 of season 4 to present her company, per BizzBucket. If you aren't familiar, "Shark Tank" is a show that follows a team of investors — Daymond John, Mark Cuban, Lori Greiner, Robert Herjavec, Kevin O'Leary, and Barbara Corcoran — as they decide which entrepreneurs have an idea or company worth putting money on the line for. By appearing on "Shark Tank," Patruno hoped to land the deal she needed to help her business reach the next step.
Pro tip: It's healthier than traditional energy drinks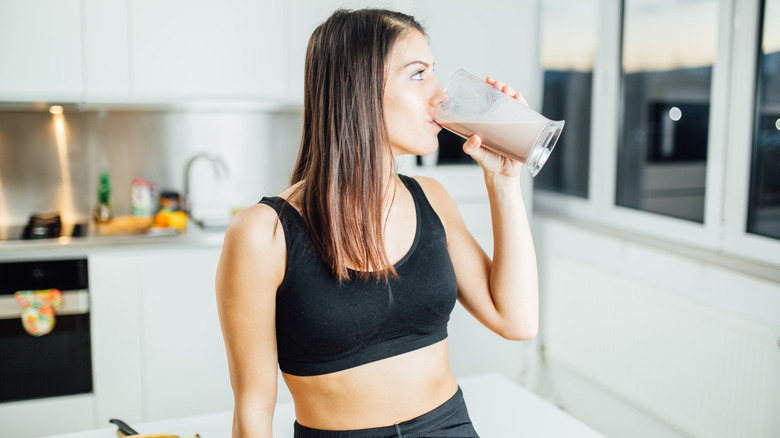 eldar nurkovic/Shutterstock
Dubbed a "steak in a bottle" by owner Tania Patruno, PRO-NRG was pitched as a healthier alternative to traditional energy drinks (per Shark Tank Blog). Instead of sugar, fat, and too much caffeine, each 4-ounce bottle of flavored water contains 15 grams of protein and only one carb, according to MoneyAves. Patruno walked into the Tank asking for $250,000 with a 15% stake in her company, and she shared that the company made $126,000 in the last three months. She also brought a little star power to the presentation when she brought out Super Bowl champion Brandon Jacobs, who says he enjoys the drinks.
So, what encouraged Patruno to enter this market? According to MoneyAves, it started when she was seeking solutions to lose weight. She created the beverage for her, but she eventually wanted to help others. In turn, she invested $75,000 into starting her business. In the following 90 days, she already had over 30,000 stores accept PRO-NRG. Even with these numbers, Tania Patruno only received an offer from one Shark.
Devastation hits the business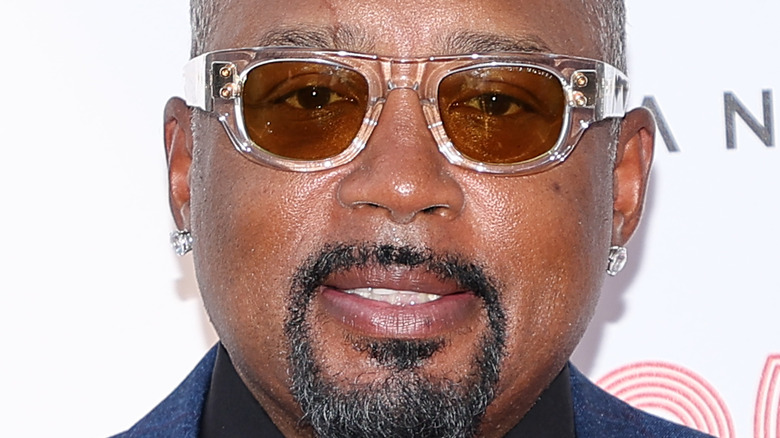 Arturo Holmes/Getty Images
Although PRO-NRG founder Tania Patruno only wanted to give up 15% of her business, she ended up settling for 30% and $250,000 in a deal with Daymond John, according to Shark Tank Blog. There was still one catch: The company had to also make a deal with Badass Nutrition. Per BevNet, Badass Nutrition was a supplement business John was involved with. It's confirmed that a deal between the two companies did occur, helping PRO-NRG land in Walgreen's stores.
According to Shark Tank Blog, Hurricane Sandy devastated the business, even causing damage to Patruno's family home. After the storm, PRO-NRG had a relaunch party, which John attended. When the flavored-water company finally seemed to be moving in the right direction, PRO-NRG was sued by co-founder Joshua Fenwick, who claimed that Tania's husband made him leave the company. Eventually, the case was dismissed, but it appears that the damage had already been done. PRO-NRG closed its doors shortly after the incident. The brand's website no longer exists and its Facebook page has been dormant for years.