Why Netflix Chose Pizza As The Focus For This Season Of Chef's Table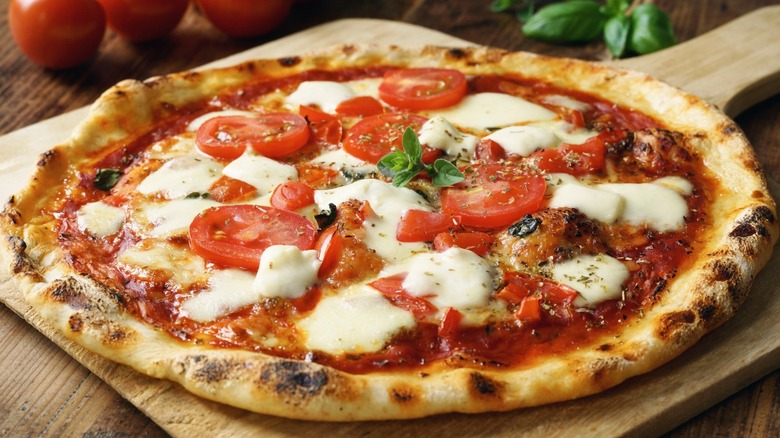 V. Matthiesen/Shutterstock
If you've ever had pizza in Italy, you'll understand the difference between the evolution of pizza in the U.S. and the history of pizza in Italy. It's the type of experience that will make you want to book a flight — not for gondolas in Venice or the Colosseum in Rome, but simply to go back to that little restaurant where you tried your first authentic pizza.
According to History Today, a form of flatbread with topping was served over 2,000 years ago in the times of the Roman poet, Virgil. However, the dish as we know it evolved in the 1700s as a cheap meal sold by street vendors in Naples for the numerous people who found themselves in poverty at this time. Unfortunately, its reputation remained poor for another 100 years or so.
It wasn't until Queen Magherita was thrilled with a pizza she was served topped with mozzarella, basil, and tomatoes that pizza became a popular dish in Italy. Of course, that particular style of pizza was named after the queen and became a national dish. It was introduced to the U.S. by immigrants, where it became a fast-food item synonymous with cities like New York and Chicago (via History Today). It's this history that Season 7 of Netflix's "Chef's Table" uncovers.
Chef's Table: Pizza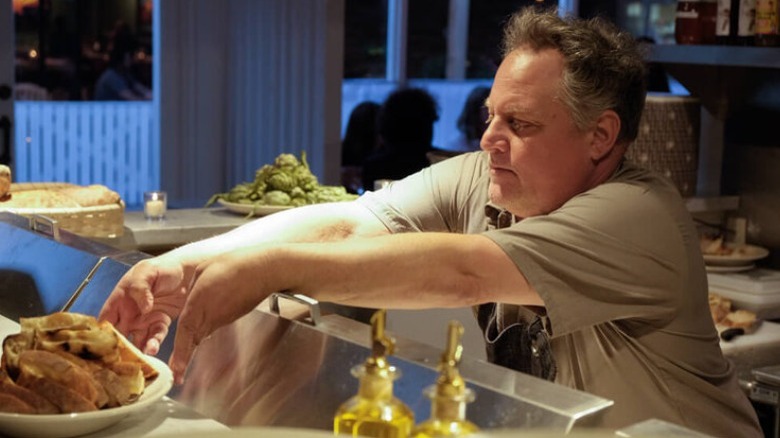 Chris Bianco
Netflix released all six episodes of "Chef's Table: Pizza" on Wednesday, September 7. The series follows culinary icons from around the world who are "redefining gourmet food with innovative dishes and tantalizing desserts" (per Netflix). If you've ever thought of pizza as just a takeaway food or something to grab after a night of drinking, this season may change your mind. Each episode focuses on one chef who has taken pizza to a whole new level, not only in America but also in Italy — the birthplace of pizza (via History).
The voiceover for the series trailer says, "You're going to look at pizza differently after hanging out with Chef Bianco" (via YouTube). Bianco is the focus of the first episode of the season. He creates artisanal pizza and what he started in the back of a Phoenix grocery store, has led to a James Beard award and being dubbed as the creator of one of the best pizzas by numerous publications including Eater, Business Insider, and the New York Times (via PizzeriaBianco). In keeping with the series' promise, Bianco is just one of the many chefs who have a different style of pizza-making.
Six chefs to tantalize your taste buds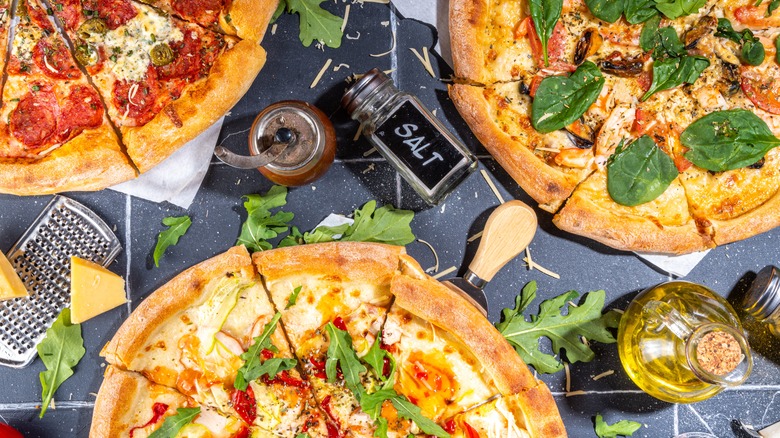 Rimma Bondarenko/Shutterstock
The Season 7 lineup of "Chef's Table" is packed with pizza experts, including Italian chef Gabrielle Bonci, who started his culinary journey in Rome and now has restaurants in the U.S. During an episode of the "Layover," Anthony Bourdain said of eating Bonci's pizza, "It's amazing ... you want it. You want it bad. Your life would be so much better if you have this right now" (via Bonciusa). Episode 3 of "Chef's Table" features Ann Kim, a Korean immigrant and James Beard award winner, now living in Minneapolis, Minnesota. She owns Pizzeria Lola, which has been praised globally (via Hello Pizza). Italian chef Franco Pepe, whose restaurant Pepe in Grani in Caserta, Italy is sought out by people globally. 
Turning to Japan — where you wouldn't necessarily think of pizza — is where viewers meet chef Yoshihiro Imai, who runs a 14-seat restaurant in Kyoto called Monk. In his book, he describes pizza as, "The process of stretching the dough into a circle and standing face-to-face with the fire is very much like a meditation" (via Phaidon). The last episode features Sarah Minnick, owner of Mississippi restaurant Lovely's Fifty Fifty, who is renowned for only using fresh, seasonal produce — which means her pizza menu changes weekly (via Eater Portland).
Season 7 truly takes viewers on a tour of pizza from around the world, giving new appreciation for the universally beloved meal.