How To Keep Your Sweet Potato Casserole From Getting Too Sweet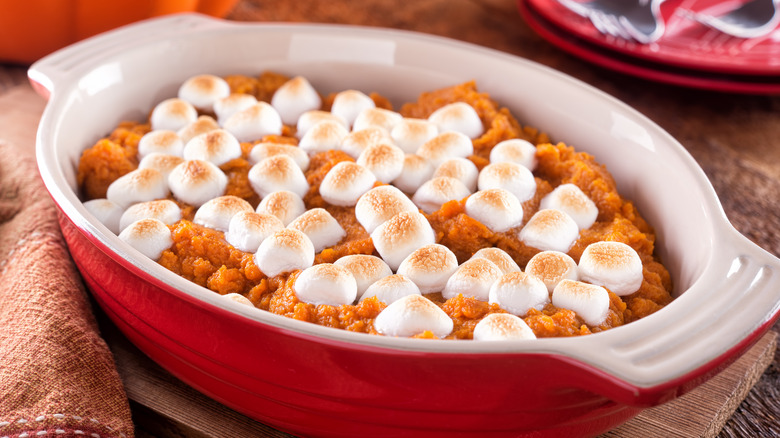 Foodio/Shutterstock
Whether it's Thanksgiving, Friendsgiving, or a random day in April, the perfect sweet potato casserole recipe can hit all of the right marks: sticky, bronzed marshmallows, delightfully nutty toppings, and nutrient-rich sweet potatoes. 
In some instances, though, the side dish's flavor profile can skew a bit too saccharine, especially when it's eaten in conjunction with savory items such as roasted turkey and gravy. Sweet potatoes are already naturally sweet, and common ingredients such as maple syrup, brown sugar, sweetened condensed milk, candied nuts, and marshmallows can take this side dish into dessert territory.
Don't fret, though — there are a host of ways to amp up the savory taste and dial down the sweetness, if that's what you're going for. Mashed asked Chef Mike Anderson of the Restoration Hotel's The Watch: Rooftop Kitchen & Spirits in Charleston, South Carolina, for his take on avoiding a sweet potato casserole that's too sweet. 
Time and temperature are the keys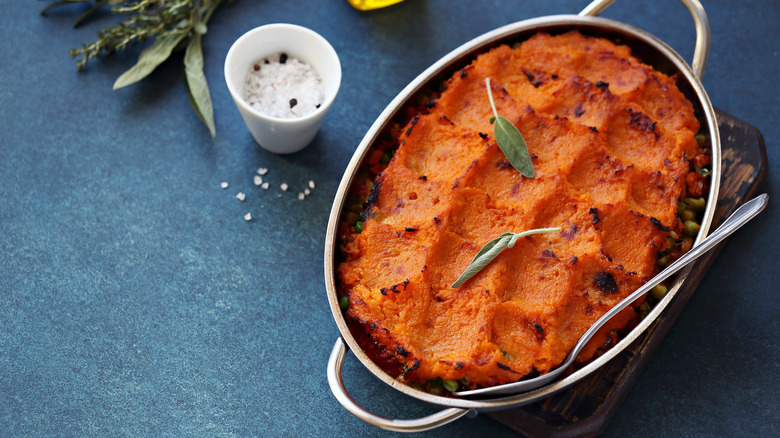 Losangela/Shutterstock
Chef Mike Anderson explains that cook time is an important component of the cooking process. "The longer and slower you cook sweet potatoes, the sweeter they get," he says. "Cutting them into smaller pieces and cooking them at a higher temperature will keep the sweetness from being overwhelming."
In addition, Thrifty Fun suggests doubling the recipe and omitting any extra sugar, adding a touch of vinegar to offset the sweetness, or bulking up the herb quotient. And Taste of Home suggests adding miso to amp up the savory component of the dish. EatingWell embraces tang, noting that sour cream or buttermilk could add acidity to offset the sweetness. Simply Recipes advocates for a nutty pecan topping or adding orange zest, which elevates dormant flavors and brightens the whole shebang. Some other suggestions include minimizing the amount of maple syrup or brown sugar, halving the toppings, or swapping sweet potatoes for yams, which are naturally a bit less sweet.
Conversely, if you *want* a super-sweet casserole, you can always embrace that and turn your sweet potato dish into a full-on dessert. For his part, Anderson says he'll never do away with the marshmallow topping, referencing his Southern upbringing. "Marshmallows. Marshmallows all day long," he says. "But the miniature ones, not the big ones. It has to be the miniature ones because the big ones take longer to cook, and they like to catch fire."