Danielle Walker's Meal Prepping Rule You Should Never Break - Exclusive
We may receive a commission on purchases made from links.
Meal prepping is all the rage right now, especially on social media. For people who have been practicing meal prepping for years, it's easy. However, if you're a novice in the kitchen, planning your meals can be a tumultuous task. Danielle Walker, now a five-time cookbook author, has some tips and tricks to make it simple. The food influencer mainly focuses on gluten-free and dairy-free recipes to create a space for people who have a restricted diet. Her new cookbook, "Healthy in a Hurry," highlights meal prepping in a new way.
In an exclusive interview with Mashed, Danielle Walker did a deep dive into pasta, chicken, dessert recipes, and more. The content creator explained that the first step to meal prepping is creating a plan and "sitting down and taking the time to do it." Thinking of creative meals may seem difficult, but Walker has a rule to make it that much easier, especially if you are cooking for a family.
Plan only five nights a week of dinners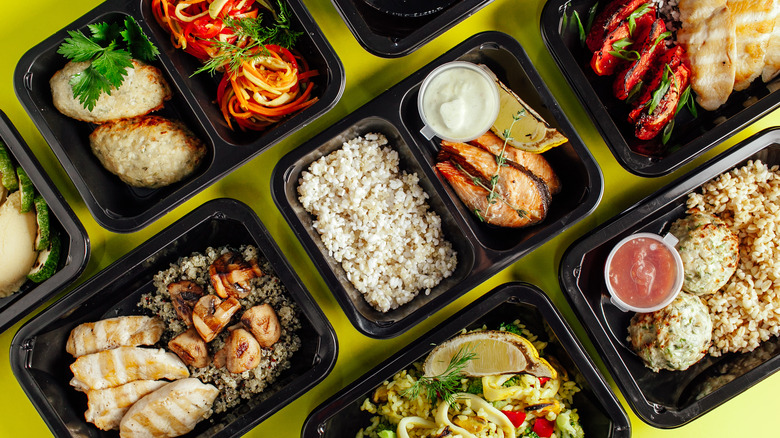 po_com/Shutterstock
Danielle Walker told Mashed that picking themes is the perfect way to help newbies in the kitchen. She stated, "I always say hold one night or two, because you can go in with great intentions and think that you're going to cook seven nights a week, but life throws curveballs at you." The "Against the Grain" author mentioned that planning for five nights of dinners is the best solution, as you may grab takeout one night or leftovers the other. Walker said her kids thoroughly enjoy breakfast for dinner, so that is usually her backup on a day she needs to improvise a meal.
Picking a theme for each night is the simplest way to choose what you want to meal prep, according to Danielle. She added, "I'm like, 'We're going to do beef on this night and fish on this night,' or some people say, 'I want to do taco Tuesday,' so Tuesday is going to be our Mexican-themed night. Then I want to do something that's Italian." She continued, "That's the best way to do it — either decide what proteins you want to do each night or decide a theme."
By deciding on a theme and shopping only once a week at the grocery store, you can save money on wasted food. Walker recommended using the protein that will go bad the fastest at the beginning of the week, such as seafood. To get you started, "Healthy in a Hurry" has six weeks' worth of meal plans and grocery lists available. Meal prepping just became your favorite activity!
Check out Danielle Walker's Instagram page to keep up with her latest recipes. You can order Danielle's new cookbook, "Healthy in a Hurry," on Amazon.