Danielle Walker On Her New Cookbook, Easy Recipes, And More - Exclusive Interview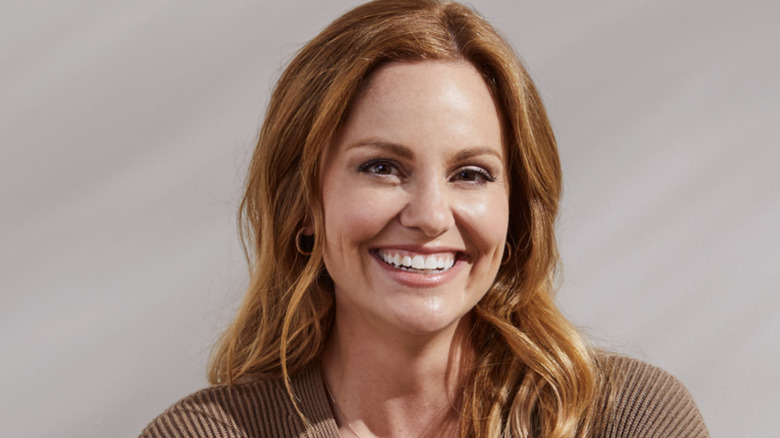 Aubrie Pick
We may receive a commission on purchases made from links.
Burnout is real, especially when it comes to the kitchen. With all of the health tips and lifestyles being thrown around online, it can be hard to find what's right for you. Gluten-free, dairy-free, and grain-free offerings are becoming more prevalent as brands recognize food restrictions and offer more options. Although restaurants seem to be providing more accommodations than in years past, changing your food habits can be stressful. That's why Danielle Walker, a bestselling cookbook author, is releasing a new cookbook that acknowledges gluten-free and dairy-free meals while making it easy.
In an exclusive interview with Mashed, Walker gave us the inside scoop on her fifth cookbook to date, "Healthy in a Hurry." The book provides no-cook lunches, freezer-friendly meals, pasta dishes, sheet pan dinners, and easy grilling recipes. The food influencer has amassed over 447,000 Instagram followers to date for her paleo spin on your favorite cuisines. She revealed her go-to gluten-free dessert recipe, why meal prepping is so important, and how to repurpose leftovers. We are taking these tips in stride!
Walker's new cookbook is all about easy meals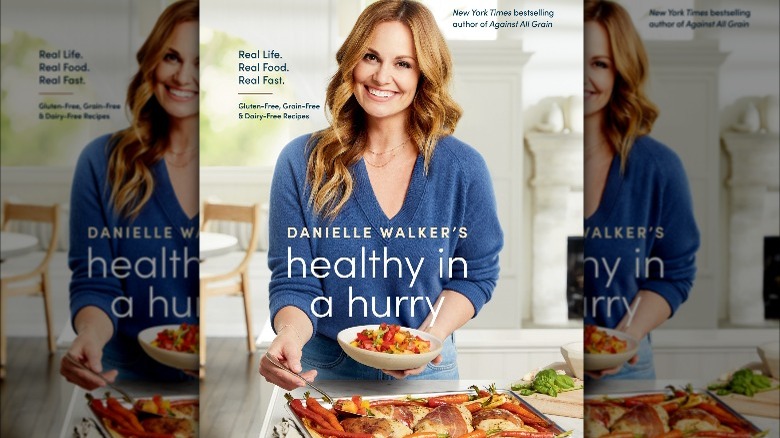 Aubrie Pick
First off, congratulations on the upcoming release of your new cookbook, "Healthy in a Hurry." Could you give me an overview of what the book entails?
This is my fifth cookbook, sixth book. I wrote a memoir last year. When I put out my last one, "Eat What You Love," which was almost four years ago, the thing that people kept requesting was more easy meals. They want to eat healthy but don't always find themselves with the time. I think [that's true] even more so after coming out of the last few years that we've all experienced, feeling like we want to take care of our bodies, but we don't always have the time to sit in the kitchen for hours on end.
That was where the concept of the book came from ... I put one out called "Meals Made Simple" back in 2014. I joke a little bit that that one was very simple, but at the time, I was running a part-time business with one child when I wrote that. Now I'm running a full-time business with three kids, so I feel like "Healthy in a Hurry" is even easier than the "Meals Made Simple" one, because I now understand what it's like to need to be in the kitchen less.
You mentioned this is your fifth cookbook to date. How do you keep the inspiration going for new recipes?
It's never-ending. When you can't eat certain ingredients — grains, dairy, legumes, processed, refined things — the inspiration is endless because there's always something that you want or crave, or when you go out to dinner, there's something on the menu that looks amazing that you can't have. Really, for all of my cookbooks and blog recipes, the biggest driver is requests from my readers and my audience. They are the ones who are in real-time either changing their diet for health reasons, or they have a child that has some sort of a health condition that they're looking to change the way they eat. Or it's a mom who's like, "I care about my kids' health, and I want to serve them a little bit healthier meals than what I grew up eating."
They're always missing something. I'm getting constant requests of, "I used to eat this, and I don't feel like I can have it anymore." I've got this long-running list in my brain of all the things that I eventually want to recreate or things that my kids are asking for that they might see friends eating. The inspiration is endless.
Danielle talks simple ingredients and meal prepping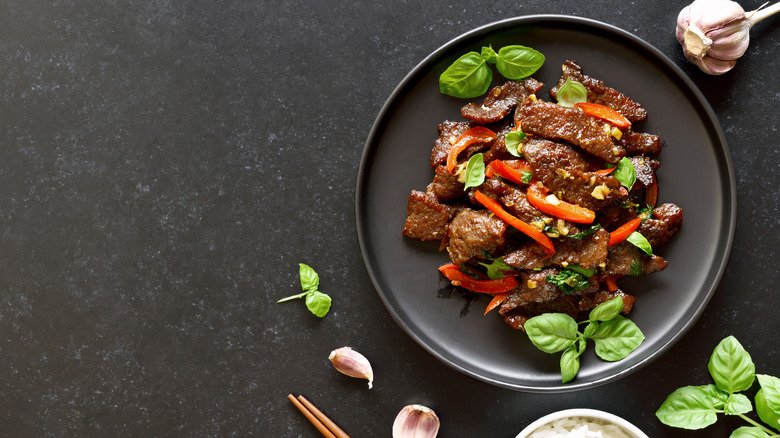 Nadezhda Nesterova/Shutterstock
When I was looking through your book, I saw that you laid out meal prep recipes for six weeks. What are three ingredients that you find yourself using the most in these recipes?
That's a good question. There's the building blocks section that's right after those meal plans. There's actually six weeks of meal plans in the book, but then there's a free download of six more weeks. They actually have grocery lists too. I wanted to try to take out any anxiety that comes with eating healthy for people.
There's a few things [I use most] — the spice mixtures I have packaged and bottled. I use my taco seasoning on at least a weekly basis if not more, the barbecue seasoning, and then the adobo seasoning, because my kids love it on grilled chicken. If I need to throw something together quickly, I rely on those spices a lot because I can keep the same protein or vegetable or preparation method — whether it's instant pot or grilling — and I can change the seasoning up and make a fully different meal.
The one thing that I didn't think I would use as much that I found myself going back to over and over again is the stir fry sauce from the book. I keep a big jar in my fridge now at all times. I can create a quick fridge clean out if I have extra shrimp and vegetables — I can throw that sauce in there.
When we created the meal plans, it was like, if you're going to spend time making the stir fry sauce — let's say on a Sunday — then I want you to be able to use it three times throughout the week and have different flavors of meals. You're having one day of preparing some things and then you get to use them over and over again.
It's one of my biggest pet peeves when there's meal plans that somebody gives, and you end up with all this extra stuff in your fridge at the end of the week ... All of the meal plans were written with that in mind. If you're going to buy a big bunch of cilantro, we're going to hopefully use the majority of it up throughout the week.
Danielle reveals her best meal prep tips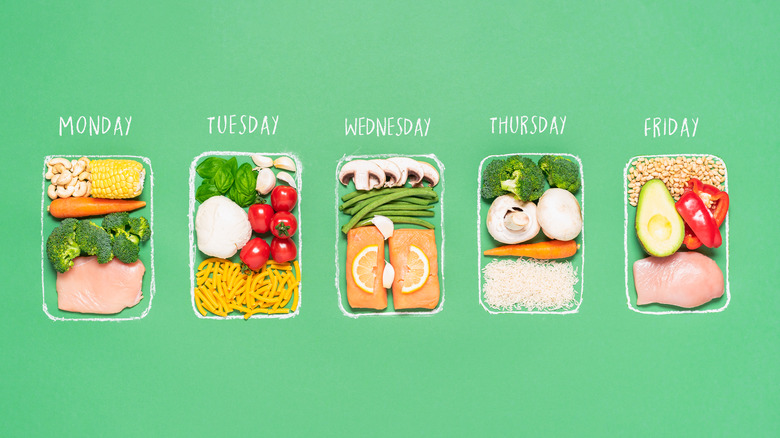 YesPhotographers/Shutterstock
Are there any tips that you can give beginners who are looking to get into meal prepping?
Yes. A plan is the biggest thing. There's some meal-prepping tips at the beginning of the book. [It's about] sitting down and taking the time to do it. The best way to do it when you're a newbie for meal prepping is to pick themes. If you're looking at your calendar, I always say hold one night or two, because you can go in with great intentions and think that you're going to cook seven nights a week, but life throws curveballs at you. You have to stay late at work or your kid gets sick or you've got a last-minute baseball game or whatnot.
I typically plan five nights of dinners, and then I figure we're either going to eat leftovers one night or we might get takeout one night, or we can come up with something and improvise on one night if we don't have something. My kids love breakfast for dinner, so that's usually what we do as our backup.
For those five nights, I typically like to pick a theme. I'm like, "We're going to do beef on this night and fish on this night," or some people say, "I want to do taco Tuesday," so Tuesday is going to be our Mexican-themed night. Then I want to do something that's Italian. That's the best way to do it — either decide what proteins you want to do each night or decide a theme. Then you can look through a book and say, "Oh, that instant pot, five-ingredient chicken taco meat from the book looks really good. I'm going to plug that in on Tuesday."
Then gather your grocery list and shop one time. Typically, the way that I like to do the meal plans is the protein that needs to be used up the fastest — which typically is your seafood — gets used in the beginning part of that week. Things that can last a few more days in the fridge you use toward the end of the week so that you only go once, because that's the other thing too. When you go to the grocery store numerous times in the week, you end up spending a lot more than you need to, because you go in hungry or you go in without a plan and you end up with all this stuff in your cart that you don't use by the end of the week. I try to keep it to one day prepping and grocery shopping on one day, so you're not going back to the store multiple times throughout the week.
Why Danielle thinks it's easier to go dairy-free nowadays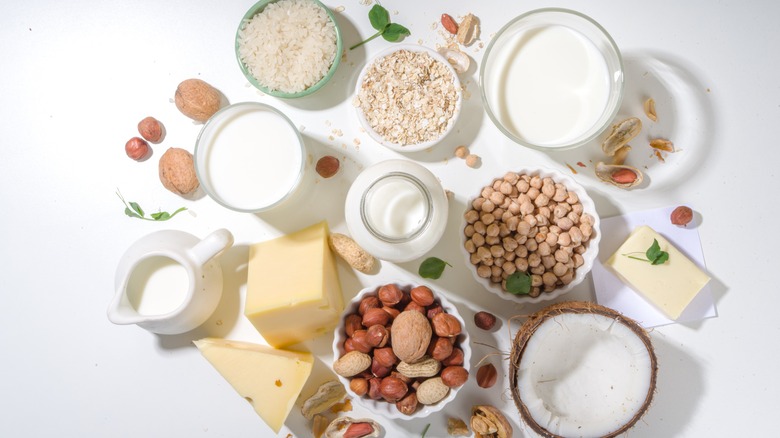 Rimma Bondarenko/Shutterstock
A lot of your recipes rely on dairy-free products. In a time when dairy-free recipes are trending, do you ever find it difficult to incorporate substitutes?
I don't because they've been doing it for so long. Every single one of my cookbooks is completely dairy-free and gluten-free and grain-free. I do, in this one, for the first time, give a few options if you can tolerate dairy. There's so many new options that are on the market that didn't used to be, both in the dairy-free space, and also in people realizing, "I can't tolerate cow's milk dairy, but I can do goat milk or sheep's milk," things like that. There's buffalo mozzarella now that has a different protein structure than your cow. I wanted to give some options there.
But my gosh, I started eating dairy-free almost 12 years ago, and there was nothing on the market. Everything you wanted to make that was dairy-free had to be made from scratch. Now, we have so many great brands like Kite Hill and Forager, so I don't find there's ever a problem anymore. There's so many options. Actually, in the book, there's a whole page at the beginning — or maybe it's a sidebar — but it talks about dairy substitutes.
If you are missing heavy cream and you want to make something really luscious and creamy, like a sauce, [it'll tell you] what you can use in place of the dairy there. If you want to skip having to puree cashews, which so many dairy-free recipes do, here's a way to grab a dairy-free cream cheese and turn it into a heavy cream instead of soaking the cashews and pureeing it and using a sieve. I wanted to try to give everybody options that worked well for their schedules.
The dairy-free recipe Danielle's fans can't get enough of
Is there a dairy-free recipe that you've noticed that your followers respond to the most?
This is a fun story. I have a cheeseless queso dip that was on my blog. It actually got cut from my book four years ago because I didn't know if people would respond well to it. I put it up on the blog, and it has been the top-viewed and top-made recipe since I put it up on the blog. I finally put it into the cookbook — this one — because I was like, "All right, it's been proven. People love it."
That is probably the best, most enjoyed of all of my dairy-free recipes. It uses white sweet potatoes and carrots and a little nutritional yeast. You can use ghee in it, which is not dairy-free, but it's lactose and casein-free, so depending on what your sensitivity is ... You can use a butter substitute or olive oil, anything like that to keep it 100% dairy-free.
I used to frequent Chili's when I was a kid. That was our special spot to go out. My dad used to get the skillet queso every time we'd go out. I swear, we'd have to fight him to get any of it because he would eat it all. So I transformed the original queso nacho cheese that I had made into a skillet queso. It uses that taco seasoning now and a little bit of browned ground beef. It honestly reminds me of the one that we used to eat growing up all the time.
That's such an interesting recipe. I feel like some people would think it's controversial because it's cheeseless queso.
I know. I always put things in quotes these days because there's so many of those. I have lots of soups and stews that are — you'd think there was cheese or heavy cream in them, but there's not. All my desserts — I do butterscotch pudding, and we do ice creams and all of that. That's all dairy-free, but it's funny when you call something queso and it doesn't actually have cheese in it.
Danielle names her favorite gluten-free dessert recipe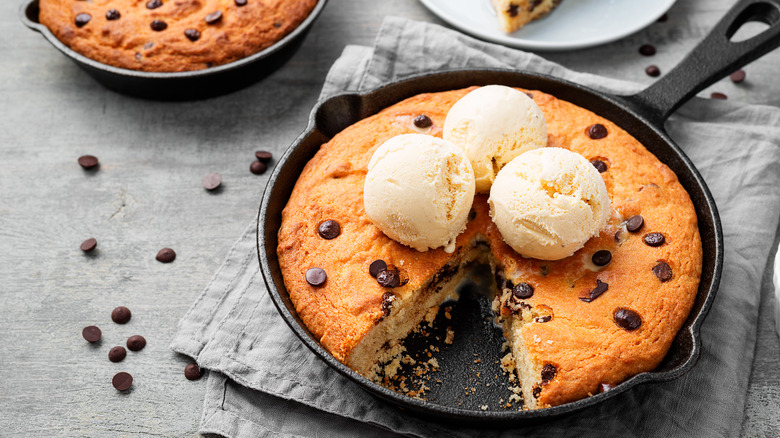 nelea33/Shutterstock
What is your go-to gluten-free dessert recipe?
Recently, it's switched. There is a macadamia nut chocolate [that] has a little espresso powder. It's a big skillet cookie that's in "Healthy in a Hurry." That's probably my newest go-to, especially when we have company. I love that it's so easy. We plop a few scoops of ice cream down in the middle [and] put a few spoons out, as long as you know that everybody is healthy. That's a little different of a world these days. We don't all just dig into desserts, but you can make them individually if you want or serve with a little spoon.
But I would say that because the skillet cookie is one of my go-tos. We also have a really easy pineapple whip that's mirrored off of the Disney favorite that we made last summer. Being at home every day of the summer, we made that all the time.
What flour would you recommend using for a gluten-free substitute for cookies?
I like to combine them. When I first started baking in the grain-free world, I had to teach myself — there wasn't a lot out there 12 years ago. Everything that I found only used almond flour. After years of experimentation, I realized almond flour is great and I love it. I use it all the time, but it can make things a little bit greasy and a little gritty.
When you add in something like a coconut flour that absorbs some of that moisture and makes things have more of a cake-like texture, and also add a bit of arrowroot starch to give things some pliability that gluten would've in a traditional recipe, you'll get a much better texture out of it. Those are my three go-tos — the coconut, arrowroot, and almond combined into one. It's the Holy Trinity of grain-free baking.
Danielle on repurposing leftovers and quick pasta dishes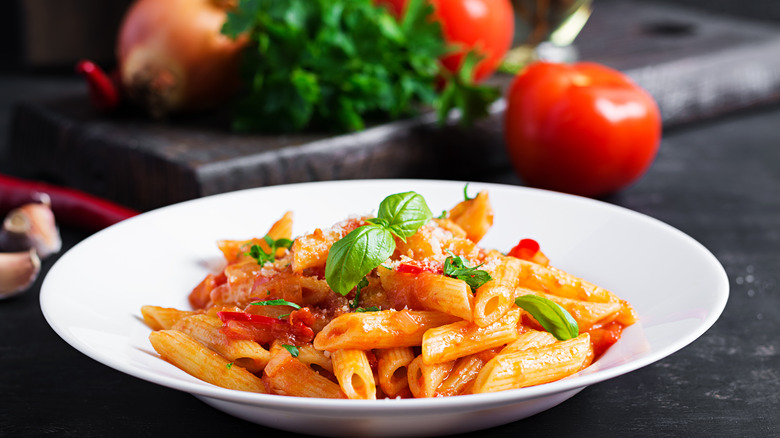 Timolina/Shutterstock
Do you have any advice on how to repurpose leftovers? Let's say chicken, for example.
There's a sidebar in the "No Cook Lunches" chapter. It's five quick meals to use leftover chicken, whether it's rotisserie chicken that you pick up from the grocery store, or I have a recipe in there where you can actually put a whole frozen chicken into an instant pot and that you can shred it after and have it for salads. There's five recipes in there that utilize some of the spice mixtures and some sauces to create quick meals. That's typically what I do with it. Salads are great, but they get boring after a while, and you tend to put the same things on it. I love to throw leftover chicken into a skillet with some vegetables or some parboiled potatoes.
I kind of do the same thing. I change the flavor profile. If I want to make it a taco bowl, I'll do a little tomato paste and some of my taco seasoning and lettuce and cauliflower rice and avocado, or you can do a Greek-style and you can stuff it into a sweet potato and add some Kalamata olives and roasted bell peppers. I have a Greek seasoning that I usually put on there, a little dairy-free tzatziki sauce, something like that. 
You can have fun and play with it. I do tend to use it on salads or in wraps, but it's such a great thing to have on hand. I like to roast or do the instant pot chicken, or when I'm strapped for time, a rotisserie chicken from the store and just portion it all out. Then you can add it. It's a quick, easy protein to have.
Say it's a regular Tuesday night and you're looking to make a quick pasta dish for your kids. What are the first four or five ingredients that you would grab from your pantry?
This recipe's not in "Healthy in a Hurry." It's on my blog, but my fans have nicknamed it "Magic Pasta." I would grab a box of Jovial brown rice pasta — they love the fusilli, the spiral ones — and a box of beef bone broth, a jar of Rao's tomato sauce, and then a protein of some sort, whether it's actually leftover chicken, or I keep meatballs in my freezer. 
You put it all into the instant pot. You layer it in the instant pot and you put the lid on, and it takes four minutes. You cook the pasta in there with the sauce. They love it. It's one of their favorite easy meals. 
Danielle explains the best way to travel with food restrictions
What advice do you have for people looking to maintain a healthy meal balance while traveling? A lot of people are going to Europe and things like that right now, but they might have some qualms about being gluten-free and dairy-free.
Well, gosh, if you're going to go to Europe, live it up. Eat all the things that you can, as long as it's not going to make you sick. I'm gearing up to travel to do a few book tour stops and going out to New York to launch this book. I travel with a lot of snacks. I love roasted nuts, dried fruit. I keep a ton of jerky sticks from the New Primal, things like that, chopped sticks. I keep those things in my bag at all times in case you can't find something.
But if you're gluten-free ... First of all, there's so many places these days, at least if you are gluten-free, but not celiac, that have lots of gluten-free options. My go-to — I go back to it time and again when I get tired of salads — but I get the burger, and I don't do the bun and lettuce wrap it instead.
I add everything that they allow you to add, like bacon and avocado and extra tomatoes, and really bulk it up. I find that it's pretty easy to omit or substitute things these days. If it comes with potatoes or rice, I ask for extra sautéed veggies, things like that.
I think you can find it. You want to try to find somewhere that has some quality protein and vegetable options, and then you can try to modify bits and pieces. But I do try to keep bars and snacks and things in my purse as my backup.

Check out Danielle Walker's Instagram page to keep up with her latest recipes. You can pre-order Danielle's new cookbook, "Healthy in a Hurry," on Amazon, out on September 6.
This interview was edited for clarity.