This Is The Best Hotel Breakfast In The US, According To Tripadvisor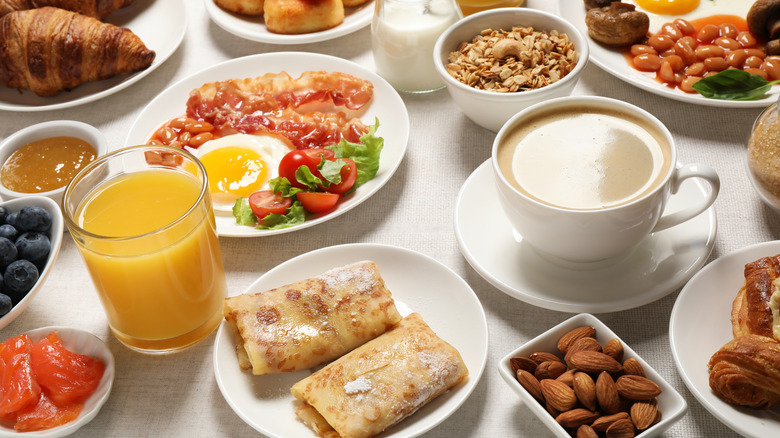 New Africa/Shutterstock
There's something truly special about hotels — if it were socially acceptable, some people might choose to live in them. Maybe it's that nostalgic feeling of family vacations, of walking down those long carpeted corridors towards your room, soaking wet and freezing from swimming in the hotel's pool? Maybe it's the luxury of having your bed freshly made every time you come back? Or perhaps it's the amenities that the hotel provides to its guests, including the beloved breakfast buffets.
While you have to pay for your breakfast at some hotels, some hotel chains offer a cost-included breakfast of cereals, fruits, and coffee. You may find yourself digging into a stack of fresh waffles and fruit over the morning paper — or, as some hotel employees on Reddit report, you may find yourself amidst guests who treat the buffet as if they were raised in a barn. But is there a hotel breakfast that offers both convenience and good taste?
According to TripAdvisor data gathered by Travel + Leisure, Americans don't have to travel outside the country to sample one of the best hotel breakfasts out there. In New Orleans, you can find a hotel by the name of Hotel Mazarin, which supposedly has the very best hotel breakfast in the United States.
What makes Hotel Mazarin's breakfast so great?
"Warm smiles from long-time staff, a delightful leafy courtyard, Prohibition-era cocktails, and wrought-iron luxury" are only a few of the things one would expect to see while visiting the Hotel Mazarin (or so its website claims). Located in the French Quarter, the Hotel Mazarin claims to offer its guest a taste of the luxuries and rich history that makes up New Orleans. But we're not here to talk architecture or Louisiana history — we're here to talk about the hotel's breakfast.
Oyster gives a brief hint as to what the hotel serves, explaining that the breakfast includes a selection of eggs, bacon, fruit, and more. Fodor's reveals more of the hotel's "sweeping breakfast buffet" menu, such as pancakes, waffles, and cups of fruit. The best part? The hotel's breakfast can be enjoyed on a balcony overlooking Bourbon Street. Telegraph Travel explains that breakfast is the only real dining option the hotel provides, although there's an impressive selection of other bars and restaurants nearby. 
If you're in the New Orleans area (or planning an autumn vacation), perhaps you could stay at the Hotel Mazarin to see if the breakfast is as good as people claim.