The Royal Battle To Get William And Harry To Eat Their Vegetables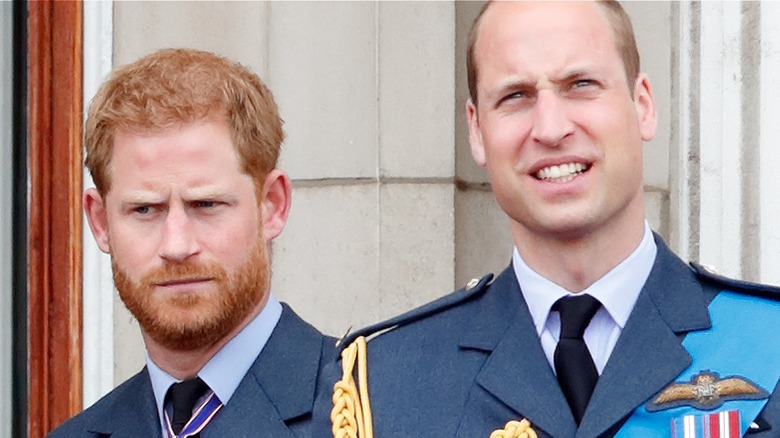 Max Mumby/indigo/Getty Images
Sometimes it's easy to forget that there was a time when Prince William and Prince Harry were just children. Born on June 21, 1982, Prince William celebrated his 40th birthday this year, according to Newsweek. In the years following his birth, William was among the most photographed babies worldwide. Today, he's married to Kate Middleton and has three children of his own: 9-year-old Prince George, 7-year-old Princess Charlotte, and 4-year-old Prince Louis. Following the death of Queen Elizabeth II this week, William and Middleton were dubbed Prince and Princess of Wales, per People.
Born just two years later on Sept. 15, 1984, Prince Harry is nearing his 38th birthday (via Insider). He is currently married to Meghan Markle with two kids: 3-year-old Prince Archie and 1-year-old Princess Lilibet. The two youngsters just recently gained their prince and princess titles, per CNN. As children, Harry and William could be seen enjoying fun moments with their late mother Princess Diana. Photos show them riding bikes, playing on the beach, and going on a trip to Walt Disney World. In these ways, the pair appeared to have a normal childhood. Another spark of normalcy?  Any kids who had to be tricked into eating vegetables a time or two might relate to William and Harry's resistance to veggies.
They preferred peanut butter and jelly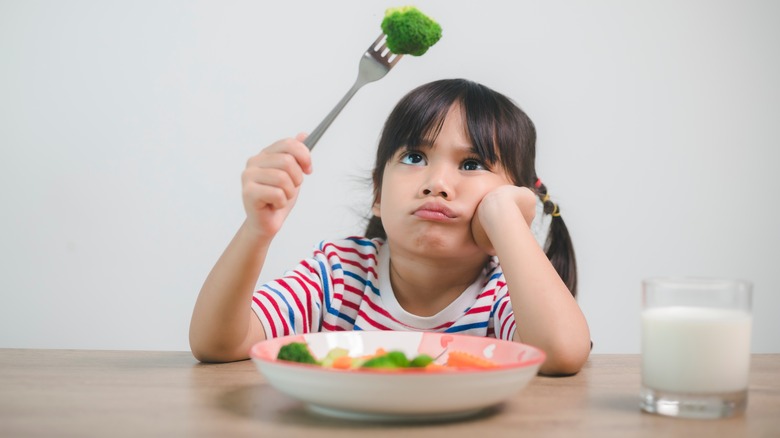 FAMILY STOCK/Shutterstock
According to former Royal Chef Darren McGrady, Prince William and Prince Harry were just as picky about food as other kids their age. "The boys were royal princes, but they still had children's palates," he said to Today. Apparently, they were pretty big fans of peanut butter & jelly sandwiches. However, to get them to eat broccoli, McGrady would mix it into their mashed potatoes. Cabbage and kale got a similar treatment. The kids were fed by their nanny, who wouldn't cave just because the boys were royalty. "Nanny always had control of the menu and made sure they ate balanced meals that included not only lots of healthy vegetables but introduced them to new grown-up dishes too," McGrady continued.
Although their mother, Princess Diana, would feed William and Harry some non-veggies they wanted, during gatherings she insisted that "they have what the rest of the guests were eating," McGrady explained. By the Royal Chef's standards, the nanny did exactly what she was supposed to do by serving them "grownup" meals and factoring in foods they enjoyed.
Interestingly, William and Harry's late grandmother Queen Elizabeth II also preferred to keep her meals simple (via British Heritage). Darren McGrady revealed that most days, the Queen would eat Special K for breakfast and a grilled protein paired with vegetables for lunch and dinner. Perhaps the boys shared the same love of chocolate cake that their grandmother often expressed.