The Aldi Pretzel Bites That Are Pure Cheesy Goodness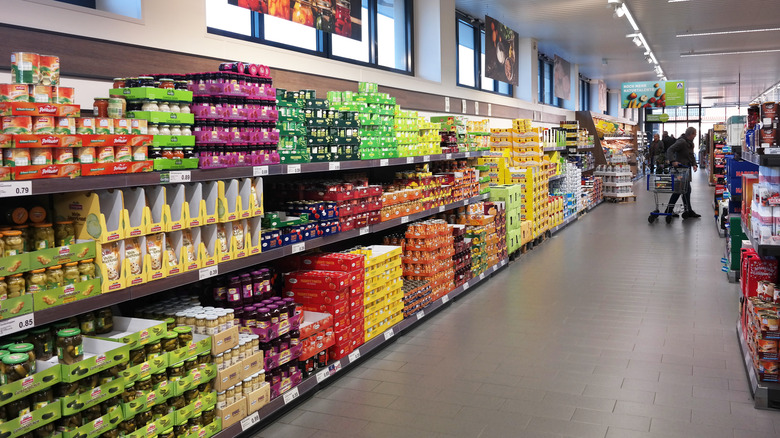 defotoberg/Shutterstock
Football fans might be looking for easy snacks for those half-time cravings. Though no-cook items like potato chips, peanuts, and popcorn make for easy go-to grub on game days, sometimes folks just want something warm in their tummies while rooting for their favorite teams. To tackle the situation, Aldi has a fan-favorite food item that may satisfy any sport lover.
Aldi cheese-filled pretzel bites are back in stores. On Instagram, user @AldiFavoriteFinds posted an image of the popular snack in a roundup of frozen treats that are all part of the Aldi Finds product lineup. According to Aldi, the wholesale grocery company uses the Aldi Finds program to test out products for a limited time, with successful items having the potential to return as an Aldi Find or be added as a more permanent option. Fans who are obsessed with the cheese-stuffed pretzel bites may be almost as happy to see these treats back in stores as they are to watch their favorite player recover a fumble.
Aldi has Appetitos Pretzel Bites in two flavors
For a cheese lover, if there is one thing better than having cheese — it's having two kinds of cheese. According to Aldi Reviewer, Appetitos pretzel bites may fit the bill for such dairy devotees, since the bites are available in both cheddar and pepper jack. Aldi Reviewer found the bites to be "soft inside and slightly crisp and chewy outside, with a gooey cheese sauce inside that's just like the little cups of dip you get to go with your soft pretzel at the mall" and revealed that after preparing both varieties, the cheddar flavor was a little quicker to vanish (presumably into some hungry bellies) based on an at-home taste test.
The cheesy snacks are certainly a hit with some Aldi shoppers. After seeing the @AldiFavoriteFinds post containing the cheese-filled pretzel bites on Instagram, one follower revealed there was immediate work to be done, writing, "Time to make room in my freezer bc those filled pretzels are my ALL TIME FAVORITE!!!" Another user chimed in with "I vouch for the pepper Jack pretzel bites! YUM." Since Aldi Finds are only available for a limited time, predicting whether your local store has the Appetitios pretzel bites might be as difficult as picking your week 1 lineup for your fantasy football team. But, just consider the bragging rights if you are able to score a box or two for the next game.