Colonel Sanders' Go-To Meal That Inspired KFC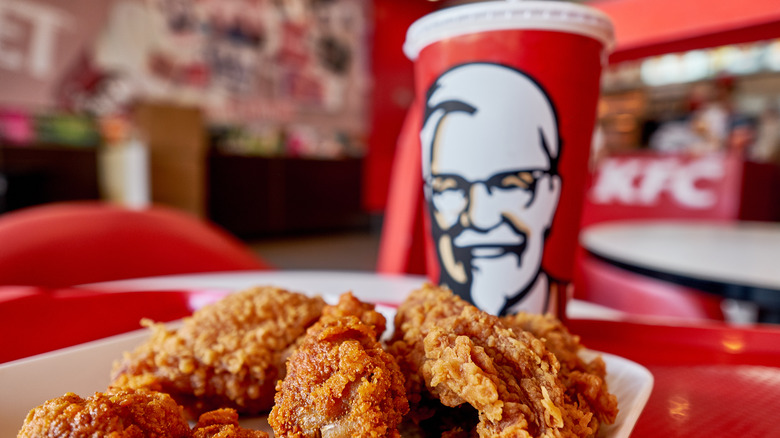 KULLAPONG PARCHERAT/Shutterstock
If you've ever dined at KFC or even driven past one, you've seen a cartoon version of Colonel Harland Sanders. Sanders (the real one, of course) had a rough upbringing. His father passed away when he was only six, so he took on responsibilities around the house such as caring for his siblings (via Snagajob). He also learned how to cook for his family, but his culinary passion hadn't begun quite yet. After joining the United States Army and being honorably discharged a year later, Sanders took three jobs in a row that he was fired from. He also opened two of his own businesses that failed for differing reasons.
Despite all of his troubles, Sanders went on to found KFC in the 1950s. Today, KFC, or Kentucky Fried Chicken, is America's favorite fried chicken company, coming in No. 1 in 14 states, according to Biz Journals. It definitely teaches onlookers the lesson of never giving up, but how did Sanders finally land on his million-dollar idea? It started with something he did for many years: cooking for his family, (via Food & Wine). What was Sanders' go-to meal that inspired his chicken empire? 
His Sunday tradition expanded to make millions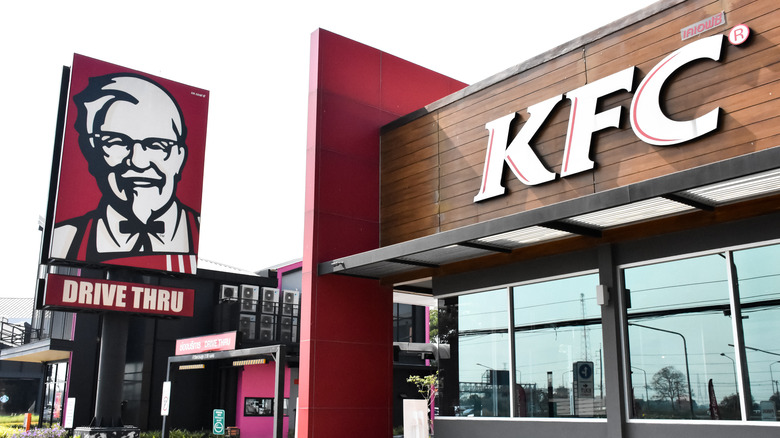 Patcharaporn Puttipon2465/Shutterstock
The idea of serving food began when Colonel Harland Sanders was living in the back of a gas station in Corbin, Kentucky (via Food & Wine). It was 1930, and the Shell Oil Company allowed Sanders and his family to stay there for free in exchange for running the gas station. Due to his newfound profession, he talked to tons of travelers each day, and many of them asked him for food recommendations in the area. After inquiries from several passersby, Sanders had the idea to sell his own food. His inspiration was the meal he cooked every Sunday night for his family, which consisted of steak, ham, and of course, fried chicken. The business was soon booming. 
But, according to Snagajob, the challenges didn't stop here. Sanders had a deadly shootout with a competitor, his restaurant burned down, and his chicken recipe was rejected 1,009 times on the road to success. When he finally got the recipe down, he began to perfect his restaurant, locally and internationally. He sold the KFC franchise in 1964 for $2 million, which is equal to $15.3 million today. He even gained the honorary title of Colonel from the Kentucky governor, Ruby Laffon. Though Sanders has since passed on, his legacy never has. As of 2022, there are more than 24,000 KFC stores spanning 145 countries, according to the KFC website.